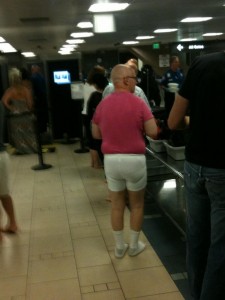 A client shared this picture on Uniquely Savvy's facebook business page today with this question.
"Kim- one of my friends saw this at the airport. I think the camera just leapt out and snapped the picture… What do you think of the language of this look???"
I share my response here because I thought it was a great coaching moment. Not designed to poke fun, but to actually state that many people are "unaware" of the language of their look. There are varying degrees of this unawareness, to be sure, but all we have to do is look around to find that most people to some degree or another, are unaware of how their wardrobe and appearance impact the way they are perceived – and therefore treated.
How do I know? Let's just say this. If people, (myself included) were consistently aware and truly had an understanding, I think we might see less ill fitting clothing, more current (not necessarily trendy) hair styles, less cleavage on the job, more visual statements of style that speak to our personal or professional brand attributes – more being tailored to the task or audience, etc.
That said, here was my reply……..
Thanks for posting this….The language of his look is "unaware" and I don't write this sarcastically either. This is why it's important to have either "truth telling" friends, or work with a personal stylist/image consultant for some guidance.
In this case, the awareness is probably going to have to come from a supportive and "gentle" comment, from a friend. (He likely hasn't considered professional coaching & most employers will simply not hire -vs coach on appearance- if they feel that someone doesn't visually represent the company well… I have a feeling that this casual look doesn't translate well in the professional arena). -That said, we all know that "friends" often don't tell us the hard stuff – they don't want to be the "bad guy" or cause any waves.
This guy likely doesn't know that:
*His look is a distraction & probably inappropriate from the front
*Unfortunately people are likely judging him harshly and he's at the core of many jokes….Never feels good for one's self-esteem/concept. And really? Does anyone really deserve to be treated poorly?
If he's comfortable wearing this outfit in an airport, you know he's wearing it all around town. Unfortunately, he's probably missing out on a lot of opportunities (personally & professionally) because of how people perceive him.
Tip:
Everyone, discover & step into your authentic best from the inside-out and attract more of WHO and WHAT you want in life! We all have room to improve. Even if it's just taking baby steps to polish your "look", it will make a difference.
The good news?
There's always good news…A little bit of expertise and effort go a long way….and when working with an expert, it's not hard!
Great photo for style coaching, thanks Jim!
Championing YOU, YOUR BRAND, and YOUR STYLE from the "Inside-Out" – Kim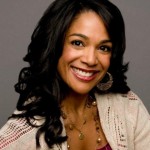 Desire more?
Kim Crumpler is Founder of Uniquely Savvy, Inc and is an 11 year veteran Personal Style & Branding Coach, Personal Shopper, Author, and Speaker. An expert, Kim delivers results and is passionate about helping men & women BE comfortable and confident in their own skin, look and feel amazing, and attract more of who and what they want in life! Kim invites you to: Join the conversation on Uniquely Savvy's facebook business page, call her for a phone consultation to determine how you will best benefit from her expertise, or book her to speak at your upcoming event. Available for keynotes, workshops, seminars, and girlfriend parties, the programs your audience will love range from personal style, to professional image and branding. Additionally, Kim co-authored, "Incredible Life: Top Experts Reveal How to Create Yours", and speaks to a variety of audiences on personal empowerment – bringing inspirational messages of hope and sharing practical tips and tools learned on her inside-out, "From Fear to Freedom" journey. Contact Kim @ 425.503.9885 or learn more at www.uniquelysavvy.com.