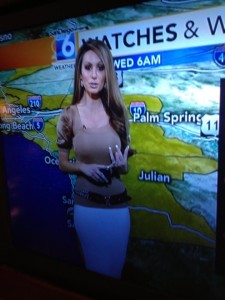 For What's My Profession Part 1
A beautiful woman, in my professional opinion, I just didn't think her "look" was aligned w/her profession…I found myself distracted my "hearing" the intended message on weather.  In my mind I had so many questions about various visuals from fabrics, to accessories, and more. To be clear, her look is, in likely appropriate for a different audience and message.  More importantly, this blog is about discernment when dressing, not about "judgement".
TIPS For Dressing For Any Occasion:
Always get tailored-to-your task; it builds credibility among other things.
Good to put into practice upon getting dressed:
-Who is my audience?
-What do I want them to know about me?
-Do a mirror check before heading out the door and ask if the language of your look is communicating your intended message for the audience you are serving.
If not, what might you add, change, modify, or create to align your visual communication w/your intended brand message?
Just something to noodle on. Take what makes sense and toss the rest!
Thanks for your kind & constructive thoughts.  Boarding for re-entry…vacation's over:-).
…For the original Facebook post for Part 2, you'll find it here.
Championing YOU…YOUR STYLE, BRAND & CONFIDENCE
From The "Inside-Out", Kim
Desire more?
Kim Crumpler is Founder of Uniquely Savvy, Inc and is a veteran Personal Style & Branding Coach, Personal Shopper, Author, and Speaker. An expert, Kim delivers results and is passionate about helping men & women BE comfortable and confident in their own skin, look and feel amazing, and attract more of who and what they want in life! Kim invites you to: Join the conversation on Uniquely Savvy's facebook business page, call her for a phone consultation to determine how you will best benefit from her expertise, or book her to speak at your upcoming event. Available for keynotes, workshops, seminars, and girlfriend parties, the programs your audience will love range from personal style, to professional image and branding. Additionally, Kim co-authored, "Incredible Life: Top Experts Reveal How to Create Yours", and speaks to a variety of audiences on personal empowerment – bringing inspirational messages of hope and sharing practical tips and tools learned on her inside-out, "From Fear to Freedom" journey. Contact Kim @ 425.503.9885 or learn more at www.uniquelysavvy.com.