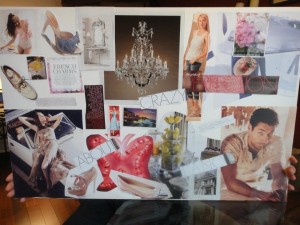 Inspired By:
A client who just celebrated a milestone birthday – and is experiencing many levels of life transition.
Kudos! In her "Living Your Vision of Success" vision board consult, amidst the chaos, she chose to be still enough to define and connect w/ her values, got clear on what she really wants in life and.  Our work together lead her to chose to reconnect and "get to know"  herself first….from that solid place she would be fortified to consider what's next professionally.
One month later she called to let me know she's still taking aligned ACTION on the inside and out!
What Is A Vision Board?
In a nut shell, a vision board is a collage of inspirational images which are reflective of your goals.  Since the brain is drawn toward images, when you focus on your collage, you're likely to be motivated by the pictures and take action toward achieving your goal(s).  You can choose to focus on a specific goal, a category of life: family, friends, spiritual, business, financial, health, etc…it's up to you.
My Personal Experience with Vision Boards:
There's nothing magical about 'em.  Research indicates that we are more likely to achieve goals if they are written down.  The success rate increases the more you review those written goals.  We are even more likely to accomplish those goals if we attach visual images to them and look at them often….This has been a practice of mine for about 5 years.  It's helped me live intentionally, stay on point, and actualize a higher percentage of my goals over the last several years, since I could "see" that which I was aiming towards.
Benefit:  I get to, you get to – enjoy a purposeful and meaningful life without getting too off track when LIFE…happens…as it always will!
Here's one of my boards from 2011.  Not a runner, I set out to usher in my 40th birthday by running the Seattle Rock 'n Roll 1/2 Marathon.  My negative thinking almost had me give up, but I chose to do a vision board to "see" what I desired to accomplish. ….Well, I did it and I learned, I AM A RUNNER. Had fun runnin' the Vegas Rock 'n Roll 1/2 five months later as well!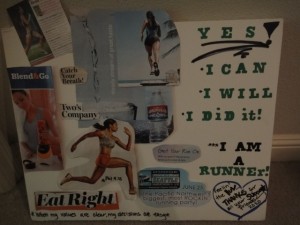 From today on FB: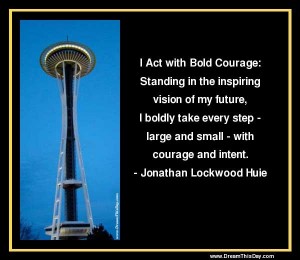 Did you know? ….The Space Needle was built to symbolize: Vision, aspiration, the future.
While constructed for Seattle's World Fair, it represented the possibilities for Seattle, our nation, the world -as we headed into the Space Age.
With bold courage, what does your life vision look like stylistically, relationally, professionally – beyond?
Championing YOU…YOUR CONFIDENCE, BRAND, and STYLE
From The "Inside-Out", Kim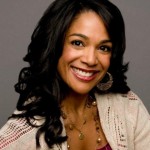 Desire more?
Kim Crumpler is Founder of Uniquely Savvy, Inc and is an 11 year veteran Personal Style & Branding Coach, Personal Shopper, Author, and Speaker. An expert, Kim delivers results and is passionate about helping men & women BE comfortable and confident in their own skin, look and feel amazing, and attract more of who and what they want in life! Kim invites you to: Join the conversation on Uniquely Savvy's facebook business page, call her for a phone consultation to determine how you will best benefit from her expertise, or book her to speak at your upcoming event. Available for keynotes, workshops, seminars, and girlfriend parties, the programs your audience will love range from personal style, to professional image and branding. Additionally, Kim co-authored, "Incredible Life: Top Experts Reveal How to Create Yours", and speaks to a variety of audiences on personal empowerment – bringing inspirational messages of hope and sharing practical tips and tools learned on her inside-out, "From Fear to Freedom" journey. Contact Kim @ 425.503.9885 or learn more at www.uniquelysavvy.com.