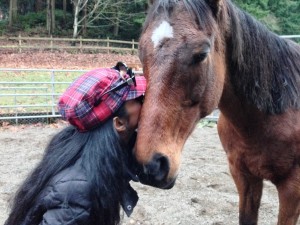 What you can't tell?  …Teddy met me here, paused, and we gently moved toward each other after some work we did.  We lingered here…gently.  This was also a very different experience than I had the last time.  That one was more energetic and robust, to kick my booty into
awareness, change, and action!
When an unlocking/life changing opportunity exists, you just want to share it, right?  Let me share with you about Jennifer Malocha and Wuhoo Equine Coaching.
The distilled down bit:  Working with Jennifer and Teddy via equine coaching was powerful, impactful, and definitely was a big part of the means for a (sustainable) mindset-shift.  I experienced a group equine coaching experience and then a 1:1 in October.  The breakthrough I had, who I am, how I now show up …I will never forget.
It altered my beliefs, therefore I show up differently (…research indicates that individuals operate base on their beliefs.  That's why I challenge our community & clients to ask, "What do I believe about myself, my capabilities, style, this or that agenda, faith, money, self-worth, or ______________).
This week alone, based on others' desire for that high level breakthrough, I shared about value of the experience at least 3 times.
Why do I share this…again, you might ask?  I love to CHAMPION champions – people who want to step into their potential and don't quit, when a vision blocker gets in their way.  One step at a time they move forward…They figure it out stylistically, relationally, professionally, or beyond.
From my perspective, equine coaching with Jennifer/Teddy is one such step….a step for (some) champions.  Again, there's no gain for me – not trying to "sell" anything.
If it's your time and you want to explore what I'm talkin' about, you can check out a group experience on the 2nd and 4th Fridays monthly.
Read a blog from Jennifer this morning…for more: http://networkedblogs.com/HhXjI
Happy to share more intimately of my experience if you want to know…just reach out!
Championing YOU…YOUR STYLE, BRAND, AND CONFIDENCE
from the "Inside-Out", Kim
Desire more?
Kim Crumpler is Founder of Uniquely Savvy, Inc and is a veteran Personal Style & Branding Coach, Personal Shopper, Author, and Speaker. An expert, Kim delivers results and is passionate about helping men & women BE comfortable and confident in their own skin, look and feel amazing, and attract more of who and what they want in life! Kim invites you to: Join the conversation on Uniquely Savvy's facebook business page, call her for a phone consultation to determine how you will best benefit from her expertise, or book her to speak at your upcoming event. Available for keynotes, workshops, seminars, and girlfriend parties, the programs your audience will love range from personal style, to professional image and branding. Additionally, Kim co-authored, "Incredible Life: Top Experts Reveal How to Create Yours", and speaks to a variety of audiences on personal empowerment – bringing inspirational messages of hope and sharing practical tips and tools learned on her inside-out, "From Fear to Freedom" journey. Contact Kim @ 425.503.9885.