It's that time of year again. Yep, time sip drinks poolside at your fave vacation spot! ….So, while recently pre-shopping swim wear options for an out-of-state client, I came across these…..trunks!  Getting an accurate look at their upper torso build, gave me a perfect coaching opportunity for you.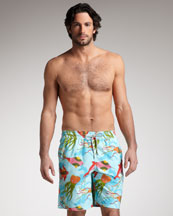 Broad Shoulders
Tip:  The model with the broad shoulders will look best with collars that are slightly more narrow and point downward (…though he could pretty much wear whatever he wants to, right?!)  The truth is that with the structure of his upper body, neck, and shoulders, he does have more flexibility with neckline choices.  His ultimate best practice?  Necklines that run more north/south in design vs. east/west.  The north/south styling will provide him a  a narrowing effect through his neck and shoulders.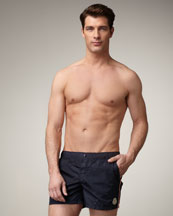 Sloping Shoulders
Tip:  The model with the sloping shoulders definitely wants to avoid narrow collars that point downward, but rather make it a priority to shop for collars that are spread wider apart at the neck and collar bone.  Why?  This line design will balance his sloping shoulders by  drawing the eye up.  The shorter collar will fill in and visually balance the shoulder, while visually shortening his neck.
The Good News:
You can shop and build your investment wardrobe with confidence once you know how to dress your frame to look your best.  Getting an accurate read on this will equip you to save time and money on mistaken purchases whether you're shopping for dress shirts, jeans, or…. swim trunks!  …Speaking of swim trunks, diggin' this selection at Neiman's.
Enjoy!
Championing YOU…YOUR CONFIDENCE, BRAND, and STYLE
From The "Inside-Out", Kim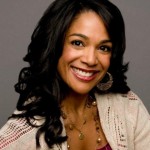 Desire more?
Kim Crumpler is Founder of Uniquely Savvy, Inc and is an 11 year veteran Personal Style & Branding Coach, Personal Shopper, Author, and Speaker. An expert, Kim delivers results and is passionate about helping men & women BE comfortable and confident in their own skin, look and feel amazing, and attract more of who and what they want in life! Kim invites you to: Join the conversation on Uniquely Savvy's facebook business page, call her for a phone consultation to determine how you will best benefit from her expertise, or book her to speak at your upcoming event. Available for keynotes, workshops, seminars, and girlfriend parties, the programs your audience will love range from personal style, to professional image and branding. Additionally, Kim co-authored, "Incredible Life: Top Experts Reveal How to Create Yours", and speaks to a variety of audiences on personal empowerment – bringing inspirational messages of hope and sharing practical tips and tools learned on her inside-out, "From Fear to Freedom" journey. Contact Kim @ 425.503.9885 or learn more at www.uniquelysavvy.com.