FLAMENCO ON FASHION FRIDAY?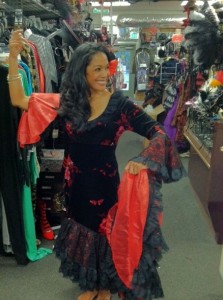 Tons o' fun, this is the second theme party Uniquely Savvy has recently helped style!  A pieced together fashion success, I thought I'd share….  
THE JOB:
Find a quality, red or black flamenco dress in size 0 or 2 (a surprise outfit for a 10 year anniversary celebration.  Shhhhhh…..the guest of honor didn't know about this style element!)
No such luck pre-shopping this dress in the area, but guess who had the resource in LA? A Masquerade in Bellevue.  You've got to check 'em out if you need for a quality costume.  The bonus?  They've got all sorts of tips 'n tricks to share!
THE CHALLENGE:
Only a size small was available to buy from the LA vendor, and it was….FINAL SALE.  Again, my client is an extra small and wasn't going to be available for alterations or a fitting – that would ruin the surprise!……What to do?
I tried on A Masquerade's size small to send photos and to gauge the option for taking the dress down a full size.  Examining the construction, fabric, seams & darts, it looked like it would be possible for a master tailor who has the confidence to work with only my client's measurements.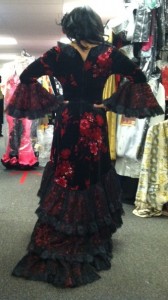 THE SOLUTION: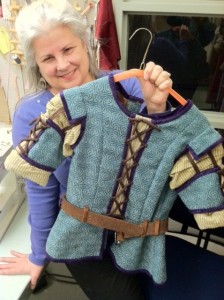 Janet designed & completed the 7 Dwarf costumes.
Janet, a very skilled costumer for the Pacific Northwest Ballet!  Thanks Tom Taylor for the referral….Janet was working on Snow White by day and Flamenco by night!  Another bonus?  I got a tour of the costume shop.  Heaven!  Anyone in style or design, would have loved the back story, the quality, the……..fabrics!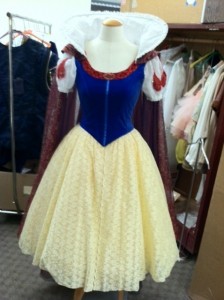 Snow White's costume took several hundred hours to design & make.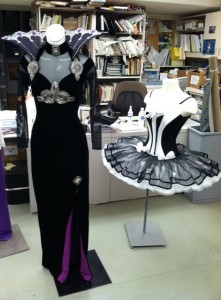 The Evil Queen…..Evil, but stunning!
VOILA, Size XS ONE WEEK LATER!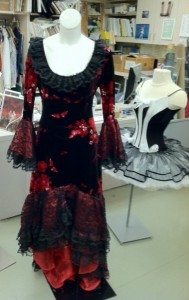 Delivered just in time… on Fashion Friday!

…Not so fast, FF included a new task……style the guys!
Here's a piece we found to layer over their sexy flamenco shirts. 
-An action shot, oh the drama those sleeves will create…

FASHION FRIDAY NIGHT CAP?
Online shopping and brainstorming with another sparkling Bride-to-Be!  Looking at dresses to beautifully flatter her shape and capture the feel of her Hawaiian wedding.  We looked at the parts that comprise a wedding dress -best necklines, bodices, and skirts  -and the net whole of specific dresses.  Her goal?  To be confident about buying her dream gown so she can look as amazing as she feels!
Tip:  Gals, want to show more leg in the front and have a long train?  This style is on trend right now.  Can't find one you love?  Consider working with a master tailor and have it altered short in the front….doable!
Just another day in the life of a stylist on Fashion Friday…Hope you join us on Sunday for our virtual Oscars party!
Championing YOU…YOUR CONFIDENCE, BRAND, and STYLE
From The "Inside-Out", Kim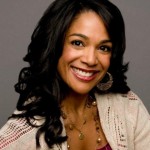 Desire more?
Kim Crumpler is Founder of Uniquely Savvy, Inc and is an 11 year veteran Personal Style & Branding Coach, Personal Shopper, Author, and Speaker. An expert, Kim delivers results and is passionate about helping men & women BE comfortable and confident in their own skin, look and feel amazing, and attract more of who and what they want in life! Kim invites you to: Join the conversation on Uniquely Savvy's facebook business page, call her for a phone consultation to determine how you will best benefit from her expertise, or book her to speak at your upcoming event. Available for keynotes, workshops, seminars, and girlfriend parties, the programs your audience will love range from personal style, to professional image and branding. Additionally, Kim co-authored, "Incredible Life: Top Experts Reveal How to Create Yours", and speaks to a variety of audiences on personal empowerment – bringing inspirational messages of hope and sharing practical tips and tools learned on her inside-out, "From Fear to Freedom" journey. Contact Kim @ 425.503.9885 or learn more at www.uniquelysavvy.com.