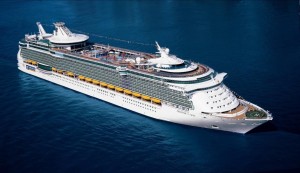 Progress not perfection! For those who know me, you know that technology is a necessary evil – all smiles- and it doesn't come easily to me, to say the least. That said, I do my best to keep you all in the loop, and my best isn't perfect – that's for sure!
That said, I'm thankful to the team who guided me the countless hours of blog creation to keep you in the "inside-out" style know! This was only one aspect of many moving parts that came together….just as I was about to set sail to speak on "Freedom of the Seas"!
…I'm honored to be the guest lecturer aboard Royal Caribbean's, Freedom of the Seas. Last year was my cruisin' debut with Royal- aboard, "Explorer of the Seas". Explore is just what I did! It was a fantastic experience providing style tips & entertainment to cruisers over the week. -Made some fun new friends danced, played, sand and…danced some more! A highlight? Hanging with Captain Olgav and his crew on the bridge twice (helping to bring the Explorer into the Bermuda and Cape Liberty ports-ha!) and getting the inside edition by exploring the "behind the scenes" lifestyle of some of the co-ed crew.
This year, Sheila Berndt is my dear friend and guest. We just cannot wait to sun, discover all that St. Thomas, St. Maarten, and Coco Cay have to offer us, surf the waves on the ship, enjoy the programs and so much more! We leave out of Port Canaveral this afternoon (expected to be 90 degrees and SUNNY….a welcomed treasure coming from Seattle).
…Uniquely Savvy is offering 3 programs this year:
*What to Wear
*3 Steps to Fashion Freedom
*7 Habits of Highly Stylish People
I except this is going to be quite the adventure again….what a way to live! Work, cruise, engage, and explore – all at the same time?
That said, I want to be fully present with all the excitement both professionally and personally. Please join me on Uniquely Savvy's Facebook Fan Page this week to stay connected to our week of fun. I'll be sure to get into all this "blogging" when I return…..my own "unique" version of it!
Live. Laugh. Laugh. Love…well and often – I'll try and do the same!
Championing YOU from the Inside-Out, Kim