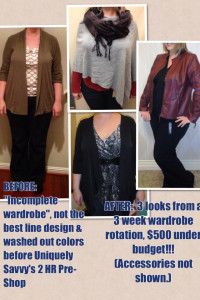 Guess how many "right" pieces she got for $1454.75!
We came in $500 under budget in just 4 hours!!!!
Super cool when a client feels this good, this excited, and this *grateful*  …SOOO good, that she dressed up on the weekend just to go to Costco! SOOO grateful, she wrote me a most thoughtful expression of gratitude which was in my INBOX within hours of our appointment…grateful!
Kim,
Wow – what a night!  I just got home and started to  hang up our haul only to find out that I ran out of  hangers.  That translates to me that we did exceedingly  well.  For giggles I took count of how many of each  item we were able to get with the right colors, fit, and  purpose for my wardrobe.
Here is what we accomplished in 4 hours:
5 pants
13 shirts
7 sweaters
2 jackets
1 amazing maroon jacket
2 jewelry sets
2 scarfs
4 camis
All this for $1454.75….$500 below my "cap."
Endless combinations surround me that I will be able to  select from in my, now, well stocked closet.  Before,  when I went shopping not only did I get discouraged when I  couldn't find the right clothes, or any clothes, that fit me  right, but I felt like I was in a never ending cycle.  I felt like every item I tried on was going to be too tight  or the wrong cut or way too expensive and I would give  up.  You, and your CEO, showed me I needed a little  more faith.  You, and your CEO, showed me that it is  possible to make this body – MY body – look great in  clothes.  The number on the tag doesn't matter – what  matters is the way I feel in them when I ignore the  number.  You helped me have fun shopping again!  This hasn't happened in a long time.  THANK YOU!!!
I was a believer in your business before I worked with  you.  I spoke highly to executives that you were a rock  star.  Now I know that I was telling the  truth…whew.  You did everything, and more, that you  promised and I am truly grateful. 
Thank you Kim, from the bottom of my heart, for helping me  see it IS possible.  Thank you for taking the time to  get the pictures, give me information about how to mix and  match, and even how to fold a scarf in a different  manner.  I look forward to our next trip when we will  be able to take this journey to a whole new level.
Before, when I'd get home from shopping, I'd hang up my new  clothes in my closet.  I'd look at my pilling shirts or  misfit outfits or even clothes I knew I should get rid of  for one reason or another.  I never did because I never  felt like I had something to replace it.  Now I have so  much more than I hoped for – I have a wardrobe I can be  proud of – one I can go into meetings with VP's and feel  completely confident in my dress. 
I can now say – I feel "complete" when I think of my  wardrobe.   On Monday we will see if I'm looking "fly."
God Bless you Kim!
…I  Was whelmed when I awoke to such an email from this client…At times I forget the impact that this sort of work can have on individuals.  I am reminded yet again, that what I do is far more than "just shopping" and I'm deeply humbled to say the least…Just honored to be entrusted to champion her  "investment in myself" and can't wait to see how her new found confidence and belief will elevate not only her style and brand, but her freedom and possibilities!   
Lovin' my job….it's true!!!  Please let me know how I can serve you or someone you know, I'd be honored to.
Championing YOU…YOUR STYLE, BRAND, AND CONFIDENCE
from the "Inside-Out", Kim
Desire more?
Kim (Crumpler) Peterson is Founder of Uniquely Savvy, Inc and is a veteran Personal Style & Branding Coach, Wardrobe Stylist, J. Hilburn Custom Menswear Style Consultant, Co-author, and Speaker.  With a commitment to excellence (not perfection!), Kim delivers results and is passionate about helping men & women BE comfortable and confident in their own skin, step more into their potential, and attract more of who and what they truly want in life! Kim invites you to: Join the conversation on Uniquely Savvy's Facebook business page, call her for a free phone consultation, or book her to speak at your upcoming event. Available for keynotes, workshops, seminars, and girlfriend parties, the programs your audience will love range from personal style, to professional image and branding. Additionally, Kim co-authored, "Incredible Life: Top Experts Reveal How to Create Yours", and speaks to a variety of audiences on personal empowerment – bringing inspirational messages of hope and sharing practical tips and tools learned on her inside-out, "From Fear to Freedom" journey. Contact Kim @ 425.503.9885.