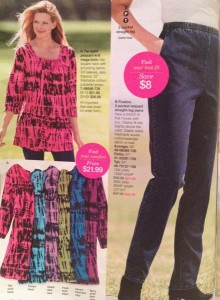 "Really? Does she look like she's plus size?" "What is it that she's wearing?"
A beautiful and stylish full figured woman brought this to her *Style Boot Camp* today and in her discouragements says, "Really? Does she look like she's plus size?" And, "What is it that she's wearing?" And, "They are all swimming in those clothes…"
We chuckled in disbelief a bit over some of the non-sensible advertising, but truly it's not inspiring or aspiring to show size 10 woman swimming in unattractive (or attractive) clothing in a catalog for full figured women…..
NOTE:
Women of all sizes, including full figured women CAN look fabulous! Truth vs. myth; Full figured woman can wear white and body conscious pieces as long as they are selected to fit & flatter…just like anyone else! Fun, stylish, quality options for you to create your authentic personal style are out there. That said, we looked up plenty of stylish options and will be shopping together soon!
Put a stake in the ground! Like this gal today, learn your personal FIT best practices & going forward…know where & how to shop with confidence! http://tinyurl.com/aw47e88
P.S. The net read of this tie-dyed shirt is horizontal striping, which will visually broaden. Generally, a best practice? Avoid if you have broad shoulders, or a full bust line or tummy.
Championing YOU…YOUR STYLE, BRAND, AND CONFIDENCE
from the "Inside-Out", Kim
Desire more?
Kim Crumpler is Founder of Uniquely Savvy, Inc and is a veteran Personal Style & Branding Coach, Personal Shopper, Author, and Speaker. An expert, Kim delivers results and is passionate about helping men & women BE comfortable and confident in their own skin, look and feel amazing, and attract more of who and what they want in life! Kim invites you to: Join the conversation on Uniquely Savvy's facebook business page, call her for a phone consultation to determine how you will best benefit from her expertise, or book her to speak at your upcoming event. Available for keynotes, workshops, seminars, and girlfriend parties, the programs your audience will love range from personal style, to professional image and branding. Additionally, Kim co-authored, "Incredible Life: Top Experts Reveal How to Create Yours", and speaks to a variety of audiences on personal empowerment – bringing inspirational messages of hope and sharing practical tips and tools learned on her inside-out, "From Fear to Freedom" journey. Contact Kim @ 425.503.9885.