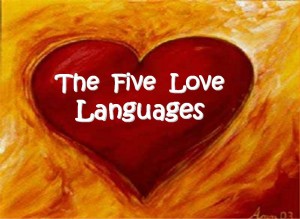 What's YOUR Language of Love?

Happy Valentine's Day!
Did you know LOVE is spoken in many Languages!  What's your language of love?  Take the brief quiz here: (http://www.5lovelanguages.com/profile/).
I took this quiz over a decade ago and mine remain consistent.  They are quality time and acts of service, so this week my love tank is full, full, full!!!
….On the go with lovely experiences with friends, my hubby, and work (ALL) from several referrals this week…Referrals ("act of service" which also produce "quality time") truly are the highest compliment to me and my business and I'm so grateful for the trust others place in me.
To that point, I LOVE to connect people! If you are looking for a solution, service, or trusted advisor, please let me know…I'd love to be of service to you and make the introduction to professionals I also trust – and who just might make a great "match" for you….Call me cupid, LOL! 
BIG gratitude for speakin' my language this week….it was A-MAZING it had a lot to do with you: 
*Donna, your eastern WA referral raves about YOU and your Sculpting a New You!  …..She just bought a Gift Certificate for what she humorously called the Style "Bootie Camp" (Boot Camp) for her 26 year old daughter for Valentine's Day.  She's excited and I'm honored to empower her with personal best practices as she continues to build her inside-out investment wardrobe!
*THANK YOU Steve Dellario of Cobalt Mortgage for having Uniquely Savvy/Cookie Lee to your office to offer up trend scarves for Valentine's Day gifts while sprinkling in style and branding tips yesterday. The best part?  Getting to know your team & seeing a young woman begin to truly understand the value of articulating her authentic personal & visual brand as she was communicating her professional aspirations to me….She's on a great trajectory!
*Risa Fein of a Fine Touch Massage, you not only have a fine touch….you have quality friends.  So honored to serve, laugh, and style with LK!  She wanted a 2 week business casual rotation and she got 34 mix and match outfits, and though we have a few pieces still to hunt down, she came in more than 50% under budget!!!
*Bri Seeley of Bri Seeley designs…What a treat to continue working with the beautiful DM after your referral so long ago, thanks and to your continued success!…Your creations are beautiful and you're livin' your dream in full color…thrilled for you!!!
Thinking of all of you in Uniquely Savvy's community…Thank you for fueling my love tank in your unique and special way.  XO and enjoy the gifts in your Valentine's Day!
Championing YOU…YOUR STYLE, BRAND, AND CONFIDENCE
from the "Inside-Out", Kim
Desire more?
Kim (Crumpler) Peterson is Founder of Uniquely Savvy, Inc and is a veteran Personal Style & Branding Coach, Wardrobe Stylist, J. Hilburn Custom Menswear Style Consultant, Co-author, and Speaker.  With a commitment to excellence (not perfection!), Kim delivers results and is passionate about helping men & women BE comfortable and confident in their own skin, step more into their potential, and attract more of who and what they truly want in life! Kim invites you to: Join the conversation on Uniquely Savvy's Facebook business page, call her for a free phone consultation, or book her to speak at your upcoming event. Available for keynotes, workshops, seminars, and girlfriend parties, the programs your audience will love range from personal style, to professional image and branding. Additionally, Kim co-authored, "Incredible Life: Top Experts Reveal How to Create Yours", and speaks to a variety of audiences on personal empowerment – bringing inspirational messages of hope and sharing practical tips and tools learned on her inside-out, "From Fear to Freedom" journey. Contact Kim @ 425.503.9885.