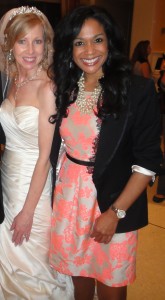 Ever wonder what to wear for work?
"The next time you're getting dressed for work in the morning, be mindful of the psychological impact that clothes can have. Your choice could literally affect your mindset, so try to match your outfit to the type of work you're planning to do."
Fabulous article, "The Smart Creative's Guide to Dressing for Work".   It supports "why" I dressed the way I did for my 15 hour marathon day last Saturday. Spoke at LEXI Leadership Women's Summit in the morning, then attended the rest of the empowering summit…then took a power nap in my car before heading into my friends lovely celebration of marriage!
Desired to both be one of the gals attending the summit (feminine flirty dress vs. sheath dress),  – while at the same time desiring to express experience and authority (blazer) when I shared about "Gettin' Your MOJO Back:  Reconnecting to Your Authentic Essence From the Inside-Out.
Knowing that I got to witness friends getting married that evening, with no time to change I also got to balance my personal style to speak to festive and celebratory without being too "professional"  from the summit -or showy.  (I could have taken off my blazer, but the sleeveless dress would have elevated my "visibility" – not my intention whatsoever!)
The sleeveless pink floral dress was fresh (MOJO baby!) for spring speaking trend details, and had a fitted bodice and a line skirt (perfect for dressing my shape!).  With the black ribbon belt attached to define the waist, it opened the door to find a polished black blazer to communicate formality as a speaker.  Flipping up the sleeves was intentional to be more approachable and casual….
The Stella and Dot necklace was chosen from my accessory wardrobe with intention & worked for both audiences.  It communicated:  fun, relevant (connected over another women having owned one herself), and was a creative way to pull together the lighter colors & feminine flirty with the black tuxedo blazer….(The polish of the necklace tied it all together with the polish of my patent leather pumps & sateen on my jacket…..).
The net effect of the whole outfit pulled together?  Allowed me to move appropriately & seamlessly from Summit speaker to guest at a wedding…received well by both audiences and fun compliments to boot….who knew?!
So yes.  When you get dressed for the day, consider your audience, what you want to communicate, and how you can use your clothing and appearance to support you in your performance objectives….When you have a marathon day and you cross may audiences with several objectives, look to strike the right balance so as to (as much as possible) have your wardrobe work for you and not against you……

TIP: Dress with your most important task or audience while building your foundation and use accessories to bridge the gap across the others.  Remember to do a mirror check and ask yourself, "What is the net language of my look?".  Does it communicate my brand attributes and support my intention?"  If not what can you add, change, modify or create differently?  It could be as simple as changing an your tie, shoes,  or style of your….dress.
The art of dressing is oh so fun, yet has grand importance on both perception and productivity! This art can also be learned and will pay dividends daily, the sooner an individual learns it ( middle school, high school, college?  YOU BET!) the better.
Thank you Michael Day for sharing this article forward with me so I can share it with Uniquely Savvy's community….BIG appreciation!
Everyone, in what ways have you experienced success in using your clothing to best articulate your unique value proposition and support your professional/social objectives?
As always, love to hear your thoughts!
Championing YOU…YOUR STYLE, BRAND, AND CONFIDENCE
from the "Inside-Out", Kim
Desire more?
Kim Crumpler is Founder of Uniquely Savvy, Inc and is a veteran Personal Style & Branding Coach, Personal Shopper, J. Hilburn Custom Menswear Style Consultant, Author, and Speaker. An expert, Kim delivers results and is passionate about helping men & women BE comfortable and confident in their own skin, look and feel amazing, and attract more of who and what they want in life! Kim invites you to: Join the conversation on Uniquely Savvy's facebook business page, call her for a phone consultation to determine how you will best benefit from her expertise, or book her to speak at your upcoming event. Available for keynotes, workshops, seminars, and girlfriend parties, the programs your audience will love range from personal style, to professional image and branding. Additionally, Kim co-authored, "Incredible Life: Top Experts Reveal How to Create Yours", and speaks to a variety of audiences on personal empowerment – bringing inspirational messages of hope and sharing practical tips and tools learned on her inside-out, "From Fear to Freedom" journey. Contact Kim @ 425.503.9885.