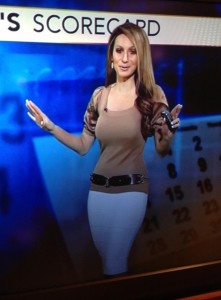 I've copied this info over from Uniquely Savvy's Facebook page as it offered such a good platform from which to glean… What's Her Profession?
During speaking engagements on personal branding, I often use this exercise to illustrate a point or two. W/a real time example,
"Based on the language of her look and her wardrobe choice, name her profession."
There were over 25 responses that ranged from cheerleader, weight loss spokeswoman, TV personality, real housewife of ________, reporter, and beyond….and some not so nice at that!
I hopped back online at early evening as I was about to board…Here was my reply.
"…Great insights from your comments, thx for playing!  -Appreciate @Catherine Jacola's comment, "not so nice comments here about her style". -I SO value the perspectives we individually bring, and do want to encourage continued constructive exchanges on this page.  Posts made here are never to tear down, shame, or embarrass anyone, but are used for tips, ideas & encouragement for ways in which we might add to, change, or modify our authentic inside-out style & brand.
That said, WEATHER lady is right…looks like a couple of you got that …Yet I wouldn't have.  I will share one more pic + some tips.
Well done, THX again."
If you want to see the original post, you'll find it here.  I will try to blog about the 2nd photo with insightful tips for dressing for your audience or any occasion.
Championing YOU…YOUR STYLE, BRAND & CONFIDENCE FROM THE INSIDE-OUT, KIM

Desire more?
Kim Crumpler is Founder of Uniquely Savvy, Inc and is a veteran Personal Style & Branding Coach, Personal Shopper, Author, and Speaker. An expert, Kim delivers results and is passionate about helping men & women BE comfortable and confident in their own skin, look and feel amazing, and attract more of who and what they want in life! Kim invites you to: Join the conversation on Uniquely Savvy's facebook business page, call her for a phone consultation to determine how you will best benefit from her expertise, or book her to speak at your upcoming event. Available for keynotes, workshops, seminars, and girlfriend parties, the programs your audience will love range from personal style, to professional image and branding. Additionally, Kim co-authored, "Incredible Life: Top Experts Reveal How to Create Yours", and speaks to a variety of audiences on personal empowerment – bringing inspirational messages of hope and sharing practical tips and tools learned on her inside-out, "From Fear to Freedom" journey. Contact Kim @ 425.503.9885 or learn more at www.uniquelysavvy.com.