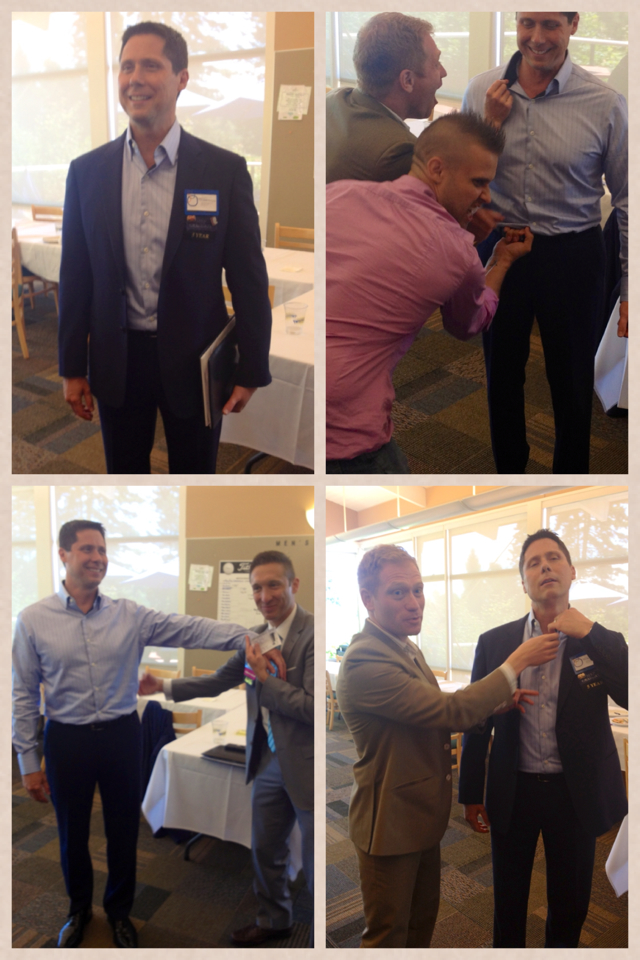 ….Tried to capture the action in real time – it was hilarious!  …Here's what I got!
Steve Dellario (top left) is a seasoned mortgage banker at Colbalt Mortgage and likes to look sharp in suits and exquisite shirts….He wore his new custom J Hilburn shirt to our meeting & the guys literally went grabbing, tugging, and checkin' it out for fit and style!
Leo Novsky, a speaker's coach, wears J Hilburns's magnetic collar stays to polish his public speaking presence and immediately noticed Steve's perfectly shaped collars….He points out that Steve must be wearing them too, he is!
Mark Sterley is a financial planner and is all about the numbers, thus very interested in noting how many inches were taken off the width of Steve's shirt sides, "Look, there's no "squirrel wings!"
Was killin' me (in a fantastic way) to watch!……Moral of the story?
Guys really do care, LOL!….And we ladies love that they do!
P.S. Even if custom shirts aren't in your budget or preference, become a discerning off-the-rack shopper. Check for quality construction and fabrics in addition to fit & style. If you are a sale shopper, keep in mind that a few extra $ invested in a quality piece goes a long way… #JHiburn #UniquelySavvy
Championing YOU…YOUR STYLE, BRAND, AND CONFIDENCE
from the "Inside-Out", Kim
Desire more?
Kim (Crumpler) Peterson is Founder of Uniquely Savvy, Inc and is a veteran Personal Style & Branding Coach, Wardrobe Stylist, J. Hilburn Custom Menswear Style Consultant, Co-author, and Speaker.  With a commitment to excellence (not perfection!), Kim delivers results and is passionate about helping men & women BE comfortable and confident in their own skin, step more into their potential, and attract more of who and what they truly want in life! Kim invites you to: Join the conversation on Uniquely Savvy's Facebook business page, call her for a free phone consultation, or book her to speak at your upcoming event. Available for keynotes, workshops, seminars, and girlfriend parties, the programs your audience will love range from personal style and professional image and branding, to success, hope and freedom. Additionally, Kim co-authored, "Incredible Life: Top Experts Reveal How to Create Yours", and speaks to a variety of audiences on personal empowerment – bringing inspirational messages of hope and sharing practical tips and tools learned on her inside-out, "From Fear to Freedom" journey. Contact Kim @ 425.503.9885.