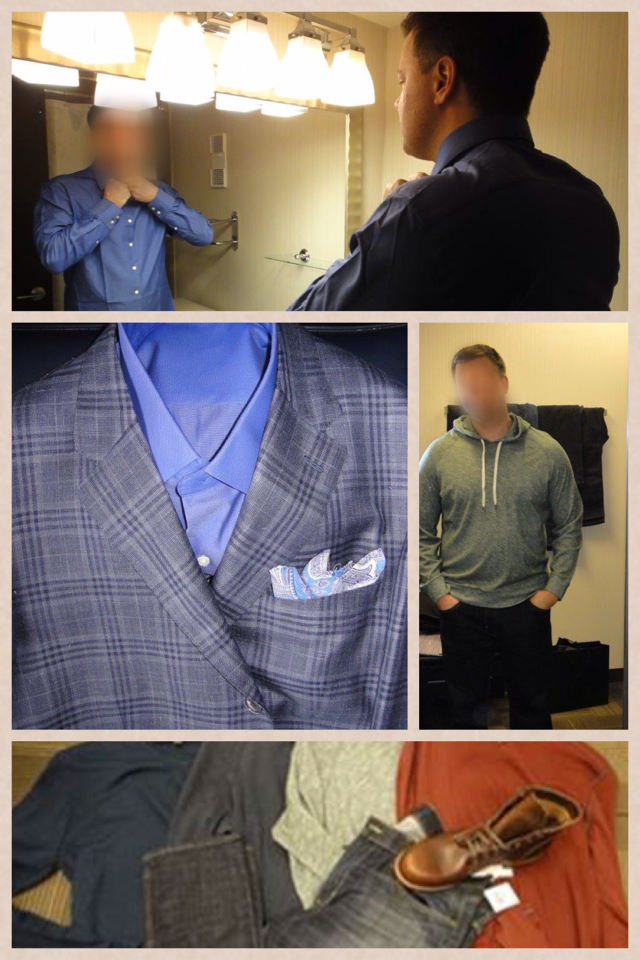 This gent headed down from Toronto to update and refresh his work to weekend wardrobe.  Since we've worked together since 2011, it was pretty seamless as we'd already identified his color palette, best styles for his build, and personal style based on his personal brand (though this evolves as he does).  This time he enlisted me to pre-shop for him the day prior to his arrival.  Then, what's not to love about having an independent Seattle style consultant strategize the shopping day, truth tell and edit the final choices, and coordinate your new wardrobe right on the spot!  How long were we together day of the fitting?  Under 5 hours, which may seem like a lot of time….but not when you love everything, have zero returns, get a digital look book, and check the list by "update wardrobe"!
 Had a J Hilburn shirt fitting for this fabulously textured custom shirt and selected new shirt swatches to coordinate with existing trousers. With that, I was able to create and photograph several professional shirt/trouser combinations in anticipation of the shirt arrivals -to include this look with an existing sport coat and pocket square.
Shopped Hugo Boss, Facconable, Nordstrom to update his sporty casual look for the weekends.  Among the plethora of options, pictured are soft long sleeve tees with novelty details to pair back to the coolest denim and non-denim options!  We also picked up gorgeous button downs to wear un-tucked or to layer with some new lightweight sweaters for winter!
RAW Denim TIP:  If you do not plan on washing your raw denim regularly, buy one size down as denim stretches.
It was so much fun, you should see all his photos!  ….A versatile collection of his best colors and mix-and-match lifestyle looks to move him effortlessly throughout his calendar!
What's "effortless" about your wardrobe? Share pics, share stories……..
Happy Menswear Monday, XO
READY to BE CHAMPIONED in YOUR STYLE, BRAND & CONFIDENCE?  Call me… 
425.503.9885 ~ kim@uniquelysavvy.com

Kim (Crumpler) Peterson is Founder of Uniquely Savvy, Inc and is a veteran Personal Style & Branding Coach, Wardrobe Stylist, J. Hilburn Custom Menswear Style Consultant, Co-author, and Speaker.  With a commitment to excellence (not perfection!), Kim delivers results and is passionate about helping men & women BE comfortable and confident in their own skin, step more into their potential, and attract more of who and what they truly want in life! Kim invites you to: Join the conversation on Uniquely Savvy's Facebook business page, call her for a free phone consultation, or book her to speak at your upcoming event. Available for keynotes, workshops, seminars, and girlfriend parties, the programs your audience will love range from personal style and professional image and branding, to success, hope and freedom. Additionally, Kim co-authored, "Incredible Life: Top Experts Reveal How to Create Yours", and speaks to a variety of audiences on personal empowerment – bringing inspirational messages of hope and sharing practical tips and tools learned on her inside-out, "From Fear to Freedom" journey. Contact Kim @ 425.503.9885.