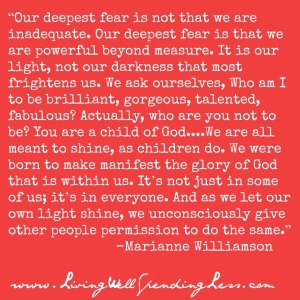 "Your playing small does not serve the world.  There is nothing enlightened about shrinking so that other people won't feel insecure around you."
-Marianne Williamson
Have you ever done that?  I sure have, yet now's the time to "be big".

What you might not know about me? 
I used to be SO ultra-private.  The biggest brick wall around me, my fortress, was built of shame, guilt, pride, bitterness, self-protection, envy, and hurt – to name  just a few.  After years of painstaking healing, growth, and living out of a new story line….one of forgiveness, hope, purpose, and courage…I wrote openly about 2.5 years ago in my co-authored book, Incredible Life; Top Experts Reveal How to Create Yours.
My piece *From Fear to Freedom* is for the reader who desires to step more into their inside-out personal style & potential, and has some of my journey as the back drop.  That journey included a harsh, adverse reality of low self-esteem & body image issues, depression, despair – loss.  Addictions in my family, poverty, abuse, and more…..It also includes healing, hope, faith, possibilities, and how-tos from my experience for the one who desires to get and stay on the freedom journey….It IS possible (to become more comfortable and confident in your own skin and experience more liberating freedom) and life is so much sweeter than living in that fortress!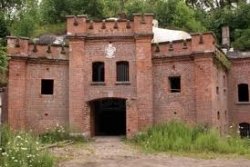 I share openly today, not because I know it all, or because I have arrived….
I share as an honored & willing (vulnerable) example -to keep it real and say hey, "I struggle(d) too, and this is how I've done it or am walking it out today to live a rewarding, meaningful, and fulfilling life.
….What I do know to be true:  I'm not alone and you or someone you know have likely experienced similar things and might benefit from deeper inside-out transparency….We cannot step into our true potential and stay where we are.
Do you sometimes find yourself immobilized in fear, desiring to move forward into your potential and live your truth, but find yourself stuck in the same old inside-out patterns?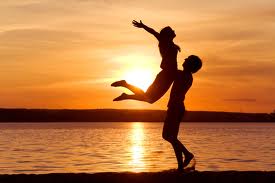 (If you cruise around our FB or Linkedin pages, you'll see what we're about…)  Glean what makes sense and toss the rest.  I'll continue to inspire, educate, celebrate, and hold the mirror on the inside & out…and we're excited about saying "YES, let's become our best selves" (one imperfect step at a time), and "NO" to shrinking.)
I hope you still align with this community & we're still a good fit for you.  If not, no harm no foul…I hope you find a community that's a better fit for what's meaningful to you.
You can only be as beautiful, confident & free on the outside as you are on the inside, Kim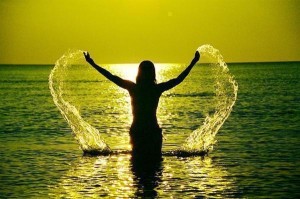 P.S.
Special shout outs to Anne Alberg, Dona Fuller, and Laura Piester who had been after me for several years to write and share my story for the benefit of others.  Their continued prompting and belief in me, allowed me to draft off of their confidence in me when I didn't yet have my own.
Desire more?
Kim Crumpler is Founder of Uniquely Savvy, Inc and is a veteran Personal Style & Branding Coach, Personal Shopper, Author, and Speaker.  Kim delivers results and is passionate about helping men & women BE comfortable and confident in their own skin, look and feel amazing, and attract more of who and what they want in life! Kim invites you to: Join the conversation on Uniquely Savvy's facebook business page, call her for a phone consultation to determine how you will best benefit from her expertise, or book her to speak at your upcoming event. Available for keynotes, workshops, seminars, and girlfriend parties, the programs your audience will love range from personal style, to professional image and branding. Additionally, Kim co-authored, "Incredible Life: Top Experts Reveal How to Create Yours", and speaks to a variety of audiences on personal empowerment – bringing inspirational messages of hope and sharing practical tips and tools learned on her inside-out, "From Fear to Freedom" journey. Contact Kim @ 425.503.9885.