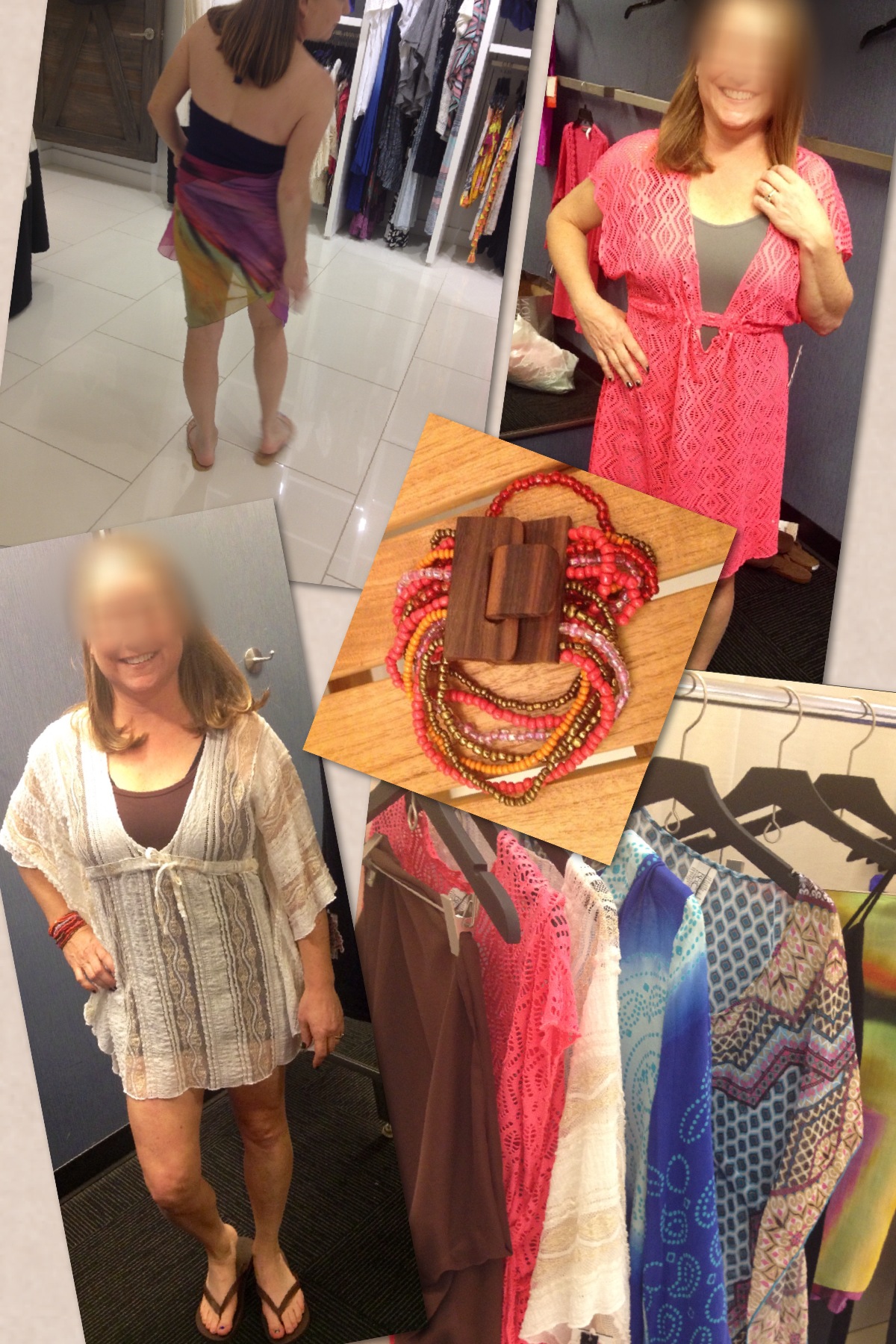 Island Time!
Together, we created a tropical vacation wardrobe -this is just the beginning of bright 'n sunny beach cover ups in her best colors!  More than just personal shoppin', she beautifully connected with herself as new discoveries were made and limiting beliefs were challenged!  In the end?  She had unexpected "fun", "saw" her beauty, and as she experienced how easy it was to pull everything together, she finally…became excited for her trip…out of rainy Seattle!
TIP:  Don't sweat the small stuff!  For island hoppin', keep in mind it will almost always casual and hot!  Cover ups are perfect in the mornin' when poppin' down to breakfast,  taking a leisurely stroll on the waterfront, and of course hangin' at the beach.  …Keep it simple with fun colors and patterns.  Oh yeah, and go easy on the accessories!  With the humidity, wearing necklaces and excessive jewels will be sticky.  If you want, pack statement earrings and a few easy to mix-and-match bracelets. ….Finally, pack a few pairs of shorts and a pair of pants for excursions/activities that require you to be more "tailored-to-the-task", otherwise…..hang loose!
Celebrate with us?!  ……This was an inside-out transformational day!
#DiscoverYourBeauty  #LiveEmpowered #CelebrationContinues
READY to BE CHAMPIONED in YOUR STYLE, BRAND & CONFIDENCE?  Call me… 
425.503.9885 ~ kim@uniquelysavvy.com

Kim (Crumpler) Peterson is Founder of Uniquely Savvy, Inc and is a veteran Personal Style & Branding Coach, Wardrobe Stylist, J. Hilburn Custom Menswear Style Consultant, Co-author, and Speaker.  With a commitment to excellence (not perfection!), Kim delivers results and is passionate about helping men & women BE comfortable and confident in their own skin, step more into their potential, and attract more of who and what they truly want in life! Kim invites you to: Join the conversation on Uniquely Savvy's Facebook business page, call her for a free phone consultation, or book her to speak at your upcoming event. Available for keynotes, workshops, seminars, and girlfriend parties, the programs your audience will love range from personal style and professional image and branding, to success, hope and freedom. Additionally, Kim co-authored, "Incredible Life: Top Experts Reveal How to Create Yours", and speaks to a variety of audiences on personal empowerment – bringing inspirational messages of hope and sharing practical tips and tools learned on her inside-out, "From Fear to Freedom" journey. Contact Kim @ 425.503.9885.