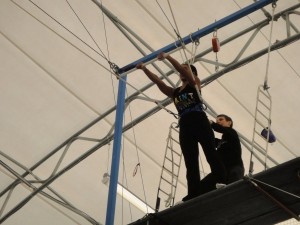 A real time example of building the courage muscle…..
(Trapeze Debut:  I Dared to Jump! )
 This was my first experience on the trapeze;  it was both exhilarating and scary at the same time.  Believe it or not, facing my fears in this social, "out-of-the-office" setting gave me the confidence to "find & use my authentic voice" in an extremely difficult professional situation later that same day.
Having chosen to face my fears and jump from that ridiculously tall platform, I left feeling empowered and aligned on the inside.  I COULD have let fear take over (as some did) and walk back down the ladder.  But I didn't.  I faced it head on.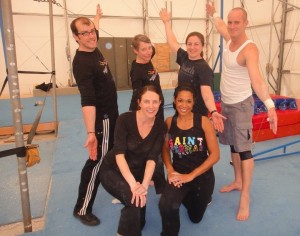 (Deanne, one of my 2011 adventure buddies & me with our coaches.)
Instead, I got to reap the rewards even more significantly back in the office that afternoon.  Professionally, I found my voice and called someone into accountability regarding a lack of professional integrity.  -I had the courage speak up & to sacrifice a $3,000 speaking engagement in the name of doing the right thing.  I had the ability to show up like that on the outside, because I was felt fortified on the inside.
….Now, just imagine the look of the outfit I put on the next day!  …Rocked 4" heels, FABulous jeans, and a kick butt top with don't mess with me accessories (all smiles).
Who knew that living out my goal of saying "YES to adventure in 2011" would actually be a major cornerstone for building the courage I needed for what was to come at the end of 2011?
What do you need to find courage to say YES to today?  If you're feelin' a tug, JUST DO IT!!!  It's probably tuggin' at ya for a reason.  It's probably building the muscle that you too, will be required to exercise in your future.  When push comes to shove, you want to be ready.
Get after it!
Championing YOU…YOUR CONFIDENCE, BRAND, and STYLE From The "Inside-Out", Kim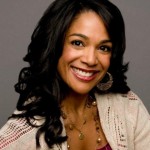 Desire more?
Kim Crumpler is Founder of Uniquely Savvy, Inc and is an 11 year veteran Personal Style & Branding Coach, Personal Shopper, Author, and Speaker. An expert, Kim delivers results and is passionate about helping men & women BE comfortable and confident in their own skin, look and feel amazing, and attract more of who and what they want in life! Kim invites you to: Join the conversation on Uniquely Savvy's facebook business page, call her for a phone consultation to determine how you will best benefit from her expertise, or book her to speak at your upcoming event. Available for keynotes, workshops, seminars, and girlfriend parties, the programs your audience will love range from personal style, to professional image and branding. Additionally, Kim co-authored, "Incredible Life: Top Experts Reveal How to Create Yours", and speaks to a variety of audiences on personal empowerment – bringing inspirational messages of hope and sharing practical tips and tools learned on her inside-out, "From Fear to Freedom" journey. Contact Kim @ 425.503.9885 or learn more at www.uniquelysavvy.com.