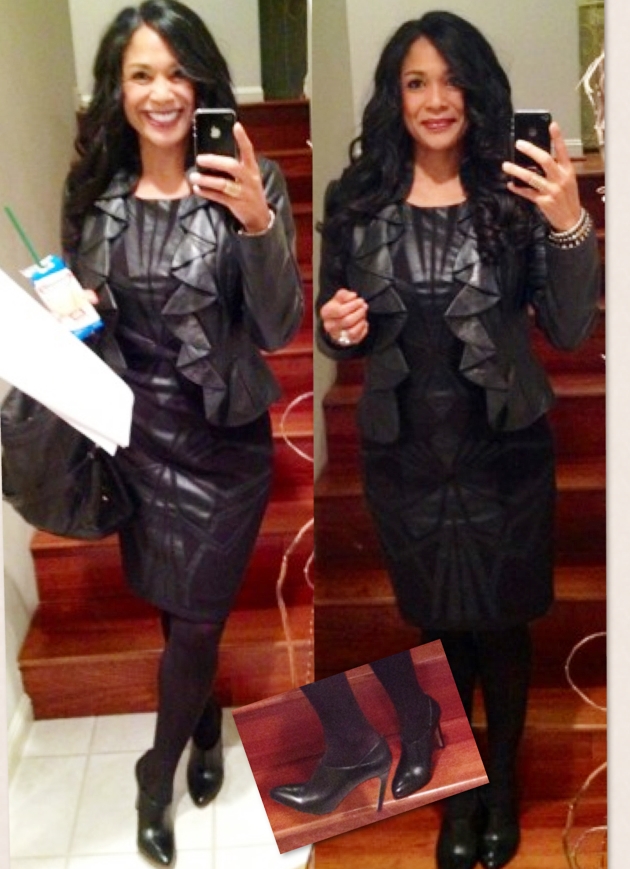 Making a quick exit, I took this quick pic…..but *really* wanted to share the uniqueness of this leather dress – so snapped another later on!
…This is today's version of a "suit" for a personal style and branding consult with an "understated  & modern classic" Director of a merger and acquisition company.  Fit is important to him and he wants a little something out of the box….So I dressed accordingly!
P.S.  Three things:  1.  While this look was spot on for who he is, it also communicated some of my #personalbrand attributes (attention to detail, discerning, comprehensive, modern classic with a unique & feminine twist).  2.  These are the $58 shoe booties that I found during a crazy sale -they inspired me to reach out to clients to shop for FABULOUS FINDS via Virtual Style!   3.  Finally learned how to find my real smile in these crazy selfies you've asked for (1st pic). …Think about my little man D, nobody brings me a smile like hes does!!!
READY to BE CHAMPIONED in YOUR STYLE, BRAND & CONFIDENCE?  Call me… 
425.503.9885 ~ kim@uniquelysavvy.com

Kim (Crumpler) Peterson is Founder of Uniquely Savvy, Inc and is a veteran Personal Style & Branding Coach, Wardrobe Stylist, J. Hilburn Custom Menswear Style Consultant, Co-author, and Speaker.  With a commitment to excellence (not perfection!), Kim delivers results and is passionate about helping men & women BE comfortable and confident in their own skin, step more into their potential, and attract more of who and what they truly want in life! Kim invites you to: Join the conversation on Uniquely Savvy's Facebook business page, call her for a free phone consultation, or book her to speak at your upcoming event. Available for keynotes, workshops, seminars, and girlfriend parties, the programs your audience will love range from personal style and professional image and branding, to success, hope and freedom. Additionally, Kim co-authored, "Incredible Life: Top Experts Reveal How to Create Yours", and speaks to a variety of audiences on personal empowerment – bringing inspirational messages of hope and sharing practical tips and tools learned on her inside-out, "From Fear to Freedom" journey. Contact Kim @ 425.503.9885.