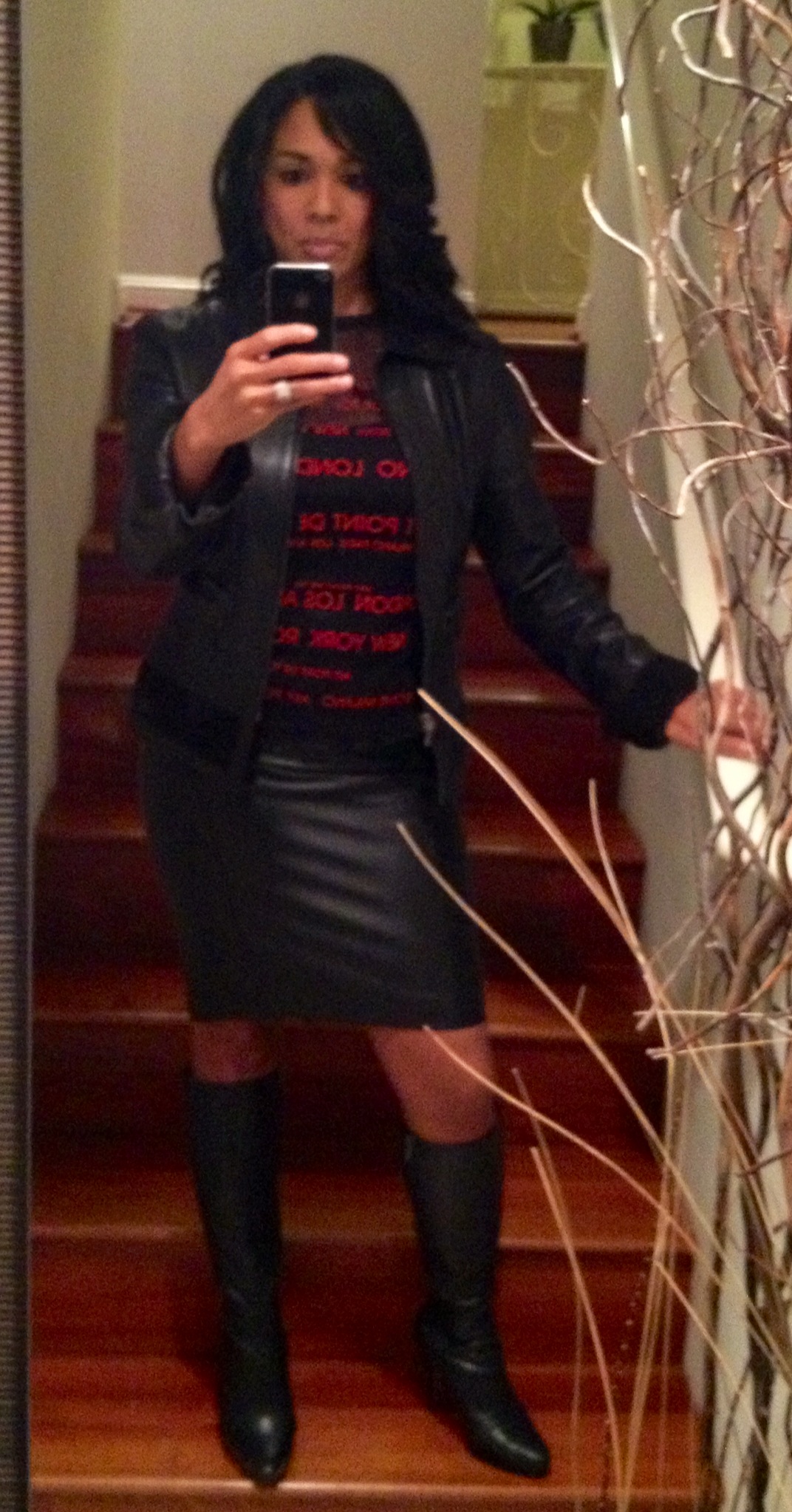 P.S.  I was tailored-to-the-task, armored in leather. My kick ###?  It was on.
In good ways and in bad, research indicates what you wear impacts your mindset/behavior.
…And who you surround yourself with?  It matters too.
Don't let a 5'2" fashion girl with bouncy curls mislead you.  Clearly, I've got what it takes….and I'm done messin' around.
Caught a man stealing boxes off my front porch…..Just had arrived home and remembered some packages were to arrive any day so I came up from the garage and went to the front door to check.  I peaked through the blinds to find a man's boot and jeans and thought, "Those aren't Kelly's."  Then I saw some packages moving and in a split second, with the door closed I started banging on the door from the inside-out so he knew I saw him.  I opened the door, walked out and looked him straight in the eyes.  Yelling firmly while pointing , "Don't you steal from me!!! Put my boxes down….DON'T YOU EVER steal from me."  He looked at me in the eyes (in shock no less), put my packages down where you see them and slowly walked away backwards without saying anything.  "DON'T YOU EVER STEAL FROM ME…YOU UNDERSTAND?"  ….Just as swiftly, what came next was "Are you hungry?"  Thought maybe he's stealing because he needed some food.  He just shook his head "No" and walked gently, yet with purpose up the hill…..
One is never sure what they are made of until they are in a situation.  Perhaps it was because I had a good friend, and someone I feel championed by on the phone, Leo Novsky, an Executive Speech Coach.  We were just celebrating his successes as new Professor at UW Bothell.  Perhaps it's because I just came out of a collaborative and empowering lunch and Toastmasters meeting run by Dan Wingard who was talking about his "Super Hero Super Shoes" success program that helps folks find their individual purpose and power…….Maybe it's because this was the tipping point and catalyst to push me into "what's next."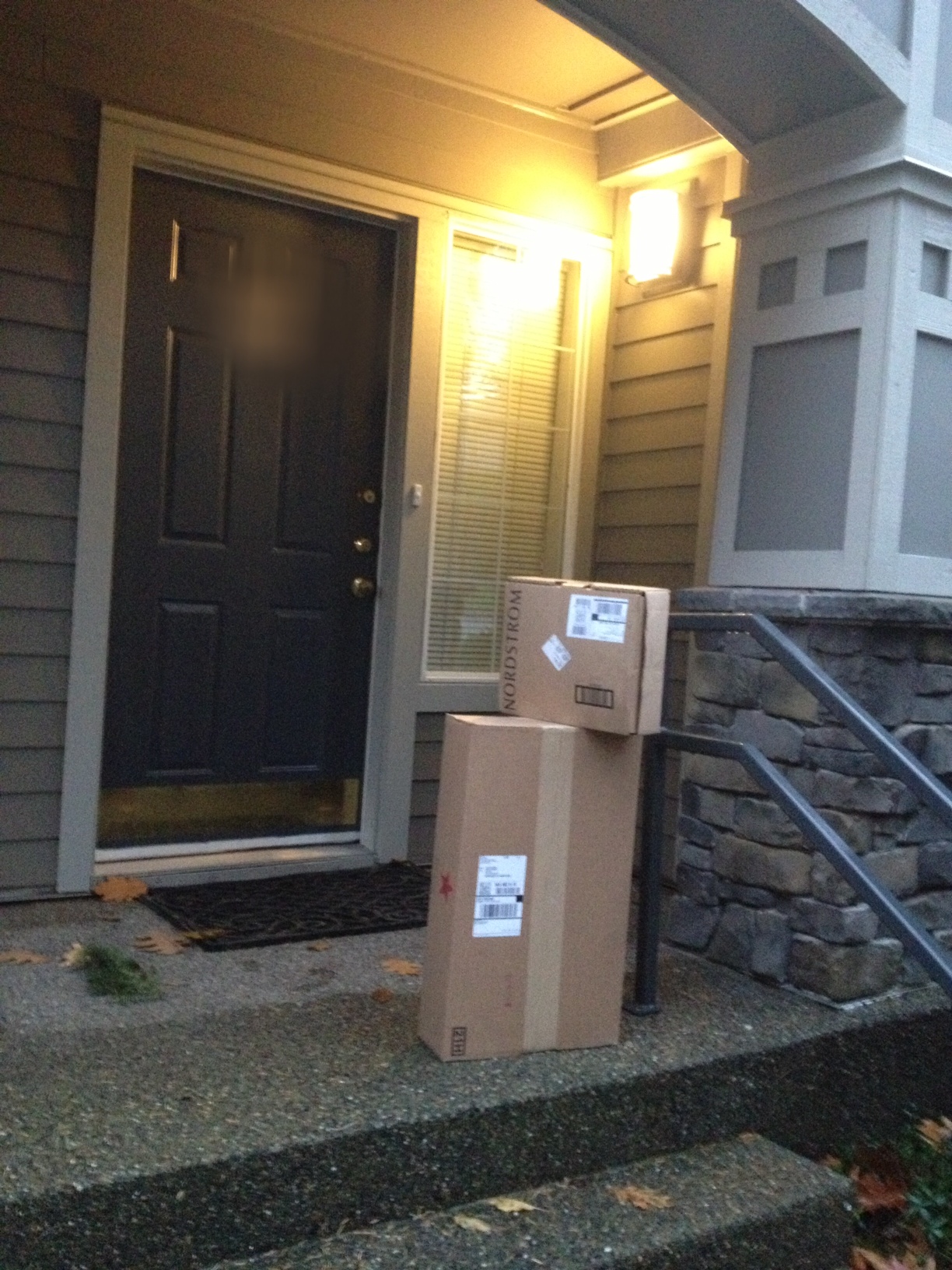 TIPS for protecting your packages this holiday season!
On the phone Leo asked, "What just happened?!" and as a witness said something like, "Kim that was you in all of who you are, and all that you have dealt with in life -standing in your power, whoa."
My husband just came home and said, "Honey that wasn't safe."  I said, "Yeah, ok…..don't think I'll do that again, but I'm *DONE* having people violate and steal from me and my family."  He just chuckled and said, "Yeah, I don't think either HE… or you… will ever do that again."
All together today was an extraordinary, empowering day.  …..I had even gave strength to my voice this morning in a vulnerable business post, sent an email that was difficult to write, and  felt deeply honored  for being chosen based on aligned values.  …I guess, the bottom line could be :  I got clear today, on November 25th 2014.  ….I've entered my new normal and in a positive but firm way I'm ready to "reclaim the territory that has been taken from me" and am ready to speak w/an increase in boldness and purpose.  …And instead of having to "reclaim", just don't think to (steal) from me! 🙂
What #ChampioningMyselfFromTheInsideOut looks like today.  How did you champion yourself?  ……XO
P.S.  The cop said to me, "Good for you for doin' somethin!'"…..Mixed messages, ha!
Championing YOU…YOUR STYLE, BRAND, AND CONFIDENCE
from the "Inside-Out", Kim
Desire more?
Kim (Crumpler) Peterson is Founder of Uniquely Savvy, Inc and is a veteran Personal Style & Branding Coach, Wardrobe Stylist, J. Hilburn Custom Menswear Style Consultant, Co-author, and Speaker.  With a commitment to excellence (not perfection!), Kim delivers results and is passionate about helping men & women BE comfortable and confident in their own skin, step more into their potential, and attract more of who and what they truly want in life! Kim invites you to: Join the conversation on Uniquely Savvy's Facebook business page, call her for a free phone consultation, or book her to speak at your upcoming event. Available for keynotes, workshops, seminars, and girlfriend parties, the programs your audience will love range from personal style and professional image and branding, to success, hope and freedom. Additionally, Kim co-authored, "Incredible Life: Top Experts Reveal How to Create Yours", and speaks to a variety of audiences on personal empowerment – bringing inspirational messages of hope and sharing practical tips and tools learned on her inside-out, "From Fear to Freedom" journey. Contact Kim @ 425.503.9885.