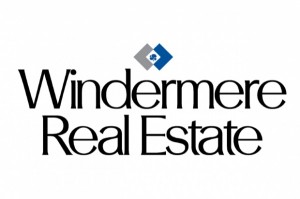 Delivered an educational, fun & participatory "Fit to Flatter" Lunch 'N Learn presentation at Windermere's National Symposium. A sharp group of co-ed, Realtors gleaned how to choose styles to flatter their different body types.
THE BENEFIT:
Knowing best fit practices when investing in your professional wardrobe will:  have you lookin' amazing, increase your confidence, and save you time and money.  A room filled with 100 agents, kudos to all the men & women who hopped up on stage for style coaching to benefit all…"Your Image, Your Brand" followed the next day.
 "Having booked many speakers over the years, I wasn't sure how our group of fashion savvy, image conscious agents would receive Kim's presentation at our annual Symposium. Luckily she won them over from the start with her professionalism, knowledge and experience. Mostly I think they were drawn to her honesty and genuine desire to help them regardless of their wardrobe or body style challenge.   Kim is both educational and entertaining. She provides practical tips, and engages the audience by calling on volunteers for demonstrations. She is an excellent choice for a corporate event. It turns out she was so popular we had to add more chairs to the room and day two there was standing room only!"
-Mary Lynn Thompson | Director, Event Marketing – Windermere
A FEW QUICK TIPS:  WHETHER A MAN OR A WOMAN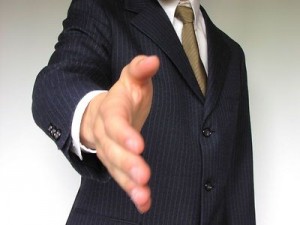 Invest in "knowing" best practices for dressing your unique build.  Dressing intentionally to fit & flatter with the right "look" can visually help articulate your value and speak to:  attention to detail, competence, creativity, or success to name a few.
To minimize a larger area of your frame, avoid widely spaced patterns.  Solids or patterns that have minimal spacing in between them will be visually slenderizing.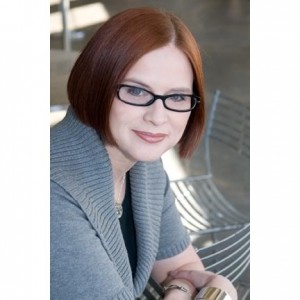 For thinner builds, if you want to visually "add weight" choose heavier fabrics that have less movement to them.  If you are broader, curvier, or carry a few extra pounds, consider lightweight fabrics in styles that are somewhat tailored and give form to your body.  This will offer a nice drape, thus a more slimming effect.
 WHAT ABOUT PLUS SIZE STYLING?

I'm often asked if I have success working with plus size woman.  YES, absolutely!  No matter a ladies shape or size, my vast experience tells me the styles, fabrics, colors and patterns that will work best to make any woman look amazing..it's all about line design!  Having been overweight myself, and having worked with many gals to size 26 X, I'm familiar with both the design concepts to incorporate -and the esteem related thoughts that sometimes accompany as well.  …The good news?  The style principles are ALL the same…and they work…no matter your shape or size.  If this speaks to you, your confidence in part, will come from the "knowing" of your personal best practices and "seeing" it easily come together!  You're gonna love how beautiful, confident, and free you feel -as shopping gets more fun and getting dressed becomes more enjoyable!….What's the first step?  To believe.  To believe it is true and possible, and that you're worth it!  (Authentic and successful personal style & branding is an "inside-out" job…. )
The other day while shopping on line for a client, I stumbled upon this dress.  While floral prints and dresses are on trend for Spring 2012, this isn't a best practice for this model's beautiful and curvy-licious frame!  How could we modify this dress to best flatter her shape?  The floral pattern could be brought down to a smaller scale and the spacing narrowed, thus creating a more slenderizing effect.  If the dress had some darts or was slightly more tailored, it would create better lines (eliminates some of the excess fabric) and she'd visually look taller & slimmer while celebrating her shape a bit more.
-Guys, consider these tips for your print wardrobe as well.  Be it stripes, plaids, even florals, ensure that the spacing and scale is right for your frame so you can ensure you're creating the effect you want.
Below are a couple of additional examples to compare and contrast the difference that line design makes….Again this is the same gorgeous gal!  Her shape is beautiful as it is….it's the "style" of the garment that is making a difference….In any case her shape and the dresses are all good …..they just don't net a "best practice" together.  Hope this makes sense.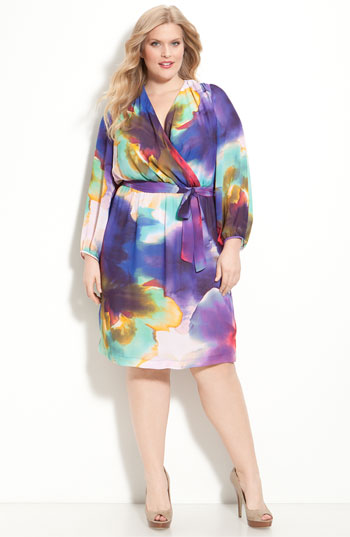 "DON'T" :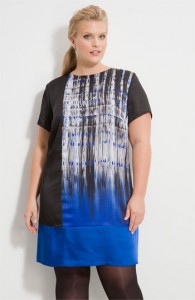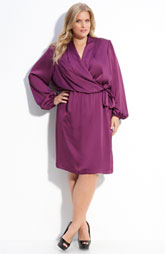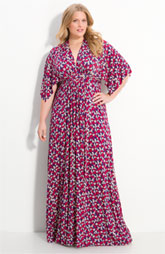 "DO" :

Here are a couple of quick examples I found as I briefly surfed around for a "best practice" look with the right line design for her frame.  See the difference?  In ALL the pictures, this  model is still beautifully her.  In the "DO" silhouettes, however, her body is simply being dressed with better styles to fit & flatter.  Some of them still could still be tweaked a bit.  The navy floral needs to have slightly longer sleeves, be a touch more fitted, and have a more narrow V neck, for instance…BTW, to create an element of playfulness, I would pop it with it a belt – maybe a yellow, navy, or red tango patent!
…L-O-V-E the model's shape and the language of her look in the last black cocktail dress!  A best practice move in this case would be to "balance" the gorgeous detail in the top with the hem of the dress.  How could we do this?  Create a slight A-line vs. the narrowed pencil skirt effect.  Either way, I say this dress is a go…..
The dress in the middle is a perfect silhouette!  The drape beautifully graces the model's curves and while the neckline is still wider, the wide handkerchief hem bat the bottom balances the V, as does the length, angle, and drape of the sleeve.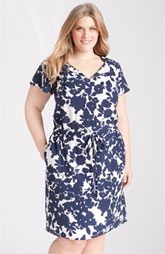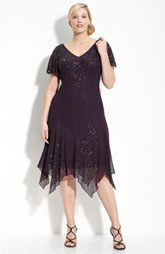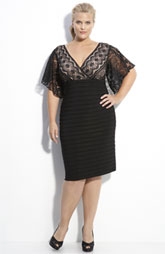 WANT TO LEARN YOUR PERSONAL BEST PRACTICES TO FIT & FLATTER?
No matter whether you're a man or a woman, desiring to gain or lose 20 lbs., a professional or not, I'm passionate about coaching you into confident style success from work-to-weekend!  If you or someone you know desire to BE & look your best,  let me know how I can serve you either now or in the future.  -I'd be honored!
Championing YOU…YOUR CONFIDENCE, BRAND, and STYLE
From The "Inside-Out", Kim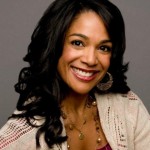 Desire more?
Kim Crumpler is Founder of Uniquely Savvy, Inc and is an 11 year veteran Personal Style & Branding Coach, Personal Shopper, Author, and Speaker. An expert, Kim delivers results and is passionate about helping men & women BE comfortable and confident in their own skin, look and feel amazing, and attract more of who and what they want in life! Kim invites you to: Join the conversation on Uniquely Savvy's facebook business page, call her for a phone consultation to determine how you will best benefit from her expertise, or book her to speak at your upcoming event. Available for keynotes, workshops, seminars, and girlfriend parties, the programs your audience will love range from personal style, to professional image and branding. Additionally, Kim co-authored, "Incredible Life: Top Experts Reveal How to Create Yours", and speaks to a variety of audiences on personal empowerment – bringing inspirational messages of hope and sharing practical tips and tools learned on her inside-out, "From Fear to Freedom" journey. Contact Kim @ 425.503.9885 or learn more at www.uniquelysavvy.com.