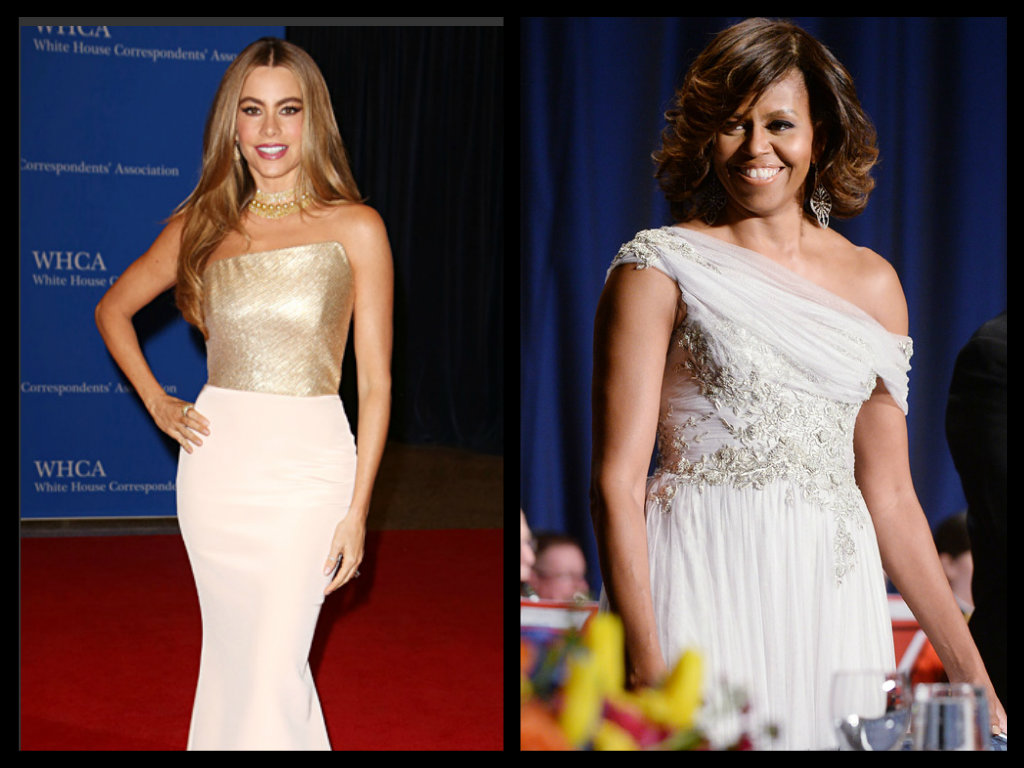 2014 White House Correspondents' Dinner
Vergara, is one of my faves from the White House Correspondents' Dinner, do find a find a full length shot!
In addition to fabulous lines and exquisite fit, notice the harmony between her her golden/caramel locks that flow seamlessly w/her skin and shimmery gold bodice.
Just for color education – check out the warm highlights of FLOTUS!  Gorge with her skin/eyes, yet compete with the overall cool gray of her Marchesa gown….Still stunning?  Come on now, absolutely.  Just sharin' some fine details! With Michelle's highlights, if we were to stick with a neutral with some sparkle, I would have considered a head-turning bronze to accent the colors of her rich new do!
TIP:  For head-to-toe harmony, first select a neutral or fashion color that celebrates your hair, eye, and skin tones.  In conversation, at a boardroom table, or at an event, most people are focusing on your upper torso…after they drink in your whole look that is!  To that point you really want to put some focus on just the right elements of style from the waist up (tie, pocket square, necklace, earrings, layering piece, hair) to include line designs that flatter your frame, and color.   Once you chose a color that rocks, moderately carry or repeat it throughout your entire look to create instant polish and that something extra special.    In this case, Vergara did it by repeating the gold in her necklace and FLOTUS did so with silver statement earrings.
Tid bits for your Tuesday – make it a great day folks!
P.S. Please share some of your tips….and let me know of any of mine have been helpful for you!
Championing YOU…YOUR STYLE, BRAND, AND CONFIDENCE
from the "Inside-Out", Kim
Desire more?
Kim (Crumpler) Peterson is Founder of Uniquely Savvy, Inc and is a veteran Personal Style & Branding Coach, Wardrobe Stylist, J. Hilburn Custom Menswear Style Consultant, Co-author, and Speaker.  With a commitment to excellence (not perfection!), Kim delivers results and is passionate about helping men & women BE comfortable and confident in their own skin, step more into their potential, and attract more of who and what they truly want in life! Kim invites you to: Join the conversation on Uniquely Savvy's Facebook business page, call her for a free phone consultation, or book her to speak at your upcoming event. Available for keynotes, workshops, seminars, and girlfriend parties, the programs your audience will love range from personal style, to professional image and branding. Additionally, Kim co-authored, "Incredible Life: Top Experts Reveal How to Create Yours", and speaks to a variety of audiences on personal empowerment – bringing inspirational messages of hope and sharing practical tips and tools learned on her inside-out, "From Fear to Freedom" journey. Contact Kim @ 425.503.9885.