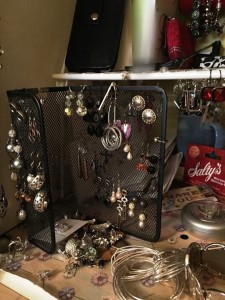 TIP for Storing  Earrings:  
An office paper holder!
Yesterday's "Wardrobe Check-Up" client was so innovative, had to share! ….When we first met several years ago I coached her up on keeping her accessories "visible" so she would remember her options for creating fresh outfits. Well, here was her solution!
The bigger picture includes shelves in her closet for clear glass holders for her bracelets, hanging necklaces and more!
How do you store your accessories?
READY to BE CHAMPIONED in YOUR STYLE, BRAND & CONFIDENCE?  Call me… 
425.503.9885 ~ kim@uniquelysavvy.com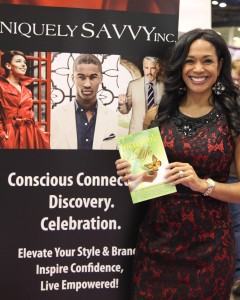 Kim (Crumpler) Peterson is Founder of Uniquely Savvy, Inc and is a Champion of People who have a conscious connection to wanting to BE their best and dress their best to align from the inside-out!  Kim works with individuals, teams, and organizations to elevate authentic personal brands and style, inspire confidence, and live more empowered.  As a keynote speaker, image consultant, and personal style & branding coach, she works tirelessly, decisively and thoughtfully to bring about goal oriented solutions and results to those she serves.  You're invited to: Join the conversation on Uniquely Savvy's Facebook business page, call for a free phone consultation, or book Kim to educate & inspire at your next!   Available for keynotes, workshops, seminars, and girlfriend parties, the programs your participants will love range from personal style, professional image and branding, to hope, freedom, faith, and living an incredible life in spite of trauma. Kim co-authored, "Incredible Life: Top Experts Reveal How to Create Yours".  Contact Kim @ 425.503.9885.