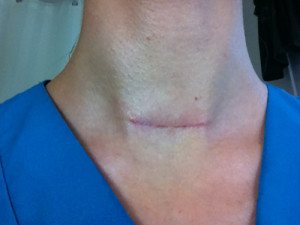 She'd canceled last year, but circled back today.  What a privilege to work with this radiant woman on defining her personal brand/style….In her early 30's she truly is reconnecting with her authentic essence to live her TRUTH both on the inside and the out….She also had a throat scar from having beat thyroid cancer.  Towards the end of her TRAINING CAMP, she asked me if I thought she should cover her scar or leave it visible (some say she should cover it)….While I had my own answer I asked her to connect with her truth around what she *wanted* to do.
In the end, I held the mirror that that scar was a "visual cue" that communicated so many of her brand attributes:  Experienced, brave, genuine, confident, survivor, champion, leader…and more.  When she can stand in her truth, as she chose to do, she gives the people she leads permission to do the same.  By revealing her scar vs. hiding it in embarrassment or shame, she communicates comfort in her own skin.  When she does so, it invites others to be comfortable in their own skin – their own stories as well, powerful!  While her cancer story absolutely doesn't define her, it dramatically and quickly illustrates so many of the positive attributes she embodies.  As a woman of influence she absolutely inspires confidence…she is a perception changer – a trail blazer!
…Paired with a quick color analysis, it was fun to translate her personal brand message into her colorful and accessorized personal style.  When it came to tips to fit 'n flatter from her Style GPS, she gained new-found confidence, "I've never thought of looking at my shape like that before!" …BTW, she has the best legs and calves and should be wearing dresses and skirts as often as possible…she just didn't know….until all of these years later!
How does living your truth translate int your personal brand?
Felt strengthened by her upon leaving.  Grateful for the work I get to do, XO
Championing YOU…YOUR STYLE, BRAND, AND CONFIDENCE
from the "Inside-Out", Kim
Desire more?
Kim Crumpler is Founder of Uniquely Savvy, Inc and is a veteran Personal Style & Branding Coach, Personal Shopper, J. Hilburn Custom Menswear Style Consultant, Author, and Speaker. An expert, Kim delivers results and is passionate about helping men & women BE comfortable and confident in their own skin, look and feel amazing, and attract more of who and what they want in life! Kim invites you to: Join the conversation on Uniquely Savvy's facebook business page, call her for a phone consultation to determine how you will best benefit from her expertise, or book her to speak at your upcoming event. Available for keynotes, workshops, seminars, and girlfriend parties, the programs your audience will love range from personal style, to professional image and branding. Additionally, Kim co-authored, "Incredible Life: Top Experts Reveal How to Create Yours", and speaks to a variety of audiences on personal empowerment – bringing inspirational messages of hope and sharing practical tips and tools learned on her inside-out, "From Fear to Freedom" journey. Contact Kim @ 425.503.9885.