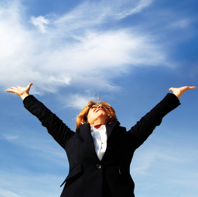 An executive woman, being groomed for yet another promotion, is highly successful on the outside is becoming even more so on the inside!  A goal of her Training camp experience?
"I would love assistance in expressing who I am and what I've accomplished.
I'm just now feeling comfortable in my own skin, learning I like to be girlie, and learning to love myself."
…She also thought she didn't have a sense of style and that we would need to go shopping.  But alas! After defining who she is through her personal brand work, and then coming up with her authentically thoughtful statement of style:
"The Empowering & Gracious, Passionate & Collaborating, Professional, Feminine & Adventurous
Visionary Leader"
we got into her closet and we found she was more aligned than she thought! Sure we purged pieces that didn't fit her brand, style, or coloring, but we had quite a bit of "her" leftover!  Mixed and matched several fresh outfits and created a prioritized shopping plan for missing pieces.
…She's still going shopping, but with her best practices for how to dress her body shape, style, and brand, she feels empowered to head out on her own…now that's worthy of celebration!
What life changes have occurred for you over the last 6 months to year?  How have you become more successful on the inside?  Does your personal style align and reflect your personal & professional growth, success…love of self?
TIP:
Give yourself permission to explore who you are today, beyond your past story line.  Take time to connect with who you are and who you are becoming in this stage of your life.  Really.  Just take some time to map out your passions, skills, talents, personality, and strengths.  Now, consider how you can translate your personal attributes into elements of style.
In what one way will you commit to exploring who you are today?  You never know who or what you'll find!

Championing YOU…YOUR STYLE, BRAND, AND CONFIDENCE
from the "Inside-Out", Kim
Desire more?
Kim Crumpler is Founder of Uniquely Savvy, Inc and is a veteran Personal Style & Branding Coach, Personal Shopper, J. Hilburn Custom Menswear Style Consultant, Author, and Speaker. An expert, Kim delivers results and is passionate about helping men & women BE comfortable and confident in their own skin, look and feel amazing, and attract more of who and what they want in life! Kim invites you to: Join the conversation on Uniquely Savvy's facebook business page, call her for a phone consultation to determine how you will best benefit from her expertise, or book her to speak at your upcoming event. Available for keynotes, workshops, seminars, and girlfriend parties, the programs your audience will love range from personal style, to professional image and branding. Additionally, Kim co-authored, "Incredible Life: Top Experts Reveal How to Create Yours", and speaks to a variety of audiences on personal empowerment – bringing inspirational messages of hope and sharing practical tips and tools learned on her inside-out, "From Fear to Freedom" journey. Contact Kim @ 425.503.9885.