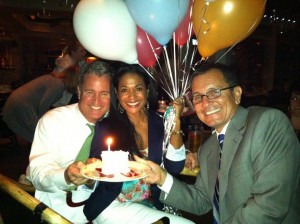 "Went to an executive coaching event @ The Pacific Institute. An impromptu follow up @ Salty's led to this spontaneous 'n zany early bday celebration with people I just met! -It's true, people will remember how you make them feel. Beyond thoughtful, a fave bday memory for sure!"
A treasure lady in Uniquely Savvy's FB community made a comment after I posted the above pic, "What I love about you, Kim, is you know how to live in the moment!"
My reply?
"What I love about you is your openness/generosity to celebrate others….THANK YOU! Funny thing, is I almost said "NO THANKS" (to going), but I thought of the post I shared yesterday, "Take a chance, you never know what might happen" and I thought, "NO ONE ELSE IS GOING TO LIVE MY LIFE FOR ME." Take a chance on participating further :-). The result: Reciprocal business referrals, tons of laughter, and all of this adventure was based off a 5 second exchange on birth dates on the way in…..Maryanne, I appreciate your reinforcement to "live in the moment."
Readers, how do you live in the moment?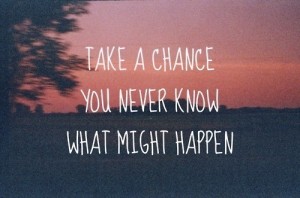 I took a chance that one night last week and said YES.  A zany good time and a memory for a lifetime was created.
What if you took a chance?  Imagine…the possibilities!
Championing YOU…YOUR CONFIDENCE, BRAND, and STYLE
From The "Inside-Out", Kim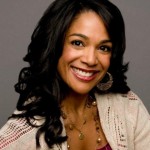 Desire more?
Kim Crumpler is Founder of Uniquely Savvy, Inc and is an 11 year veteran Personal Style & Branding Coach, Personal Shopper, Author, and Speaker. An expert, Kim delivers results and is passionate about helping men & women BE comfortable and confident in their own skin, look and feel amazing, and attract more of who and what they want in life! Kim invites you to: Join the conversation on Uniquely Savvy's facebook business page, call her for a phone consultation to determine how you will best benefit from her expertise, or book her to speak at your upcoming event. Available for keynotes, workshops, seminars, and girlfriend parties, the programs your audience will love range from personal style, to professional image and branding. Additionally, Kim co-authored, "Incredible Life: Top Experts Reveal How to Create Yours", and speaks to a variety of audiences on personal empowerment – bringing inspirational messages of hope and sharing practical tips and tools learned on her inside-out, "From Fear to Freedom" journey. Contact Kim @ 425.503.9885 or learn more at www.uniquelysavvy.com.