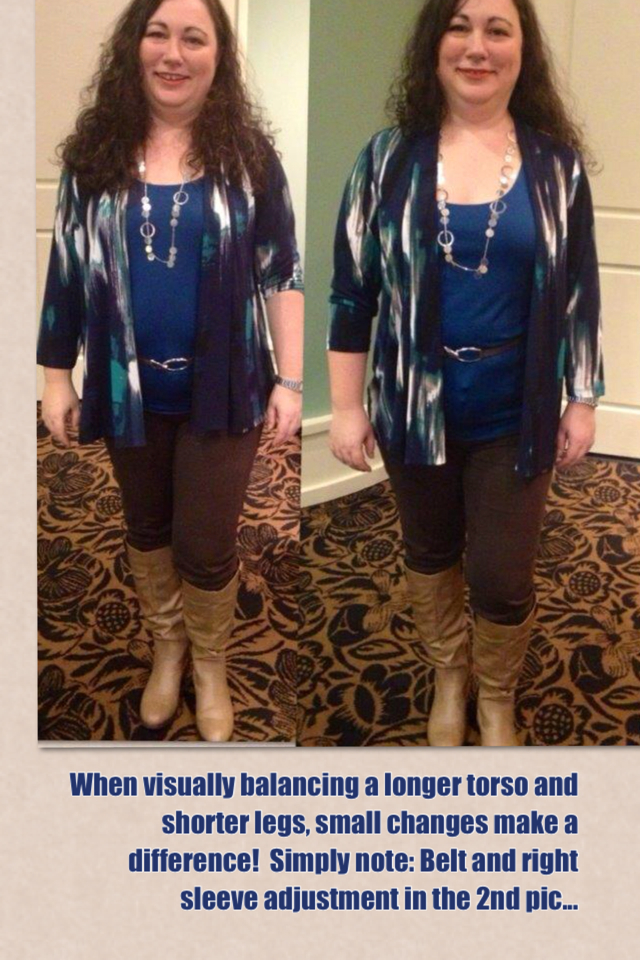 Congrats!
Emina, a Kimpton Hotels "Executive Housekeeper", got to pop down for an on the spot consultation!  Unbeknownst to her, this beautiful lady was the WINNER of our drawing so we got to talk shop:  Gorgeous choice of colors  for her hair, eyes, and skin tones, and her smart styling would resonate with downtown guests. 
Graciously, she was willing to share some of her pointers with Uniquely Savvy's community.  Here are a few of the tips we covered to help "visually balance her longer torso/shorter legs", though the "before" and "during" pic only shows the belt and sleeve length adjustment!
Raise the belt about 1.5 – 2 inches to visually shorten her upper torso (the only example captured here).
Shorten the neckline vs. wearing a deeper scoop.

 

Best practice?

 

One that hits mid sternum.
Slightly scrunch up the sleeve to the position of the belt (as in the picture on the right).

 

Creating side swept bangs, and taking some length off her gorgeous locks will also visually create more balance between her upper & lower torso.
We also talked about patterns and how to use those to effectively style her savvy style and executive role…..
A real treat, Emina and I celebrated her natural talent and eye for style, I gave some pointers that will help her dress and shop with increased confidence and ease, and most of all?  We enjoyed quite a lovely time!   
What tricks have you learned for best celebrating and dressing your frame?
Championing YOU…YOUR STYLE, BRAND, AND CONFIDENCE
from the "Inside-Out", Kim
Desire more?
Kim (Crumpler) Peterson is Founder of Uniquely Savvy, Inc and is a veteran Personal Style & Branding Coach, Wardrobe Stylist, J. Hilburn Custom Menswear Style Consultant, Co-author, and Speaker.  With a commitment to excellence (not perfection!), Kim delivers results and is passionate about helping men & women BE comfortable and confident in their own skin, step more into their potential, and attract more of who and what they truly want in life! Kim invites you to: Join the conversation on Uniquely Savvy's Facebook business page, call her for a free phone consultation, or book her to speak at your upcoming event. Available for keynotes, workshops, seminars, and girlfriend parties, the programs your audience will love range from personal style, to professional image and branding. Additionally, Kim co-authored, "Incredible Life: Top Experts Reveal How to Create Yours", and speaks to a variety of audiences on personal empowerment – bringing inspirational messages of hope and sharing practical tips and tools learned on her inside-out, "From Fear to Freedom" journey. Contact Kim @ 425.503.9885.