…Was at the VMAC for a J. Hilburn delivery for Seahawk Safety, Jeron Johnson, and bumped into Wide Receiver, Doug Baldwin…
After talkin' for a bit on highlights and mindset of getting it done (best start in franchise history, 9-1), I decided to get a quick inspirational video to share with all of you!…After the vid stopped rollin', he added:
"I'm focusing on the Super Bowl.  That means one WIN at a time."
Loved gleaning from Doug's peak performer mindset…I was encouraged as I'm overcoming obstacles for my upcoming 1/2 marathon on December 1st, and at applies to other areas as well.
Where are you encouraged?  What can we learn from Doug's blip on winning, goals, adversity…mindset?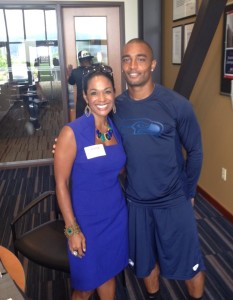 …Doug's quick share echoes my thoughts on having vision and a focus, "one small step-at- a-time", and the compound effect.
Let's set ourselves a vision whether in personal style or in life &  commit to one WIN at a time….With one steady, right step at a time, and overcoming adversity, eventually we will get to where we want to be…..
GO HAWKS!!!
Championing YOU…YOUR STYLE, BRAND, AND CONFIDENCE
from the "Inside-Out", Kim
Desire more?
Kim (Crumpler) Peterson is Founder of Uniquely Savvy, Inc and is a veteran Personal Style & Branding Coach, Wardrobe Stylist, J. Hilburn Custom Menswear Style Consultant, Co-author, and Speaker.  With a commitment to excellence (not perfection!), Kim delivers results and is passionate about helping men & women BE comfortable and confident in their own skin, step more into their potential, and attract more of who and what they truly want in life! Kim invites you to: Join the conversation on Uniquely Savvy's Facebook business page, call her for a free phone consultation, or book her to speak at your upcoming event. Available for keynotes, workshops, seminars, and girlfriend parties, the programs your audience will love range from personal style, to professional image and branding. Additionally, Kim co-authored, "Incredible Life: Top Experts Reveal How to Create Yours", and speaks to a variety of audiences on personal empowerment – bringing inspirational messages of hope and sharing practical tips and tools learned on her inside-out, "From Fear to Freedom" journey. Contact Kim @ 425.503.9885.