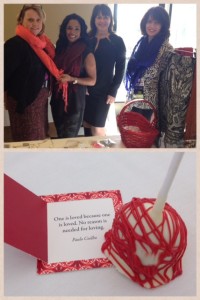 "One is loved because one is loved.  No reason is needed for loving" Pando Coelbo
All about L-O-V-E 'n fashion yesterday at our networking group!
Just in time for Valentine's day Uniquely Savvy had a variety of trend scarves –infinity and beyond- in colors to celebrate both warm and cool palettes…. Prints?  You betcha, from classic to camo to animal!  Cheryl's Cookie Lee had such fun pieces for last minute gifts of "love"!
Here, Melinda, our interior designer extraordinaire (Slater designs) pops in this fresh coral hue – beautifully complimenting her hair, eyes, and skin tone… Kim rocks her edgy dress from Carlisle (crushin' on the zipper detail), and Carol (Mirage Salon) adds drama to her zebra novelty coat by adding head-turning electric blue.
NOTEWORTHY for our "insides": Kris Brown, of Green Apple Catering brought us all these delish cake pops, and Marybeth Anthony (Opus Coaching), one of the most soulful, gracious coaches I know -shared her passion for helping people move from fear to love.  #insideoutstyle
TIP:  Scarves are an easy and affordable way to express your personal style and elevate your visual brand.  Ensure you choose your best colors, scale of patterns, and weight/size of fabric.  (If you have high contrast between your hair, eyes, and skin for instance, you will look fabulous in a patterned scarf with high contrasting colors!)  Attention to these details will celebrate not only your style, but your unique and savvy shape!
P.S. Did you know?  I bring a collection with me to your closet to effortlessly pull together your existing pieces…into outfits?
XO
Championing YOU…YOUR STYLE, BRAND, AND CONFIDENCE
from the "Inside-Out", Kim
Desire more?
Kim (Crumpler) Peterson is Founder of Uniquely Savvy, Inc and is a veteran Personal Style & Branding Coach, Wardrobe Stylist, J. Hilburn Custom Menswear Style Consultant, Co-author, and Speaker.  With a commitment to excellence (not perfection!), Kim delivers results and is passionate about helping men & women BE comfortable and confident in their own skin, step more into their potential, and attract more of who and what they truly want in life! Kim invites you to: Join the conversation on Uniquely Savvy's Facebook business page, call her for a free phone consultation, or book her to speak at your upcoming event. Available for keynotes, workshops, seminars, and girlfriend parties, the programs your audience will love range from personal style, to professional image and branding. Additionally, Kim co-authored, "Incredible Life: Top Experts Reveal How to Create Yours", and speaks to a variety of audiences on personal empowerment – bringing inspirational messages of hope and sharing practical tips and tools learned on her inside-out, "From Fear to Freedom" journey. Contact Kim @ 425.503.9885.