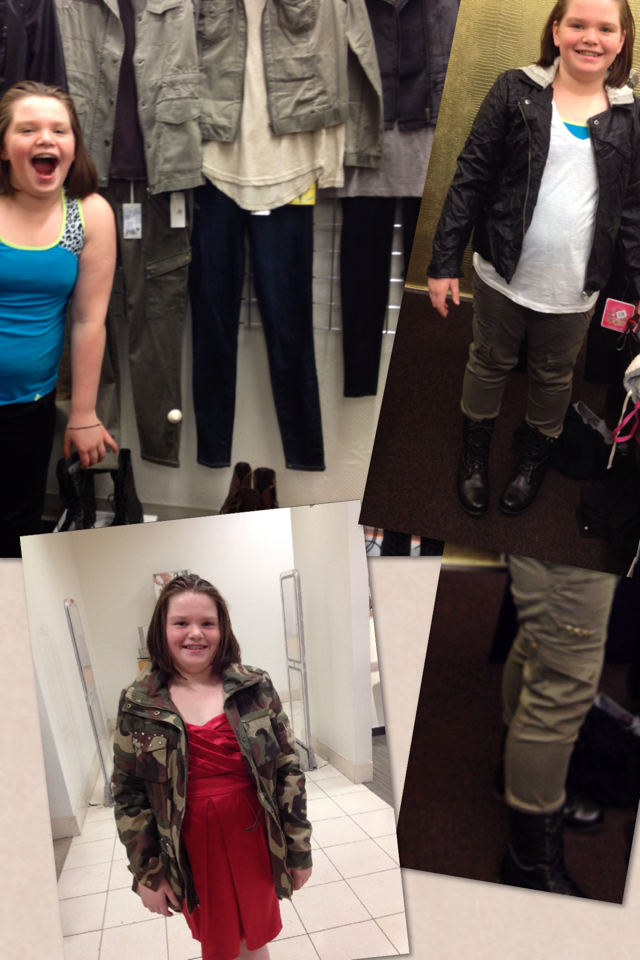 Tomboy, adventurous and streamlined by day, glamorous by night!
Had the privilege of working with this young gal who was SO excited to shop for school clothes that "fit her personality".
 One of the most memorable experiences I've had in the last 14 yrs with Uniquely Savvy,  I celebrate and admire much about this young gal. 
 I admire:  Her self-awareness at 10 -of what's important to her and who she is, and her ability to quickly and effectively communicate what she wants/needs.  I admire here ability to make decisions, and also her confidence to flat out create an outfit on the go (red dress + camo jacket) for a dinner – location unknown at the time!  I also admire the "permission" she effortlessly gave to freely be herself -tomboy, adventurous and streamlined by day, glamorous by night!  Seriously so aspirational – demonstrating leadership and courage to girls and women of all ages- I had to share her out with you!
 …Now this doesn't happen without the strength of her mother.  I've never seen a mom offer such beautiful freedom, encouragement, and support to a child in an area where power struggles often occur.  Setting a solid foundation, this open-minded mom gave her daughter permission to express as "she wanted" as long as it was age appropriate and looked good :-).  
 Style inspiration?  Katniss
 Noteworthy, thanks for celebrating both these gals with me!
Championing YOU…YOUR STYLE, BRAND, AND CONFIDENCE
from the "Inside-Out", Kim
Desire more?
Kim (Crumpler) Peterson is Founder of Uniquely Savvy, Inc and is a veteran Personal Style & Branding Coach, Wardrobe Stylist, J. Hilburn Custom Menswear Style Consultant, Co-author, and Speaker.  With a commitment to excellence (not perfection!), Kim delivers results and is passionate about helping men & women BE comfortable and confident in their own skin, step more into their potential, and attract more of who and what they truly want in life! Kim invites you to: Join the conversation on Uniquely Savvy's Facebook business page, call her for a free phone consultation, or book her to speak at your upcoming event. Available for keynotes, workshops, seminars, and girlfriend parties, the programs your audience will love range from personal style, to professional image and branding. Additionally, Kim co-authored, "Incredible Life: Top Experts Reveal How to Create Yours", and speaks to a variety of audiences on personal empowerment – bringing inspirational messages of hope and sharing practical tips and tools learned on her inside-out, "From Fear to Freedom" journey. Contact Kim @ 425.503.9885.