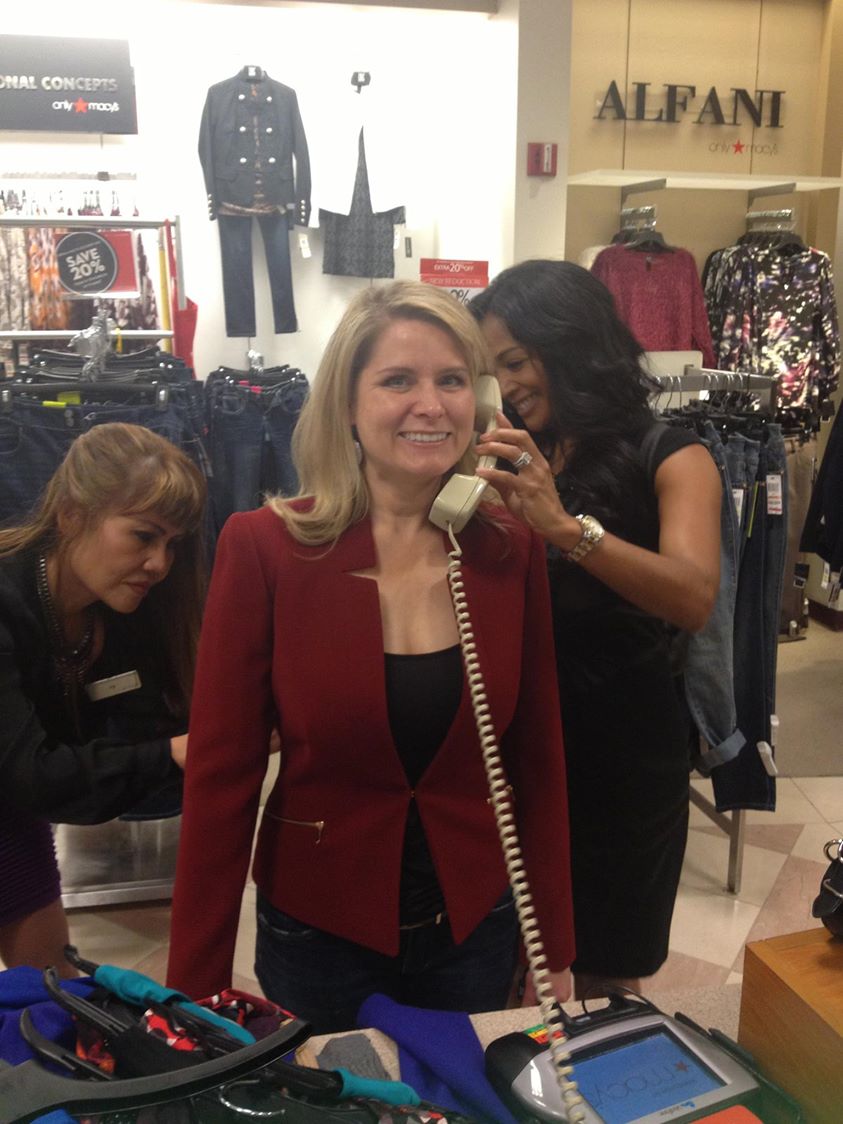 Ha…Fun share for Fashion Friday!!!
This Realtor knows how to multitask and get it done! ……..She has 5 houses closing this week, made time to invest in her professional presence with Uniquely Savvy (saved time by personal shopping ahead of time), and then was scootin' out to write another offer for a client! ….Makin' homeowners' dreams come true, I love this pic: Both of us are pragmatic/practical types so while she needed to be on the phone at Macy's, I held it for her so her arms could be straight for the tailor to pin her jacket for alterations!
Lotsa laughs, lotsa style success…..Have an amazing Fashion Friday folks!
P.S. If you haven't been to Macy's for a while, check them out….They carry SO many of the same quality/stylish designers as Nordstrom, and the like -but you can get SO much more bang for your buck if you know what you are looking for. ….Worth trying again if you have a little extra time to "self-serve" a bit more….or you may consider enlisting a style/image professional's help. Even with the investment of the service fee, my clients say it more than pays for itself. P.S.S. Did you know? Macy's return/exchange policy is quite similar to Nordstrom as well?
Championing YOU…YOUR STYLE, BRAND, AND CONFIDENCE
from the "Inside-Out", Kim
Desire more?
Kim (Crumpler) Peterson is Founder of Uniquely Savvy, Inc and is a veteran Personal Style & Branding Coach, Wardrobe Stylist, J. Hilburn Custom Menswear Style Consultant, Co-author, and Speaker.  With a commitment to excellence (not perfection!), Kim delivers results and is passionate about helping men & women BE comfortable and confident in their own skin, step more into their potential, and attract more of who and what they truly want in life! Kim invites you to: Join the conversation on Uniquely Savvy's Facebook business page, call her for a free phone consultation, or book her to speak at your upcoming event. Available for keynotes, workshops, seminars, and girlfriend parties, the programs your audience will love range from personal style and professional image and branding, to success, hope and freedom. Additionally, Kim co-authored, "Incredible Life: Top Experts Reveal How to Create Yours", and speaks to a variety of audiences on personal empowerment – bringing inspirational messages of hope and sharing practical tips and tools learned on her inside-out, "From Fear to Freedom" journey. Contact Kim @ 425.503.9885.