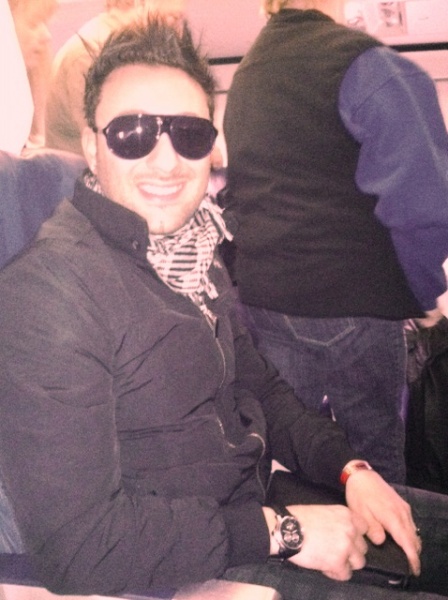 MEET IVAN:
Age:  22
Profession:  (Specialty) Real Estate Professional
Hometown:  The ATL
Ivan and I shared row 15 aboard a Delta flight to Salt Lake City last Monday.  Beyond being super friendly (and talkative…I just wanted to sleep – remember my morn' started with wearin' my pants inside-out!), I couldn't help but notice his incredible style.  (Though GQ put Atlanta's men as 17th on their worst-dressed cities list,  they clearly didn't bump into Ivan while out on the streets!)
THE LOOK:
It's true.  Ivan's look isn't for everyone, but here are a few highlights:
Fitted trend jacket – Zara
Gray/black plaid slim cut pants – Unkown
Patent leather lace-up kicks – Zara
Colbalt blue framed glasses – Express
Check out the detail on his watch, textured scarf, and red metal bracelet from Barcelona….(his stunning Colombian wife marked her territory when she put that on his wrist!)
Again, Ivan's look isn't for everyone – but it was interesting, drew me in and I definitely wanted to know more.  Thought to share with you too!
Let's see how similarly (or not) we read Ivan's visual clues.  What does the language of his look say to you?  …Puttin' you to work here, because my goal is to raise the awareness that your clothing and appearance speak about you when there are no words to be spoken.  The great news?  You have the ability to authentically and positively have your "look" workin' for you – speaking your right and accurate message.
SO WHAT'S YOUR PERSONAL STYLE?
Guys, men's fashion & style are on the rise everywhere!  How can you create your own eye-catching personal style?  TIPS:  Begin with "knowing" your personality and brand strengths, as well as best practices for dressing your frame.  Consider your age, profession, lifestyle, trends that make ya go "hmmm", and what tells a visual story about YOU and what you're about.  …If you bring vast experience to the table, how can you dress to communicate that non-verbally?  Lastly, you might also also want to consider how you can incorporate age appropriate & lower priced trend pieces into your overall wardrobe where it makes sense.
Need more info?  Check us out!  I would love to help & just might be the the efficient, stylish, and fun personal stylist/shopper you've been looking for!  As an independent stylist, I'm not bound to any one store.  The benefit?  You can build your investment wardrobe with the right pieces, at the right prices, from a variety of stores -knowing that  Uniquely Savvy's committed to finding your best solution.  (Live out of the Seattle area?  If interested, check out our Virtual Style Solutions…)
Men from college grads, to sales professionals, to senior level execs have benefited from the overall perks of feeling confident and looking sharp from work-to-weekend…so can you.  Are you ready to move into action?  Call me.
Championing YOU…YOUR CONFIDENCE, BRAND, and STYLE
From The "Inside-Out", Kim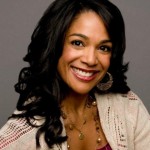 Desire more?
Kim Crumpler is Founder of Uniquely Savvy, Inc and is an 11 year veteran Personal Style & Branding Coach, Personal Shopper, Author, and Speaker. An expert, Kim delivers results and is passionate about helping men & women BE comfortable and confident in their own skin, look and feel amazing, and attract more of who and what they want in life! Kim invites you to: Join the conversation on Uniquely Savvy's facebook business page, call her for a phone consultation to determine how you will best benefit from her expertise, or book her to speak at your upcoming event. Available for keynotes, workshops, seminars, and girlfriend parties, the programs your audience will love range from personal style, to professional image and branding. Additionally, Kim co-authored, "Incredible Life: Top Experts Reveal How to Create Yours", and speaks to a variety of audiences on personal empowerment – bringing inspirational messages of hope and sharing practical tips and tools learned on her inside-out, "From Fear to Freedom" journey. Contact Kim @ 425.503.9885 or learn more at www.uniquelysavvy.com.