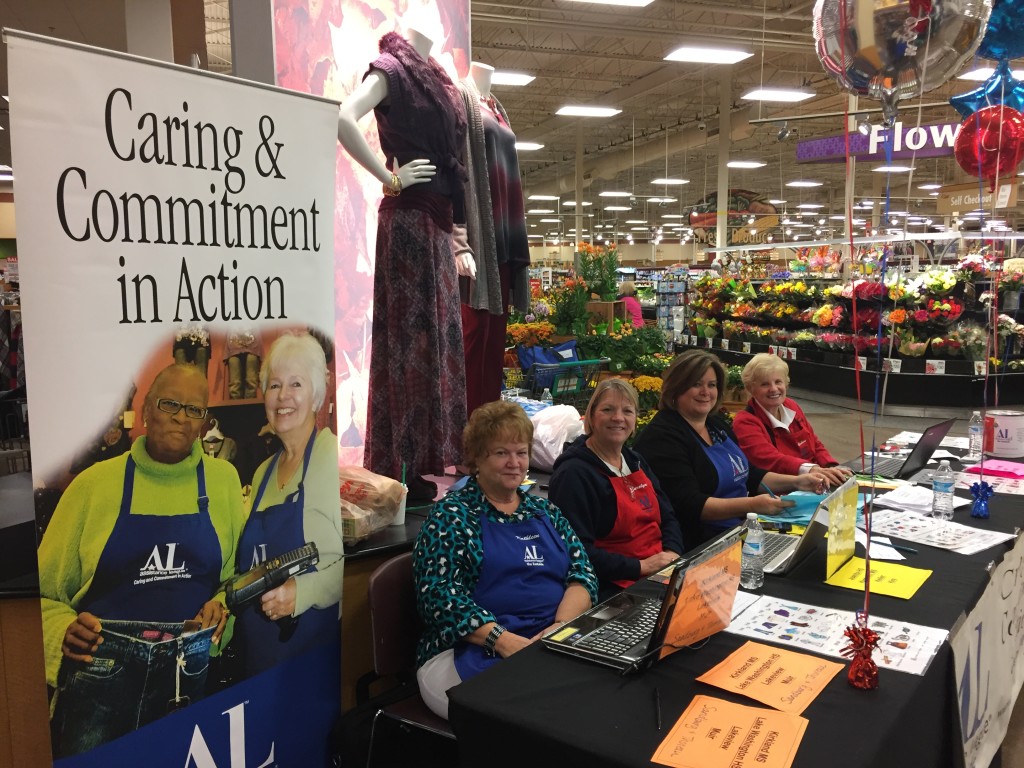 What a beautiful night…and it was about so much more than just the clothes!!!
It seemed to be about love and care, belonging, and making life a little less burdensome…w some fun mixed in to boot!
Through the Assistance League of the Eastside's "Operation School Bell", community partnership with Fred Meyer, and several teams of volunteers,  we were able to cloth over 150 Lake Washington School District students in need last Thursday (in total the league clothes 4,000 students a year)!
It was  a memorable night of giving and receiving and I was so grateful to be a part of the team this year.  It was especially meaningful as not only was this an opportunity to give back to the organization that unexpectedly gave to my family last year, but I'm also honored to be the keynote speaker for their 2016 fundraising luncheon, "Step into Style".
Scroll through this picture blog to get a feel for the operation, the story – and how it was about SO much more than just BTS clothes shopping!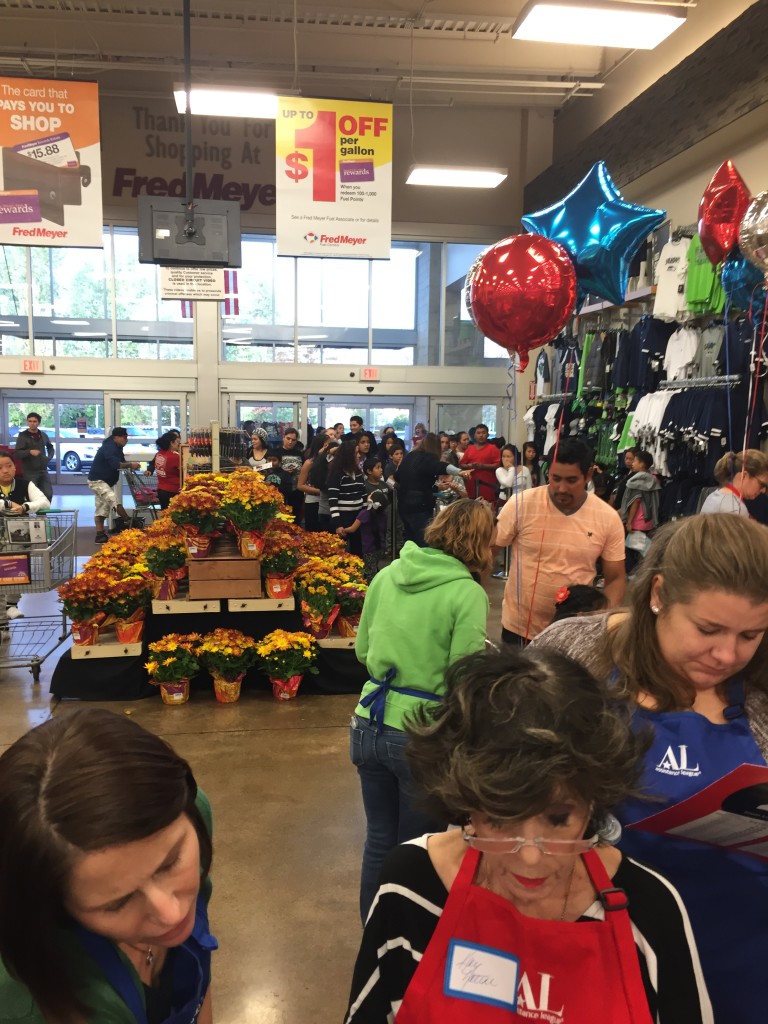 Kids and families eagerly lined up early at 5 PM though the magic didn't begin until 5:30!  Each child was given a voucher for either $100 or $120 to use for back to school shopping.
Remember what it was like to be able to shop for and afford your own clothes for school?!
The emotions that surround this BTS tradition can be overwhelming in both positive or negative ways, but the smiles on these kids' faces that night were priceless!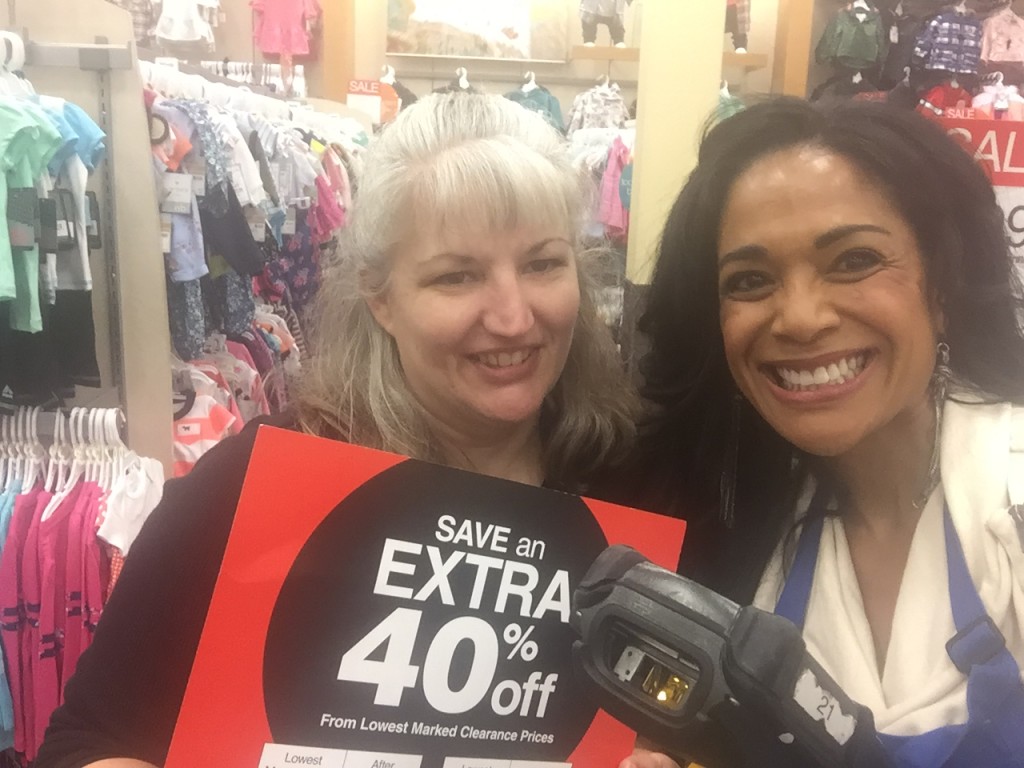 Meet Assistance League member, Chrissy!  Chrissy ensured I experienced the roles at each volunteer station.
We started with "greeting" at registration, but with seeing such joy from the first family of kids, my eyes filled up with tears and whelm with gratitude,
so I thought it best to quickly move on to station two…
Here we were "shopping assistants" tallying up the shoppers' plunder so they could better manage their budget while shopping.
Fred Meyer ensured they got big bang for their buck – offering even deeper discounts for that night only!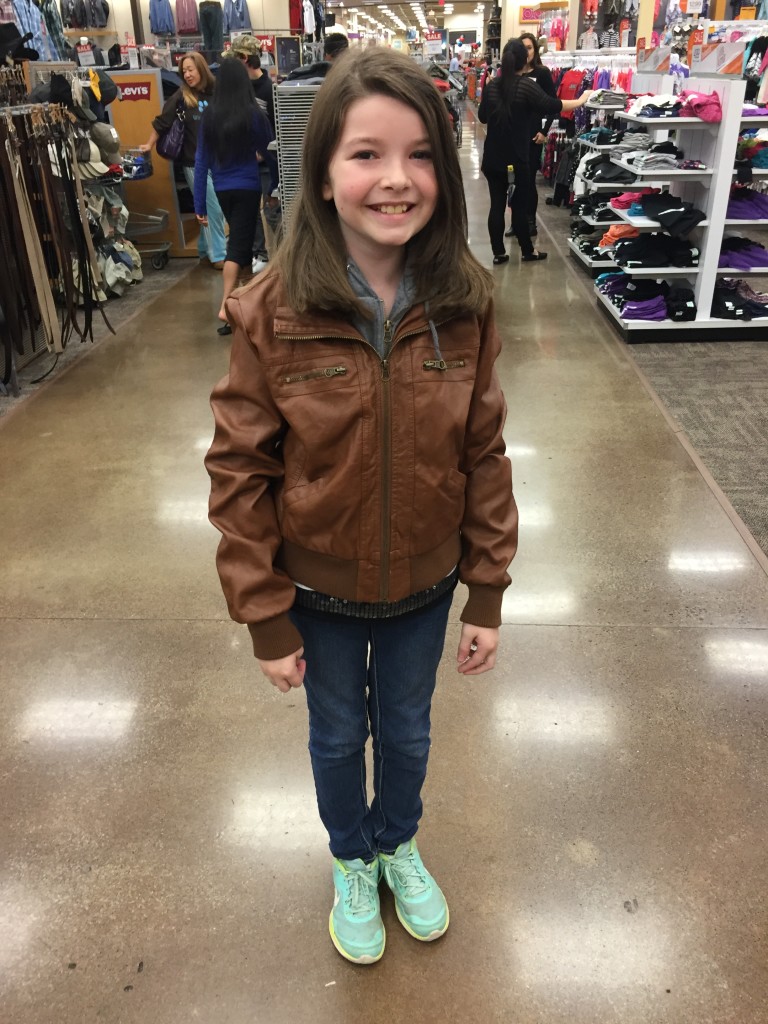 Afton simply COULD NOT stop smiling with her cart full of hand picked school clothes!
She was quietly gasping with such excitement so of course I just had to ask if she would try on her darling hooded bomber.
…Was absolutely delighting in her!!!
What do you think Assistance League of the Eastside meant to her?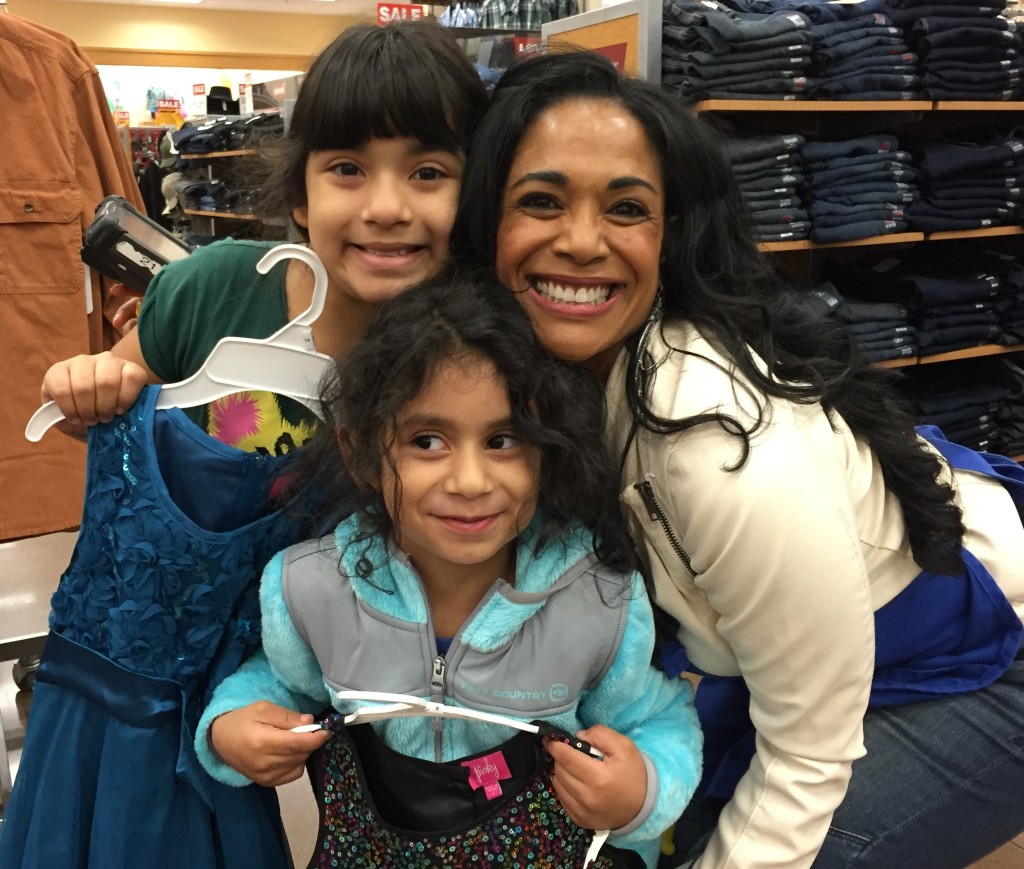 How "beyond happy" these sisters were to be to able to pick out a pretty little dress to take home…
Scroll down to see what their #Happy looked like…from the #InsideOut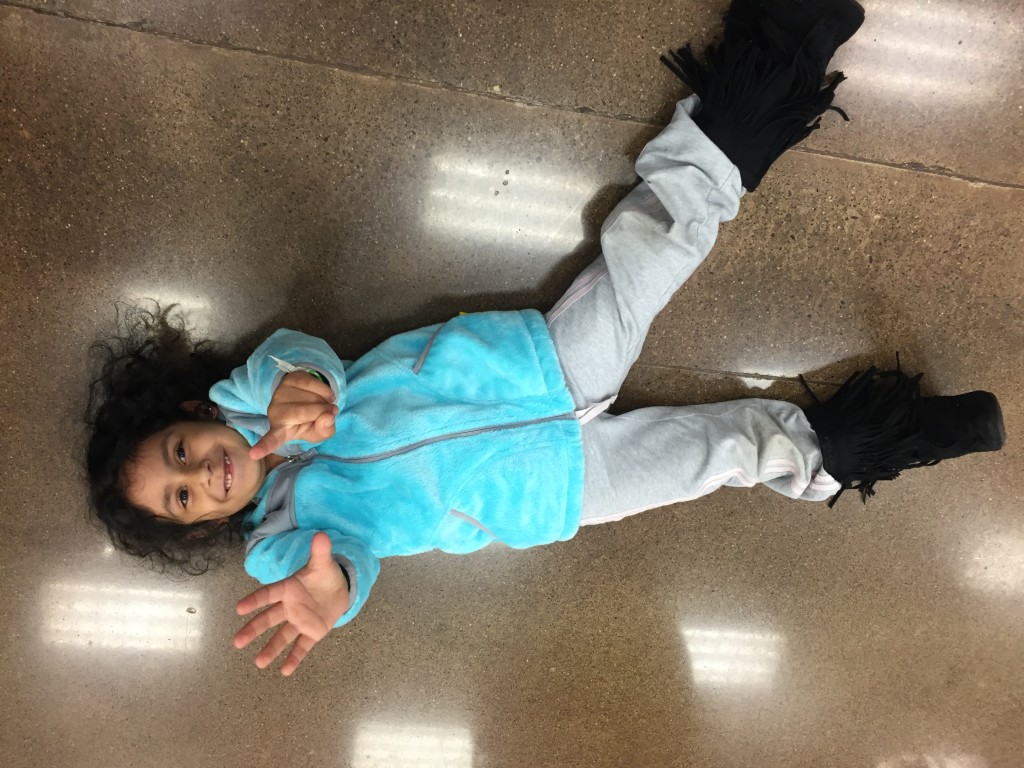 #Happy looked like "just bein' a kid" – and wanting to tell us more of her story!!!
Love this pic!  It illustrates the freedom, the joy, the confidence of a connected youth…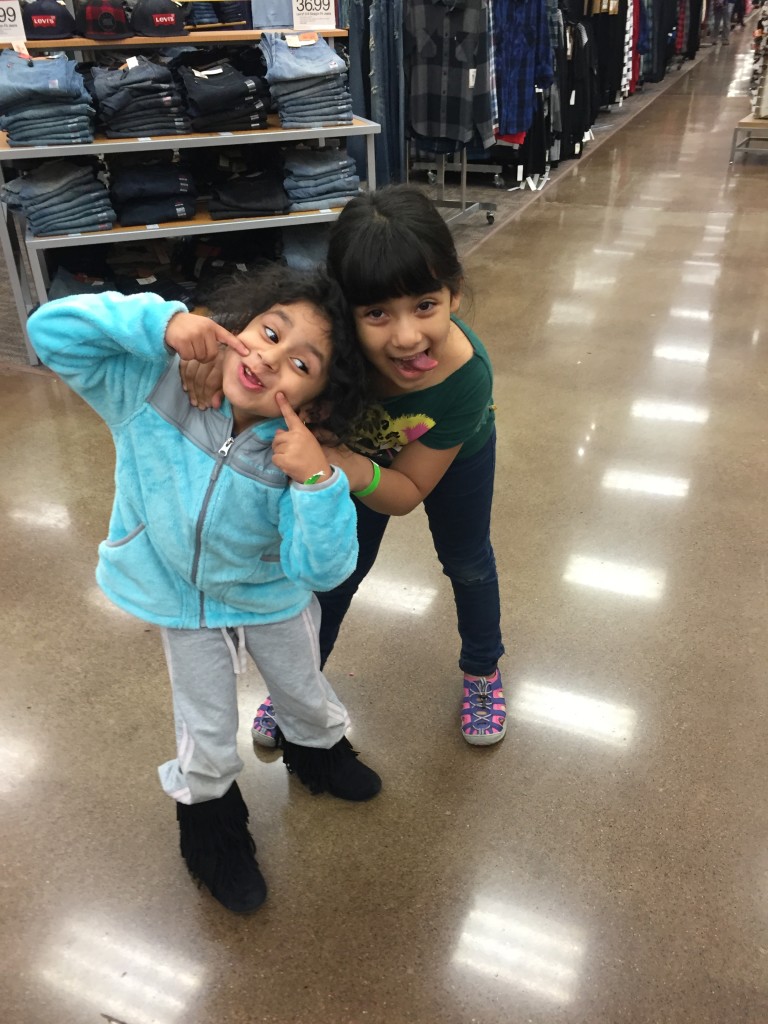 #Happy looked like…bein' goofy and "feeling safe to come out and play".
We all know what it "feels" like when we are cared for and know we're lookin' good, right?!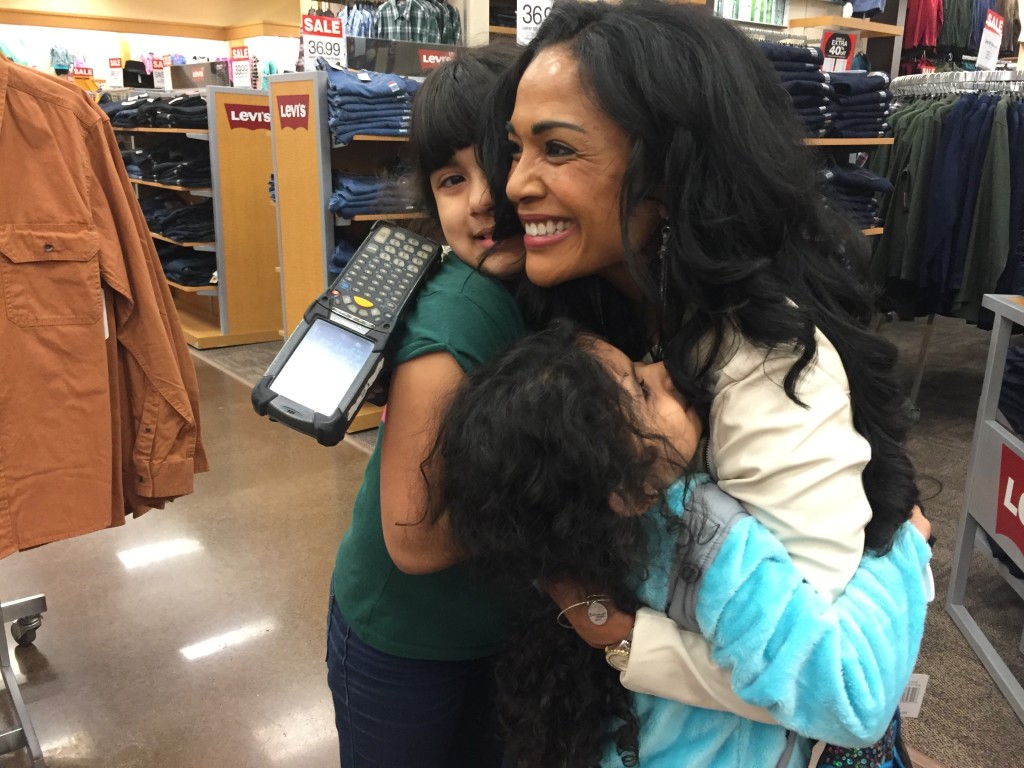 Sisters Roseangela and Evolet were awesome partners to Chrissy and me.
We worked together to add up their basket and in the end, the hugs sealed an experience that will hopefully be a fond memory to draw on for years to come.
Patricia was showin' me the ropes at the check stand as she bagged up our guests' goodies.  Such a fun job to see all the uniquely styled pieces that everyone picked up.
At times we got a real sense of likes, faves, interests – and sometimes even talents.
This became another touch point to interact with and encourage kids in their uniqueness or giftedness!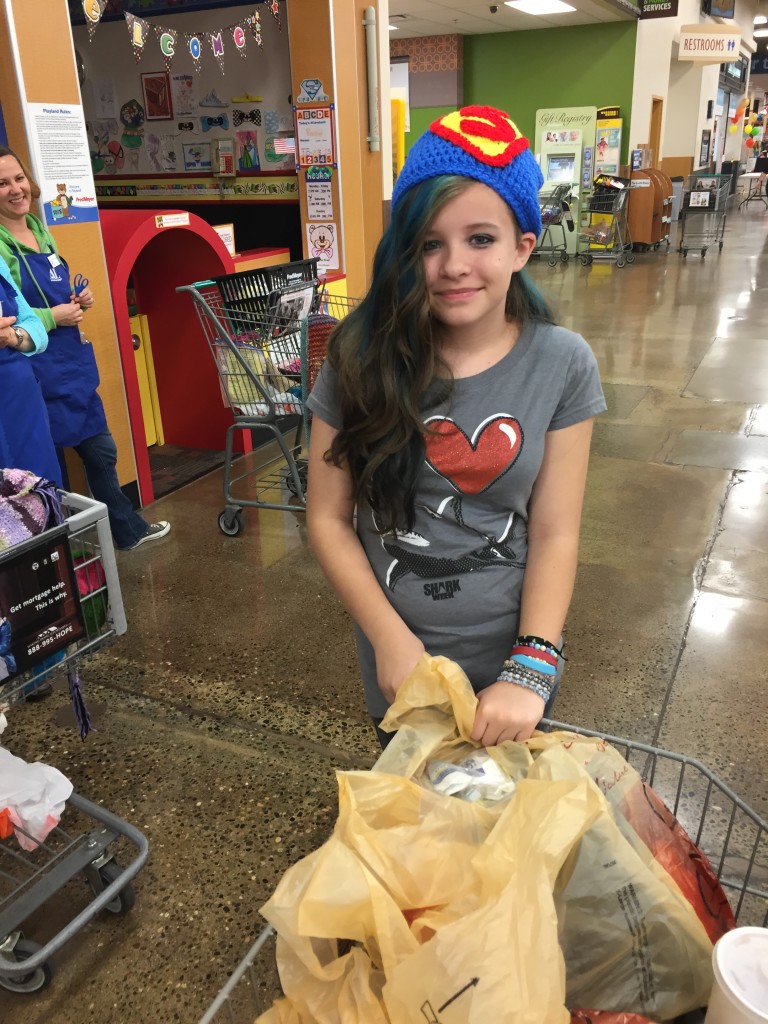 Upon check out, kids  selected a handmade hat and scarf of their choice.
There was quite a variety thanks to the generosity of our community knitters…and you guessed it,
the Superman hats were a crowd favorite!
Love to knit?  Reach out to see how your talents can become another person's treasure!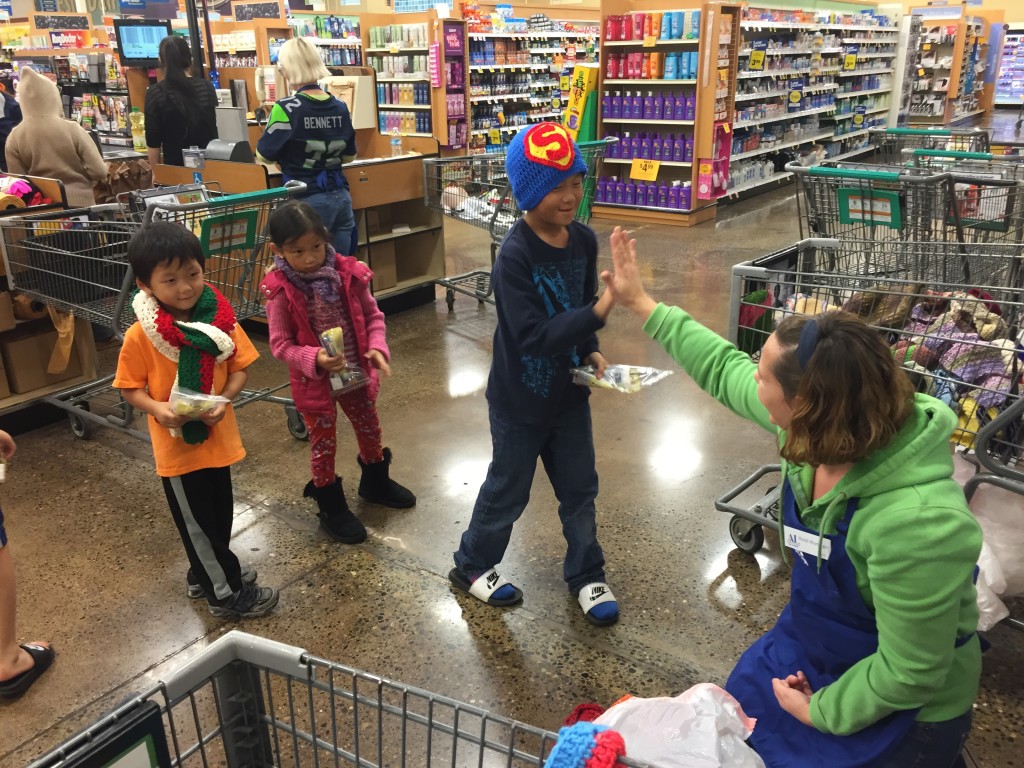 One of my favorite memories…watching this volunteer tenderly engage with a family with
5  kiddos ranging from age 3 – to big brother who's in the 5th grade!
Fred Meyer cashiers were on the front line ensuring a smooth check out process.
Incredibly, Fred Meyer also offers an additional 10% off all Operation School Bell purchases.
We are so blessed by the support of this long standing community partner!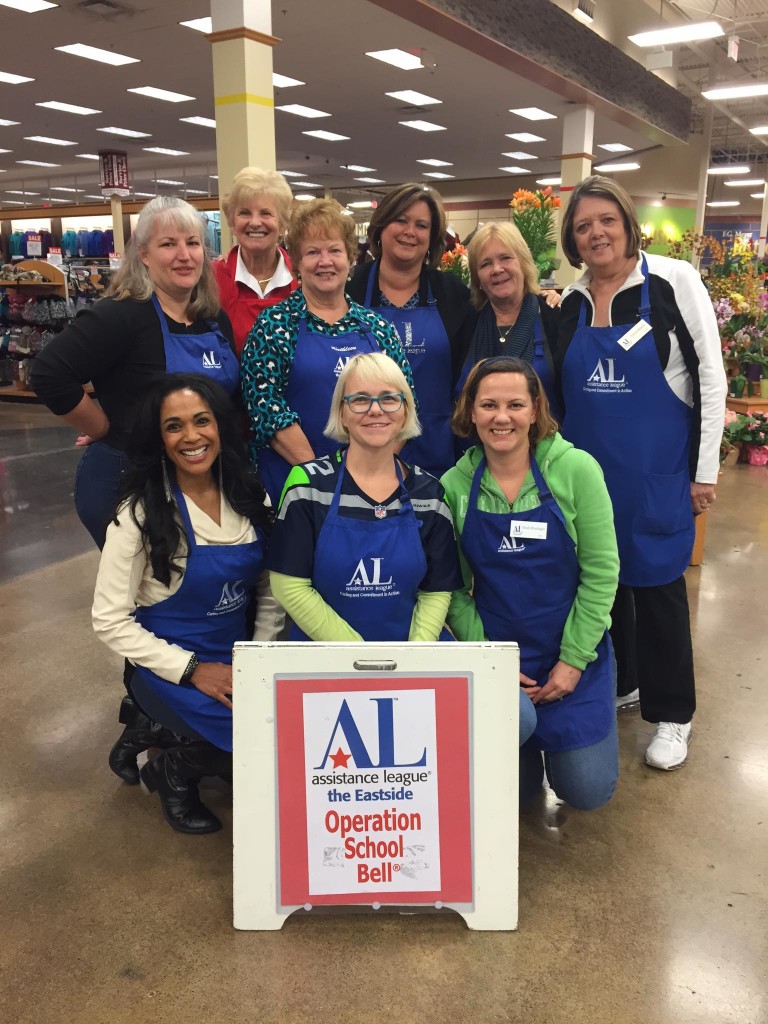 Some of the Totem Lake Operation School Bell Crew…
Thank you for your leadership Marlene and Tricia – love how you roll!

In summary, perhaps the generosity of our community that "sees" the needs of these beautiful kids and moves into action will leave an
indelible imprint for which they can draw upon in the future.
Among other things, Operation School Bell has shown me the real…need…of our "Eastside" youth.
I'm again reminded that gifts of time, energy, encouragement -or beyond- in any amount go a long way in building up the esteem of our young people…and we all know that the  quality of their self-esteem today becomes the building blocks for what's to come tomorrow.
I am also reminded that together, we CAN make a difference and as the wise Maya Angelou said,
"People will forget what you said but they will never forget how you made them feel."
Thank you Assistance League of the Eastside for investing in our community and our youth!  #YouthMatter
READY to BE CHAMPIONED in YOUR STYLE, BRAND & CONFIDENCE?  Call me… 
425.503.9885 ~ kim@uniquelysavvy.com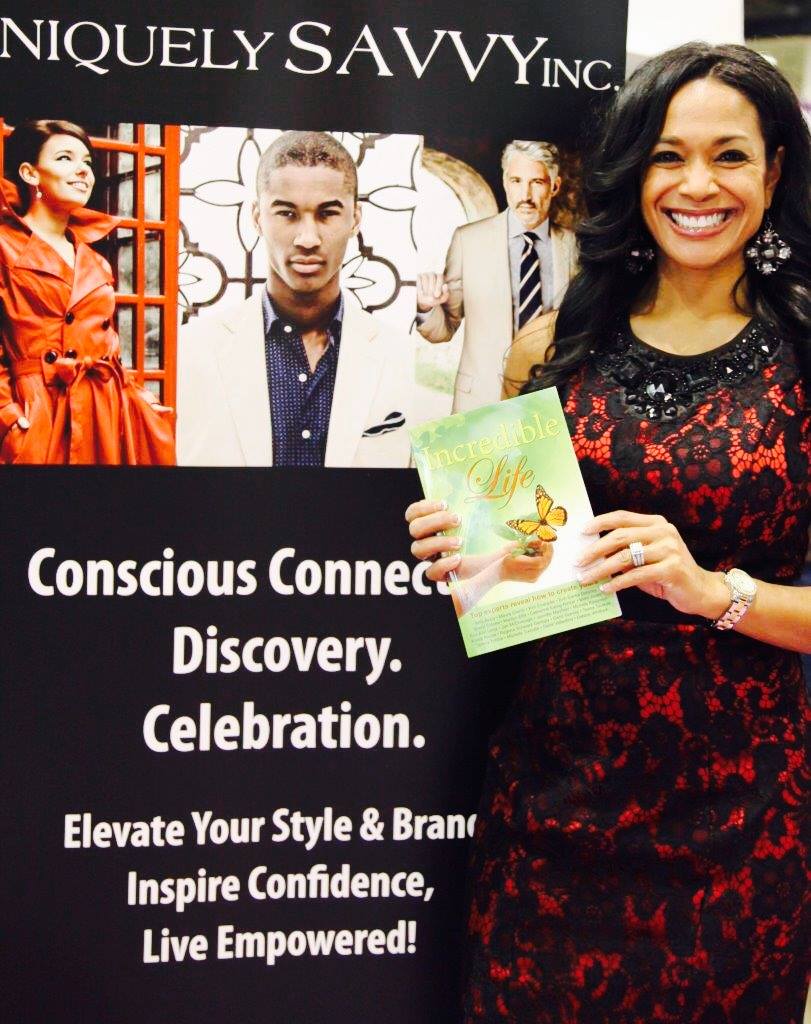 Kim (Crumpler) Peterson is Founder of Uniquely Savvy, Inc and is a Champion of People who have a conscious connection to wanting to BE their best and dress their best to align from the inside-out!  Kim works with individuals, teams, and organizations to elevate authentic personal brands and style, inspire confidence, and live more empowered.  As a keynote speaker, image consultant, personal style & branding coach, and "Living Your Truth" coach, she works tirelessly, decisively and thoughtfully to bring about goal oriented solutions and results to those she serves.  You're invited to: Join the conversation on Uniquely Savvy's Facebook business page, call for a free phone consultation, or book Kim to educate & inspire at your next event!   Available for keynotes, workshops, seminars, and girlfriend parties, the programs your participants will love range from personal style, professional image and branding, to hope, freedom, faith, and living an incredible life in spite of adversity. Kim co-authored, "Incredible Life: Top Experts Reveal How to Create Yours".  Contact Kim @ 425.503.9885.