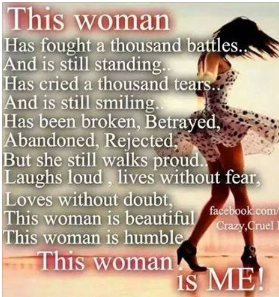 …Personal Branding: August's Hot Topic
So what about Personal Branding?! Jeff Bezos said, "Personal branding is what people say about you after you leave the room."
Personal Branding is foundational to Uniquely Savvy's style/branding services (http://tinyurl.com/qzl3qjp). It's all about a conscious connection between who you are, your unique value proposition, contribution/story and how you show up in the world on the the inside & out. It's about giving yourself permission to be authentically who you are in business and in life. It's about personal & professional development, authentically packaging yourself, and sharing your message so that you can attract (and release) more of who and what you want in life!…And it's about so much more.
…Piggy backing on Bezos' quote, this image was recently emailed to me about me from a woman I first met online a few years ago. We later met in person and we now have a deep respect and friendship built on similar mindset and values. -In any case, our brands align. ….I'm deeply humbled for this part of my brand to be known and understood.
-While I'm still in process and "feel the fear and do it anyway", it is core to why I'm so passionate about supporting and celebrating individuals in becoming confident in their own skin and potential. We don't have to live enslaved to the story of our pasts. We get to choose to #challengethelies and #championthetruth, we get to explore the possibilities on the other side of _______which holds us back.
We *each* have a personal brand whether we are conscious about it or not…and it's our gift to discover, hone & authentically manage it. What does your brand say about you? How are you managing yours and how does wardrobe/appearance support your brand?
If you are curious to learn more, you may find some tips to noodle on from this vid ((http://tinyurl.com/qzl3qjp)….It's an informal presentation I gave at my BNI networking group last Wed.
Have a wonderful Wednesday, Kim
#YOUareuniquelysavvy #beyou #championingyoufromtheinsideout
Championing YOU…YOUR STYLE, BRAND, AND CONFIDENCE
from the "Inside-Out", Kim
Desire more?yl
Kim (Crumpler) Peterson is Founder of Uniquely Savvy, Inc and is a veteran Personal Style & Branding Coach, Wardrobe Stylist, J. Hilburn Custom Menswear Style Consultant, Co-author, and Speaker.  With a commitment to excellence (not perfection!), Kim delivers results and is passionate about helping men & women BE comfortable and confident in their own skin, step more into their potential, and attract more of who and what they truly want in life! Kim invites you to: Join the conversation on Uniquely Savvy's Facebook business page, call her for a free phone consultation, or book her to speak at your upcoming event. Available for keynotes, workshops, seminars, and girlfriend parties, the programs your audience will love range from personal style and professional image and branding, to success, hope and freedom. Additionally, Kim co-authored, "Incredible Life: Top Experts Reveal How to Create Yours", and speaks to a variety of audiences on personal empowerment – bringing inspirational messages of hope and sharing practical tips and tools learned on her inside-out, "From Fear to Freedom" journey. Contact Kim @ 425.503.9885.