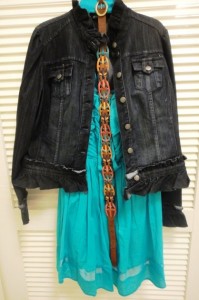 This week one of my client tasks was to create a kicky little outfit for a fun event at a barn…While I'd pulled several viable options, I created this little number from the pieces I'd pulled and was absolutely in love with the vision of how it would be!
It was just right:

*The signature color of the event…an a-mazing color for the gal.
*Lightweight fabric, casual and flirty….Was going to pair it back to cowgirl boots, and add a fabulous necklace.
*Found the right statement belt to swap for the fabric one….and alas!  The "perfect" denim jacket to top it off!  Had just the right amount of feminine detail, right?
Wrong!
The jacket was overwhelming (think this line is doing some vanity sizing in this go around…) and because of the actual construction of the dress- once on, it too was overwhelming in volume….everywhere!
What Can We Learn?
*Always try everything on.
*Note that even while an outfit or ensemble looks great in a magazine or catalog, and it has the general line design for your frame, it might not translate that well to your individual shape.
*Don't be discouraged – and don't settle for anything less than an "8" on a scale of 1-10.  Just quickly keep trying the other options you've selected and ROCK the WINNER!…..That's exactly what my gal did.
She looks absolutely stylish, pulled together, confident, and…..super fun to boot!  We created the same delicious look with the other pieces that I'd pre-shopped before her arrival.
Ladies and gent, it's worth the investment to "know" what you really want, create your vision, and take action to bring that vision to reality. Whether it be in style, in your relationships, or in what's next in your life…..refer back to rule #1, try everything on!  Not everything may be as it seems, but then you get to make mid course adjustments and obtain what you really want!
Here's to you, get after it!
Championing YOU…YOUR CONFIDENCE, BRAND, and STYLE
From The "Inside-Out", Kim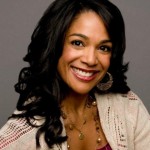 Desire more?
Kim Crumpler is Founder of Uniquely Savvy, Inc and is an 11 year veteran Personal Style & Branding Coach, Personal Shopper, Author, and Speaker. An expert, Kim delivers results and is passionate about helping men & women BE comfortable and confident in their own skin, look and feel amazing, and attract more of who and what they want in life! Kim invites you to: Join the conversation on Uniquely Savvy's facebook business page, call her for a phone consultation to determine how you will best benefit from her expertise, or book her to speak at your upcoming event. Available for keynotes, workshops, seminars, and girlfriend parties, the programs your audience will love range from personal style, to professional image and branding. Additionally, Kim co-authored, "Incredible Life: Top Experts Reveal How to Create Yours", and speaks to a variety of audiences on personal empowerment – bringing inspirational messages of hope and sharing practical tips and tools learned on her inside-out, "From Fear to Freedom" journey. Contact Kim @ 425.503.9885 or learn more at www.uniquelysavvy.com.