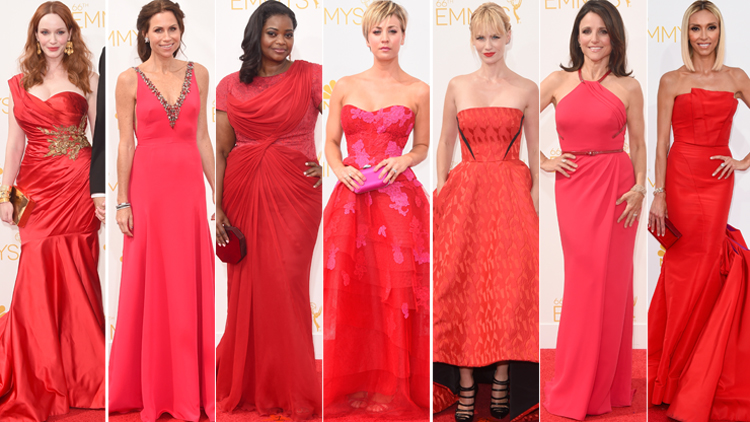 Emmys 2014
It was a family affair….My hubby, nephew and I munched popcorn, found our red carpet faves and celebrated the wins…..YAY Breaking Bad!
… So much to share about the "WOWS!!!!" and the "Ummm, not so much", but I'll offer just a few highlights.  AND WOULD LOVE TO HEAR YOUR THOUGHTS! #redcarpetstylemakeityourown
*Julia Louis-Dreyfus looks vibrant, fresh, svelte and classically stunning…two thumbs up!
*Melissa McCarthy!  Love her and loved her hair, but this gown simply had too much fabric.  Accentuating your waist is always a win, but you want to consider the width of the detailing or belt for balance.
*Kerry Washington – wasn't a fan this time around.  Piping or perhaps boning is a FABULOUS detail but in order to rock it, it has to have impeccable fit (note Sofia Vergara).
*Keke Palmer, didn't see on the show….but WOW, YOWZA – my fave so far here!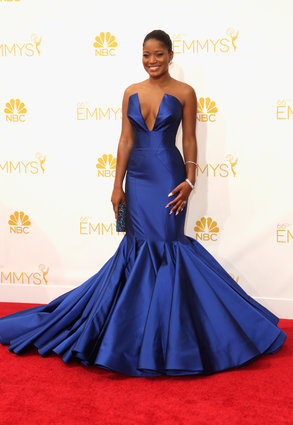 *FABULOUS ARCHITECTURE for Laura Preon, stunning color for her, would like to see a different fabric choice.  The sheen distracts from the art…Hmmm, this is one of my faves for sure!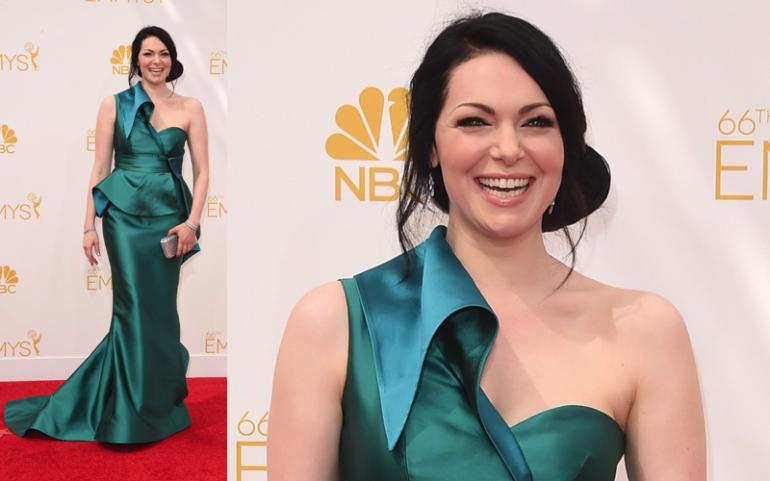 *Danielle Brooks – fabulous job, accentuating her curves in all the right places! Gold star for her stylist!!!!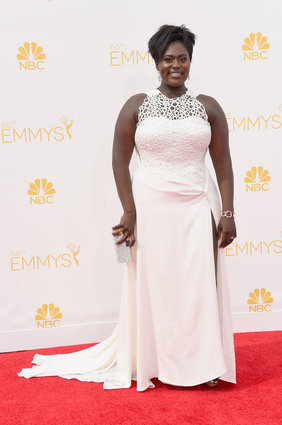 *While I adore Julie Bowen, her high contrasting dress was overpowering both her and the camera…
*Allison Janney looked gorgeous and I liked her dress.  Being that it is velvet I would have saved it for November, December –maybe January events dressing.
*Kate Walsh….Love the drama and glamour here, though there's a stronger color choice (warm moss green, fiery red, aqua or teal) for her and her hair and earrings seemed a bit too casual for all that this look offers.
What was your fave?
Will say this, this time around there are a lot of coaching opportunities/teachable moments.  Anyone have a specific question or red carpet look you want to talk about?  …Post the question on FB!
XO
Championing YOU…YOUR STYLE, BRAND, AND CONFIDENCE
from the "Inside-Out", Kim
Desire more?yl
Kim (Crumpler) Peterson is Founder of Uniquely Savvy, Inc and is a veteran Personal Style & Branding Coach, Wardrobe Stylist, J. Hilburn Custom Menswear Style Consultant, Co-author, and Speaker.  With a commitment to excellence (not perfection!), Kim delivers results and is passionate about helping men & women BE comfortable and confident in their own skin, step more into their potential, and attract more of who and what they truly want in life! Kim invites you to: Join the conversation on Uniquely Savvy's Facebook business page, call her for a free phone consultation, or book her to speak at your upcoming event. Available for keynotes, workshops, seminars, and girlfriend parties, the programs your audience will love range from personal style and professional image and branding, to success, hope and freedom. Additionally, Kim co-authored, "Incredible Life: Top Experts Reveal How to Create Yours", and speaks to a variety of audiences on personal empowerment – bringing inspirational messages of hope and sharing practical tips and tools learned on her inside-out, "From Fear to Freedom" journey. Contact Kim @ 425.503.9885.