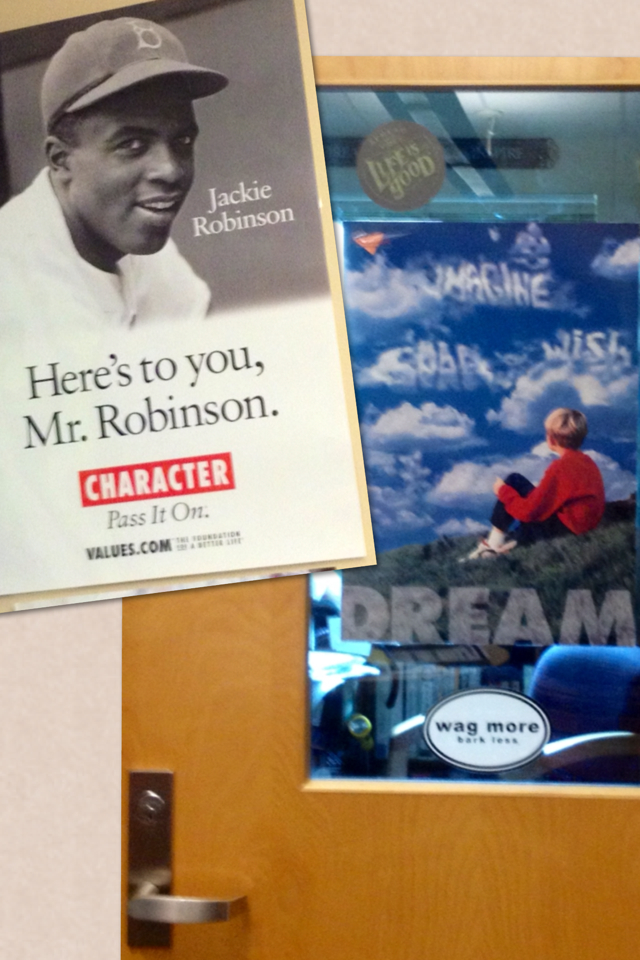 (From Last Week:  First Day of School)
First day of school: Dropped D off and my throat was tight, tears were unexpected. I got a handsome & beaming pic, but I'm not allowed to share . ….In its place is what I saw in the counselor's office: Imagine, wish, soar. Character….Pass it on.I think my throat is tight because we only had since Friday to shift focus, priorities, learn the school, get registered, and connect all the dots the best we could. Our choice was to stay present to the shift and get 'er done so D could start school off with a bang, yet everything was new to Kel and I. Discerning the needs, what's best, school shopping and figuring out living arrangements turned out to be BIG time commitments for a short window. …We worked together as a team though and for 10 hours straight cleaned out a *very full* extra bedroom – purging, moving, disassembling, finding a bed, reassembling and making his room his own (now I get to clean the overflow in my office)! D said to me, "Wow Auntie….You have parent power to work like this!" Shocked, I replied, "It's the power of love….". (We needed it for that was only 1 of 4 very consuming days!)
A few highlights:
• It was today when I left him with the counselor to go to an orientation assembly that I found myself w/a tight throat and tears. …I guess it was as though I started breathing again and found myself celebrating the possibilities -and how we got here in the first place – D's ask to stay so he could have a better chance at his education/ future. Perhaps I got a feel of a mama's heart – I can't explain it, but I didn't expect it.
• Mr. Peterson is a rock star! I want you to know that it was he, who last year, before even meeting D said, "If D ever wanted to live with us he can." We never said anything desiring an organic relationship vs. one that would suggest we know best -we don't but we're willing to stand in the gap and together figure it out together….Though Kel was pretty sick over the weekend, he led/supported us into getting what we needed to start school off with a sure foot and I'm SO grateful. What a gift to experience more of my hubby in this way!
• LOL!!! I learned that teens DO get embarrassed by their guardians/parents, etc…….I *promise you* I was on my best behavior, yet someone I know walked as far away from me as possible in the parking lot while smirking quietly – hiding and ducking along the way. …I'm already learning that (kids) will make fun of you, laugh at you, get mad at you, and be embarrassed by you…and that's okay. I told him our highest priority is to love him, train him up and protect him, support him in developing into his potential (he's so talented), and give him the best chance at life/success. That means no short cuts, no selling out……..As I think of it, those growing pains a couple of months ago likely had to toughen me up to have more capacity to love *and* to get a thicker skin.
Already D has brought so many laughs and so much joy to our home…..Yes, we've embarked on a robust new journey and yet it's time to get back to work today . You'll now see more posts on inside-out style and branding, but beware you'll see some family updates too! We are so grateful for all of your beautiful support, thank you seems inadequate. Here's to each of you, XOXO
Championing YOU…YOUR STYLE, BRAND, AND CONFIDENCE
from the "Inside-Out", Kim
Desire more?yl
Kim (Crumpler) Peterson is Founder of Uniquely Savvy, Inc and is a veteran Personal Style & Branding Coach, Wardrobe Stylist, J. Hilburn Custom Menswear Style Consultant, Co-author, and Speaker.  With a commitment to excellence (not perfection!), Kim delivers results and is passionate about helping men & women BE comfortable and confident in their own skin, step more into their potential, and attract more of who and what they truly want in life! Kim invites you to: Join the conversation on Uniquely Savvy's Facebook business page, call her for a free phone consultation, or book her to speak at your upcoming event. Available for keynotes, workshops, seminars, and girlfriend parties, the programs your audience will love range from personal style and professional image and branding, to success, hope and freedom. Additionally, Kim co-authored, "Incredible Life: Top Experts Reveal How to Create Yours", and speaks to a variety of audiences on personal empowerment – bringing inspirational messages of hope and sharing practical tips and tools learned on her inside-out, "From Fear to Freedom" journey. Contact Kim @ 425.503.9885.