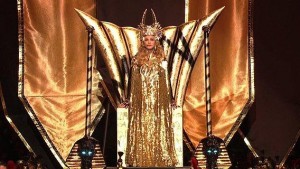 There are mixed reviews about Madonna's half-time performance for Super Bowl XLVI.  So be it.  There will always be differing opinions…on everything…until the end of time.
That said, I think she killed it!  Madonna has mastery over her craft, her style, and her ability to own the stage.
Sure there were a few places in her 12 minute gig that I thought were a touch (goofy), but only for a second.  She & her entourage gave us so much to look at and drink in…Even if we were taken aback for a moment, if we allowed ourselves, we could be drawn right back into trying to try and capture, "What's next?"
MADGE EXPRESSED HERSELF:

Madonna expressed so many different layers of who she is from the inside-out.  She came out strong in presence (and an attitude of showmanship), but more importantly, incredible costuming (Givenchy Couture and Bulgari jewels).  She was sexy – appropriately sexy and she didn't have to try hard with her clothes.  She just was.  …Um, and what about those boots?  Miu, Miu stretch leather thigh high boots.  Anyone?  The hardware  included metal buckle closures and heels customized with 2 metal crowns and a leather M in between.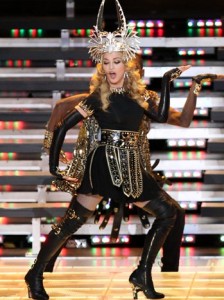 She had precision in most of her moves from walkin' like an Egyptian to her eye catchin' moves that expressed her edgy, spicy attitude.  Madonna worked it and if she had some slight imbalances….she recovered like a pro.  Oh yeah, she is one!
 She brought her playful out for a spin with the pom, poms – though not my fave, I could really appreciate that she was expressing her multifaceted layers of personality and flavors of "talent".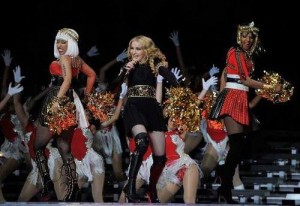 I read where others said Cee Lo out sang and outperformed her?  Really?  Why can't they each have a role to do and excel at it?  Cee Lo knocked it out and Madonna, was….Madonna – who made the whole thing possible, btw.
WHY ARE PEOPLE SWEATIN' HER?

Madonna graciously shared the stage:  Imagine the confidence she has to have to invite such performers to share that level of spotlight. It looked to me as though she was ownin' her own performance and havin' fun….She didn't seem to sweat what the other artists were doin'….Again, why are so many writers?
I don't love ALL of Madonna's work, and I haven't even followed her all the years since my lace gloves + hair bow from the 80's!  But I don't have to , to recognize that (at 53) she has a whole lot of talent to bring to the table.  Clearly Madonna doesn't have herself in a box.  Why do so many others want her in one?
In my co-authored book, "Incredible Life", I write:
 " Give yourself permission to be different.  Stop comparing yourself to others…When you know who you are authentically and give yourself permission to "be", you naturally feel more comfortable and confident in your own skin and allow others the freedom to do the same." 
Let Madonna "be" the many layers of who she is.  While some criticized her for ending her gig with "World Peace", why not?  Isn't she about that too?  Like I always say, there's room for "it" all.  One's essence is big enough to contain the playful, the edgy, the smart, the funny, the sexy, the sophisticated, the weak, the strong, the powerful….the peaceful.
I think it's brilliant!   – The more you can bring your authentic self into all you do, the better.  Madonna  showed us an another example of how that can be done…though perhaps not perfectly.  –Ahhh, but that's okay to.  Progress, not perfection!
(…Crazy.  Now that I'm ready to publish this, just today I read interesting takes on her performance from a symbolic point of view.  Definitely has me intrigued to learn more.  More on that later.)
Championing YOU…YOUR CONFIDENCE, BRAND, and STYLE
From The "Inside-Out", Kim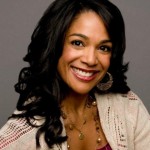 Desire more?
Kim Crumpler is Founder of Uniquely Savvy, Inc and is an 11 year veteran Personal Style & Branding Coach, Personal Shopper, Author, and Speaker. An expert, Kim delivers results and is passionate about helping men & women BE comfortable and confident in their own skin, look and feel amazing, and attract more of who and what they want in life! Kim invites you to: Join the conversation on Uniquely Savvy's facebook business page, call her for a phone consultation to determine how you will best benefit from her expertise, or book her to speak at your upcoming event. Available for keynotes, workshops, seminars, and girlfriend parties, the programs your audience will love range from personal style, to professional image and branding. Additionally, Kim co-authored, "Incredible Life: Top Experts Reveal How to Create Yours", and speaks to a variety of audiences on personal empowerment – bringing inspirational messages of hope and sharing practical tips and tools learned on her inside-out, "From Fear to Freedom" journey. Contact Kim @ 425.503.9885 or learn more at www.uniquelysavvy.com.