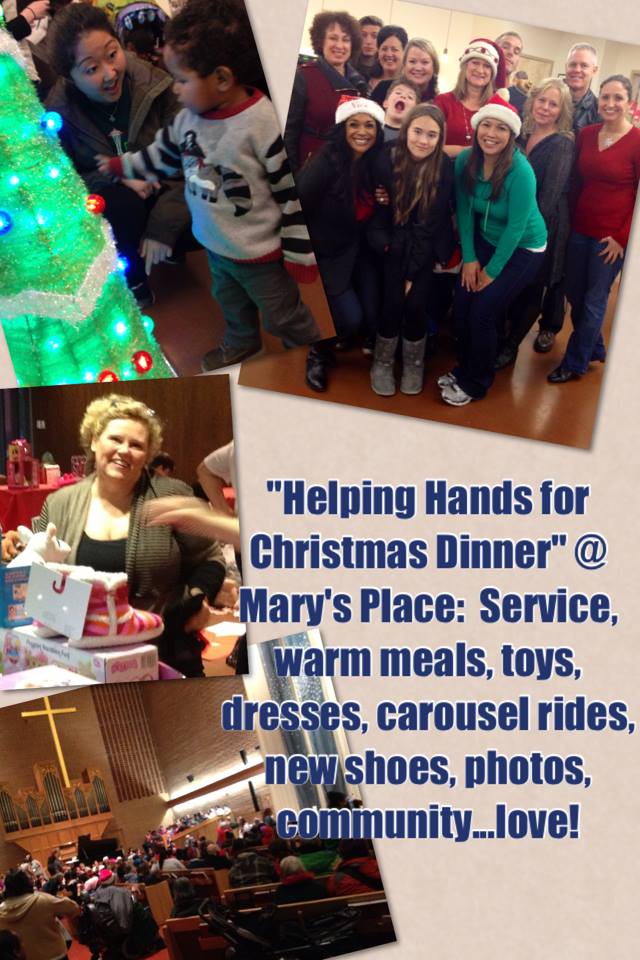 Helping Hands 2013
Do you have helping hands?
Uniquely Savvy will be helping serve Christmas dinner to beautiful women
and children in transition @ Mary's Place in Seattle on Saturday, December 13.
Mary's Place: Empowering Homeless Women & Children To Reclaim Their Lives.
***We have room for 40 volunteers & we'd love for you to join us for our 5th Annual Christmas Dinner outreach…
Join Us?
***Prep Needs: Cook turkeys + 2-3 items from MP menu
***Day of Needs: Greet, serve, dessert service, refill drinks, dishes, garbage duty:-)!
Approx time: 10:30am until 2:30pm
Meal location: Gethsemane Church, 1830 – 9th Ave, Seattle
Attire: CASUAL (Think Holiday Festive!)
Please RSVP *here* w/the number of people in your party….Call for any reason 425.503.9885 :-).
Championing YOU…YOUR STYLE, BRAND, AND CONFIDENCE
from the "Inside-Out", Kim
Desire more?
Kim (Crumpler) Peterson is Founder of Uniquely Savvy, Inc and is a veteran Personal Style & Branding Coach, Wardrobe Stylist, J. Hilburn Custom Menswear Style Consultant, Co-author, and Speaker.  With a commitment to excellence (not perfection!), Kim delivers results and is passionate about helping men & women BE comfortable and confident in their own skin, step more into their potential, and attract more of who and what they truly want in life! Kim invites you to: Join the conversation on Uniquely Savvy's Facebook business page, call her for a free phone consultation, or book her to speak at your upcoming event. Available for keynotes, workshops, seminars, and girlfriend parties, the programs your audience will love range from personal style and professional image and branding, to success, hope and freedom. Additionally, Kim co-authored, "Incredible Life: Top Experts Reveal How to Create Yours", and speaks to a variety of audiences on personal empowerment – bringing inspirational messages of hope and sharing practical tips and tools learned on her inside-out, "From Fear to Freedom" journey. Contact Kim @ 425.503.9885.