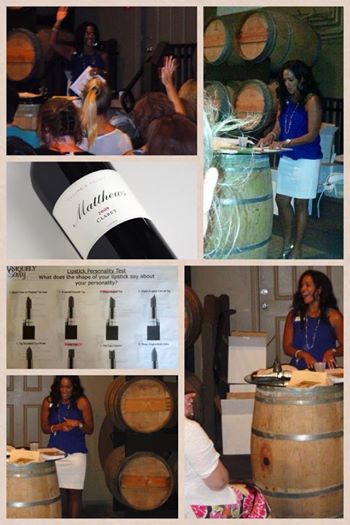 "It takes a lot of courage to grow up and be who you are." E.E. Cummings
W3 (Women, Wisdom & Wine) at Matthews Winery last night!…..A full house, we laughed and had some fun….then we got down and dug deep!!! A spirit of encouragement and hope was the overarching tone though this was undoubtedly the most vulnerable and empowering talk in my career. "From Fear to Freedom: Challenge the Lies, Champion the Truth" brought each of us into deeper awareness of who we are and some of the things that hold us back from being who we are fashioned to be. ….Kudos to the ladies (and myself) for staying present through the evening – in that we all seemed to have receive many unexpected gifts .
A powerful collaboration, let's celebrate!!!! …..Eternal thanks for all who played a role, you know who you are and love for my "deep dive" friends who showed up in support! XOXO
#fromfeartofreedom
Championing YOU…YOUR STYLE, BRAND, AND CONFIDENCE
from the "Inside-Out", Kim
Desire more?
Kim (Crumpler) Peterson is Founder of Uniquely Savvy, Inc and is a veteran Personal Style & Branding Coach, Wardrobe Stylist, J. Hilburn Custom Menswear Style Consultant, Co-author, and Speaker.  With a commitment to excellence (not perfection!), Kim delivers results and is passionate about helping men & women BE comfortable and confident in their own skin, step more into their potential, and attract more of who and what they truly want in life! Kim invites you to: Join the conversation on Uniquely Savvy's Facebook business page, call her for a free phone consultation, or book her to speak at your upcoming event. Available for keynotes, workshops, seminars, and girlfriend parties, the programs your audience will love range from personal style and professional image and branding, to success, hope and freedom. Additionally, Kim co-authored, "Incredible Life: Top Experts Reveal How to Create Yours", and speaks to a variety of audiences on personal empowerment – bringing inspirational messages of hope and sharing practical tips and tools learned on her inside-out, "From Fear to Freedom" journey. Contact Kim @ 425.503.9885.