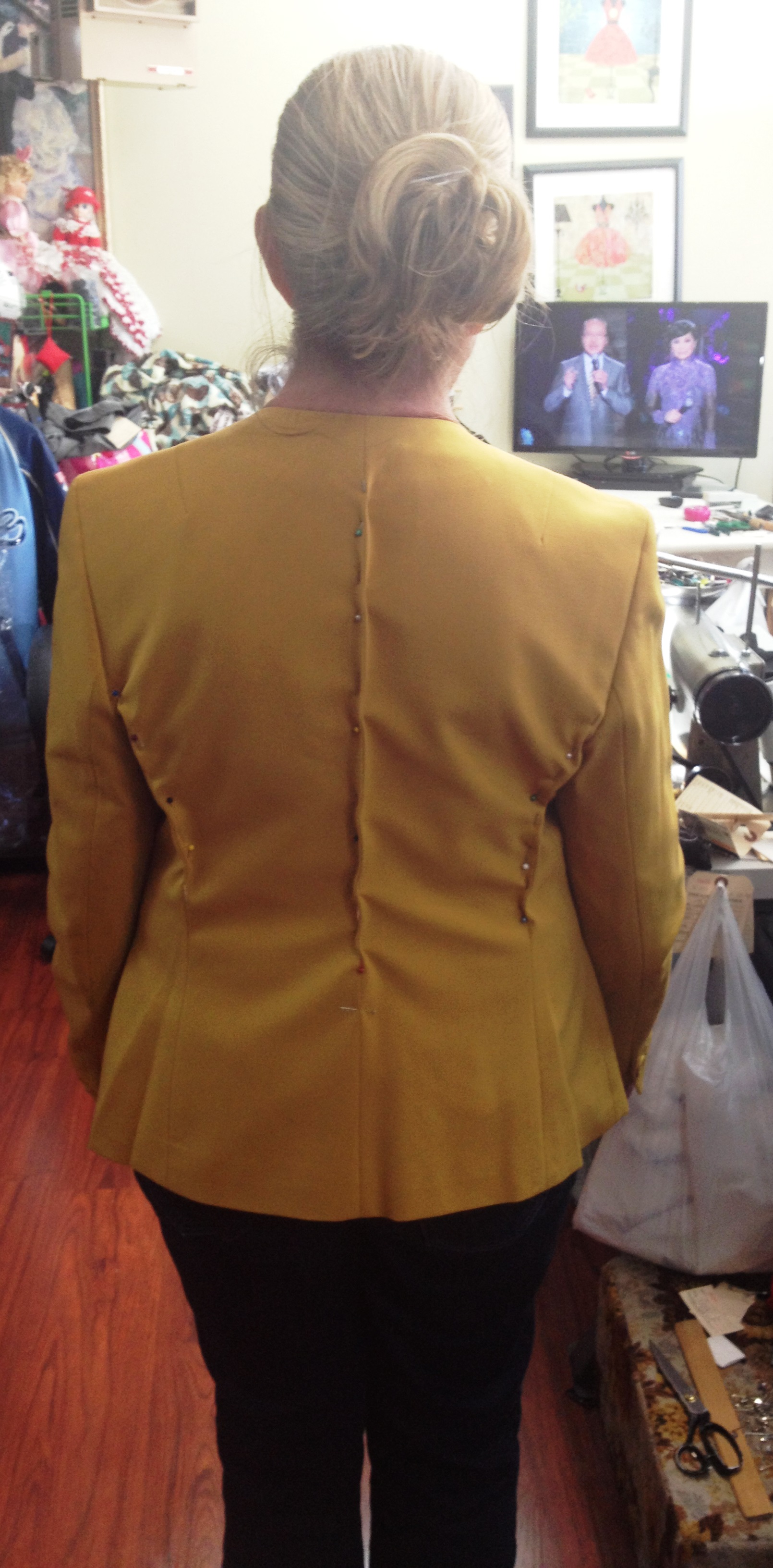 To be CHAMPIONED for this lovely client attending her 50th class reunion meant:
WOW, Kim! You *listened* to exactly what I wanted and found it!  AND because of you my outing to my reunion will be even more fun.  I am going to feel good wearing that jacket (and love that sophisticated charcoal gray)!"
Spontaneously pulling aside additional fall pieces that will mix beautifully into her existing wardrobe.
Bringing shoes and accessory options into the dressing room so she could relax and didn't have to run around the store.
Strategically calling ahead to Nordstrom to communicate her hard to find shoe size, specific shoe color, heel, and style requirements to have pre-pulled as we headed down the mall for finishing touches.
Tailor Giu Vo, worth the drive:  (206) 683-7086
So good, I've referred some of my Hawks clients and Brock Huard to rest in her confidence…Yes, worth the drive!

Rearranging my Saturday schedule while in motion to accommodate her desire to have me…. drive her from LYNNWOOD to RENTON to get my trusted tailor of 18 years to alter her special jacket (3 hour detour).  The art of dressing pays attention to the most minute fit details.  The jacket would have been "good enough", but with a more narrow waist and rib cage, it's gong to be exquisite with some minor alterations!
Taking out the stress by driving back to Renton tomorrow morning to do a 2-part transfer so she doesn't have to drive from Seattle and get stuck in traffic.
I CHAMPION from the #insideout because someone 1st CHAMPIONED me.  I know what it means to need to really be listened to, to overcome fear to trust that someone will really care enough… to produce a result, help me, or do what they say.  I know what it feels like to wrestle with the unknowns – wrestle with body image challenges or insecurity.  It is out of this knowing (and having been championed to be an overcomer ) that I connect the dots and the details  ……It is in the little things, the mundane and the checklists that I connect the dots and serve.  It's nothing sexy or glamorous, but it is dependable and I'm honored when I'm trusted and asked to stand in the gap stylistically, relationally, professionally or beyond…..Working with this incredible woman with an a-mazing story made my day!
P.S…..Or rather I could have led with this, THANK YOU for all of you who have CHAMPIONED me and my family during this time of growth and transition.  My husband and I are not parents, until now -we are the guardians of my 13 year old nephew!  So many of you have poured encouragement, tips, connections, and the like to lead us on a windy and ongoing path of collective learning, progress/success.  It *does* takes a village and I can't wait to share how with even your smallest acts of kindness, we have felt *championed* by YOU which only makes my heart more tender w/a greater capacity to serve…. Truly think of many of you daily (to include the incredible staff at KiMS).  I never expected such a team of support in all of you, we just said "YES".
You now have first-hand experience in seeing how Uniquely Savvy's "inside-out" philosophy works….Beginning on the inside:  make value based decisions stylistically or beyond, create a plan/vision, face fears, find your voice, ask for what you need, receive the gift of experience from trusted advisors and friends.  Wisely invest time, energy and resources to support your vision. Stay present, move into action, achieve one-step at a time success, be kind to yourself as you make mistakes.  Rest, reflect, make mid-course adjustments. Increase authentic confidence by building a fortified (yet imperfect) foundation….Hit RESET as often as necessary.
Whether this process is quickly occurring many times over (like for my family in the last month alone),  or it gradually happens over time….you'll be internally shifting:  mentally, emotionally, spiritually, and personally – thus likely professionally.   Your capacity will have increased and you'll be becoming more of who you were fashioned to be.  You will GLOW from the inside-out as (fear or _______ ) sheds and your countenance lifts…Now that you have a deeper conscious connection with yourself, dress to align and communicate with the world who YOU are in *this* station of life!  Dressing your best authentic self and personal brand- no matter your size, shape, gender, or age, is easier and more fun– now more than ever. Here's to you, XO!
#surroundyourselfwithpeoplewhotrulywantyoutosucceed #payitforward #inspireconfidence #elevateyourstyle #liveempowered
Championing YOU…YOUR STYLE, BRAND, AND CONFIDENCE
from the "Inside-Out", Kim
Desire more?yl
Kim (Crumpler) Peterson is Founder of Uniquely Savvy, Inc and is a veteran Personal Style & Branding Coach, Wardrobe Stylist, J. Hilburn Custom Menswear Style Consultant, Co-author, and Speaker.  With a commitment to excellence (not perfection!), Kim delivers results and is passionate about helping men & women BE comfortable and confident in their own skin, step more into their potential, and attract more of who and what they truly want in life! Kim invites you to: Join the conversation on Uniquely Savvy's Facebook business page, call her for a free phone consultation, or book her to speak at your upcoming event. Available for keynotes, workshops, seminars, and girlfriend parties, the programs your audience will love range from personal style and professional image and branding, to success, hope and freedom. Additionally, Kim co-authored, "Incredible Life: Top Experts Reveal How to Create Yours", and speaks to a variety of audiences on personal empowerment – bringing inspirational messages of hope and sharing practical tips and tools learned on her inside-out, "From Fear to Freedom" journey. Contact Kim @ 425.503.9885.