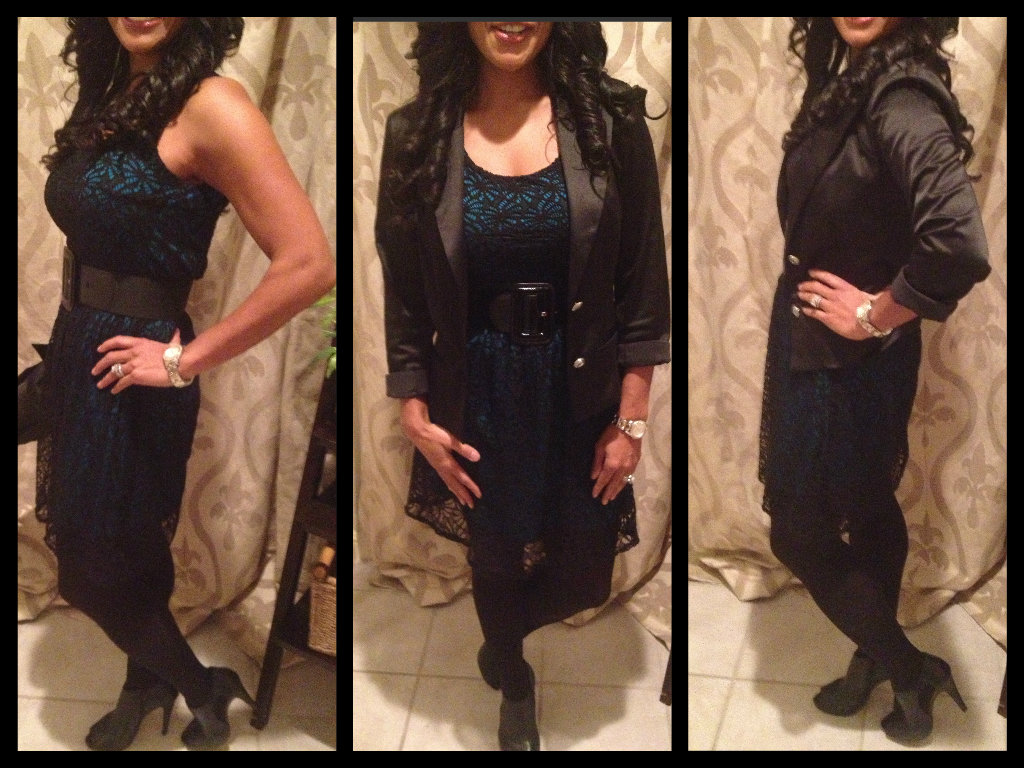 How to build an effortless outfit that can span day to night…..How would YOU accessorize this?

*  Take a sleeveless frock, pair it with tights for the office, and on trend shoes.  This becomes your blank canvas with which to build according to your style statement or of the moment mood!
*Belt to define your waist.  Is your mood understated classic?  Choose simple patent.  Feminine?  How about a belt with a 3D flower?  Glam?  To play off the sparkly buttons, choose a belt that's embellished with bling!
*  For work, shop your closet for a 3rd piece:  Cardi, vest, or blazer….For today, I chose this satin blazer & big bling buttons to keep it festive!
*Finish accessorizing to taste…Choose your necklace, arm candy, and earrings according to your overall statement….
 Hmmmmm, what's my mood today?

When creating, remember to ask yourself:  "How do I want to feel, what's my mood?"  "What's my role?"  "What do I want to communicate about my brand and my style?"  ….And don't forgot, on your way out of the office, just peel off the tights, loose the layer and voila!  You're good to go….Happy New Year's Eve day….XO
P.S.  Won't be wearin' this tonight, but wore it and about for errands today & thought to share some tips w/you!  How did I accessorize?  With a bold and feminine statement necklace and layered bracelets with bling :-)!….
Championing YOU…YOUR STYLE, BRAND, AND CONFIDENCE
from the "Inside-Out", Kim
Desire more?
Kim (Crumpler) Peterson is Founder of Uniquely Savvy, Inc and is a veteran Personal Style & Branding Coach, Wardrobe Stylist, J. Hilburn Custom Menswear Style Consultant, Co-author, and Speaker.  With a commitment to excellence (not perfection!), Kim delivers results and is passionate about helping men & women BE comfortable and confident in their own skin, step more into their potential, and attract more of who and what they truly want in life! Kim invites you to: Join the conversation on Uniquely Savvy's Facebook business page, call her for a free phone consultation, or book her to speak at your upcoming event. Available for keynotes, workshops, seminars, and girlfriend parties, the programs your audience will love range from personal style, to professional image and branding. Additionally, Kim co-authored, "Incredible Life: Top Experts Reveal How to Create Yours", and speaks to a variety of audiences on personal empowerment – bringing inspirational messages of hope and sharing practical tips and tools learned on her inside-out, "From Fear to Freedom" journey. Contact Kim @ 425.503.9885.