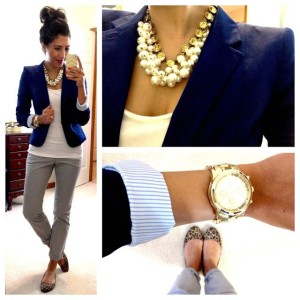 (Not the actual client!)
A client circled back after our initial work a few years ago and wants to enlist my support to shop with her.  Here is an email that offered her great tips for defining and shining her personal style and thought you might glean some tips for defining yours!
Client email: In order to define your style as it relates to your brand, it's key to understand your brand and specifically your brand attributes.  Yesterday, we were able to quickly unveil  a bit more  of your core as it relates to your brand.  We made great progress here because this is the step that's needed so that I can give you tips to "create" or fully design/shop to create your aligned inside-out style.   That said, while I think you still could use clarification here, if I was to give it a quick whirl, based on what I unveiled yesterday, you might step into " The Stylishly Aesthetic, Experiential & Inspired Creative Program Manager".  Because becoming a creative PM is your goal, it will be imperative that you visually articulate your creativity and other brand attributes consistently.
To the degree that it is important to you to accurately (visually) reflect your brand attributes, the more detailed/ longer this process of discovery/translation can be.  The good news is, once you have your brand message down and you are sure about the right silhouettes for your shape, shopping to pull it all together becomes easy.  The benefits in the end are:  you are perceived as "the person" for the promotion because you are visually communicating/reinforcing your skills & abilities and what you bring to the table, you are more confident in your appearance & body language, you love the way you look and feel, and you save time and money on mistaken purchases.  Imagine looking & feeling amazing every day!
Uniquely Savvy believes this is the equation to creating great style:
•             Knowing/owning your personal brand identity/message and translating them into elements of style +
•             Knowing how to fit to flatter your frame and color +
•             Evaluating what if anything you can build upon +
•             Shopping to pull it all together
Based on your attributes I gave some tips as to how this could look and how you can translate the meaning of those attributes into style elements.  Below are suggestions based on our shared definition of these attributes.  Massage these daily, it will be good to practice these concepts now, while getting dressed/creating outfits from your own closet.  You may not have all "the right pieces", but it's great training ground. As you continue to implement them you will begin to see change in how you look and feel.
…  What is still key is the knowledge of how to dress your body, and if you desire, the colors that work best on you (in general, think:  cool, vibrant colors).
When you hold up an item in your closet or in the store, you can ask yourself if the "language" of that piece reads accurately according to the work we did yesterday.  If the answer is no, you might consider how you can create the outfit with the said piece to make it look:  stylish, vibrant, aesthetic, classy, etc.  This was demonstrated by looking at the pictures you provided – we talked through how you might change the language of the look by shortening, adding color, changing out the boot, etc.  –Ask yourself what needs to be "added, changed, modified, or created?"  and make adjustments from there.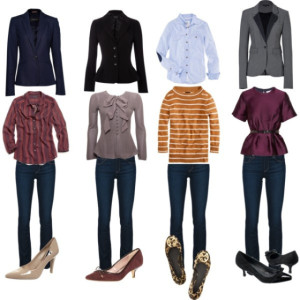 So folks, in our email correspondence I listed out specific ways to communicate stylish, vibrant, aesthetic, and classy – but I don't want to bore you!
Are you positioning yourself for promotion?  Do you want to learn how to shine in your personal style or get help shopping to pull it all together?
If you are interested in defining your Personal Brand Identity, register for Sunday's workshop:  Discovering Your Personal Brand for Success Leadership & Legacy.
Call me, I'd love to champion you….  Watch this quick video to get a glimpse of Uniquely Savvy's process and how I would serve you!
READY to BE CHAMPIONED in YOUR STYLE, BRAND & CONFIDENCE?  Call me… 
425.503.9885 ~ kim@uniquelysavvy.com

Kim (Crumpler) Peterson is Founder of Uniquely Savvy, Inc and is a veteran Personal Style & Branding Coach, Wardrobe Stylist, J. Hilburn Custom Menswear Style Consultant, Co-author, and Speaker.  With a commitment to excellence (not perfection!), Kim delivers results and is passionate about helping men & women BE comfortable and confident in their own skin, step more into their potential, and attract more of who and what they truly want in life! Kim invites you to: Join the conversation on Uniquely Savvy's Facebook business page, call her for a free phone consultation, or book her to speak at your upcoming event. Available for keynotes, workshops, seminars, and girlfriend parties, the programs your audience will love range from personal style and professional image and branding, to success, hope and freedom. Additionally, Kim co-authored, "Incredible Life: Top Experts Reveal How to Create Yours", and speaks to a variety of audiences on personal empowerment – bringing inspirational messages of hope and sharing practical tips and tools learned on her inside-out, "From Fear to Freedom" journey. Contact Kim @ 425.503.9885.