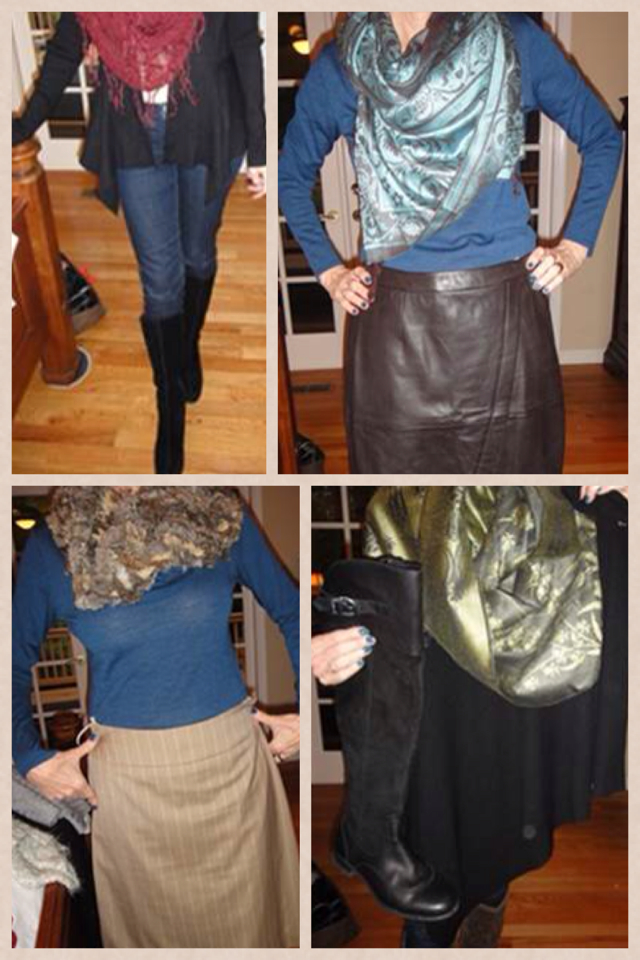 Are you utilizing what's in your closet?
During her Style Boot Camp we took an inventory of her scarves and shopped her closet to create fresh looks for work (polished 'n professional ) to weekend (casual 'n cozy).  A luxe fur muffler (bottom left) worked fabulously with this chalk stripe skirt and really had a commanding look when we added a leather blazer!  Sophisticated infinity scarves put just the right touch for a modern take to her classic and timeless pieces (blue merino wool and brown leather pencil skirt?  Delish!). …She had this gorgeous black poncho unworn in her closet so we added a scarf in her best green hue, leggings and boots and voila!  (These are starter pics, we mixed so many combos.  Next up?  Jewelry shopping!)
Tip:  If you have large square scarves, create the modern look and ease of the infinity!  Lay the scarf flat, tie 2 diagonal corners, and adjust to balance your outfit and proportions!
The Style Boot Camp educated her on best practices for fit and color, refined her personal brand and style, allowed time for a wardrobe analysis and a photo journal + provided her a shopping list of key missing items.  For men and women who want to maximize their wardrobe investment and have confidence in dressing and shopping with ease, The Style Boot Camp makes a fabulous holiday gift for you or someone you might have on your gift giving list!   #Lovethewayyoulookandfeel
Championing YOU…YOUR STYLE, BRAND, AND CONFIDENCE
from the "Inside-Out", Kim
Desire more?
Kim (Crumpler) Peterson is Founder of Uniquely Savvy, Inc and is a veteran Personal Style & Branding Coach, Wardrobe Stylist, J. Hilburn Custom Menswear Style Consultant, Co-author, and Speaker.  With a commitment to excellence (not perfection!), Kim delivers results and is passionate about helping men & women BE comfortable and confident in their own skin, step more into their potential, and attract more of who and what they truly want in life! Kim invites you to: Join the conversation on Uniquely Savvy's Facebook business page, call her for a free phone consultation, or book her to speak at your upcoming event. Available for keynotes, workshops, seminars, and girlfriend parties, the programs your audience will love range from personal style and professional image and branding, to success, hope and freedom. Additionally, Kim co-authored, "Incredible Life: Top Experts Reveal How to Create Yours", and speaks to a variety of audiences on personal empowerment – bringing inspirational messages of hope and sharing practical tips and tools learned on her inside-out, "From Fear to Freedom" journey. Contact Kim @ 425.503.9885.