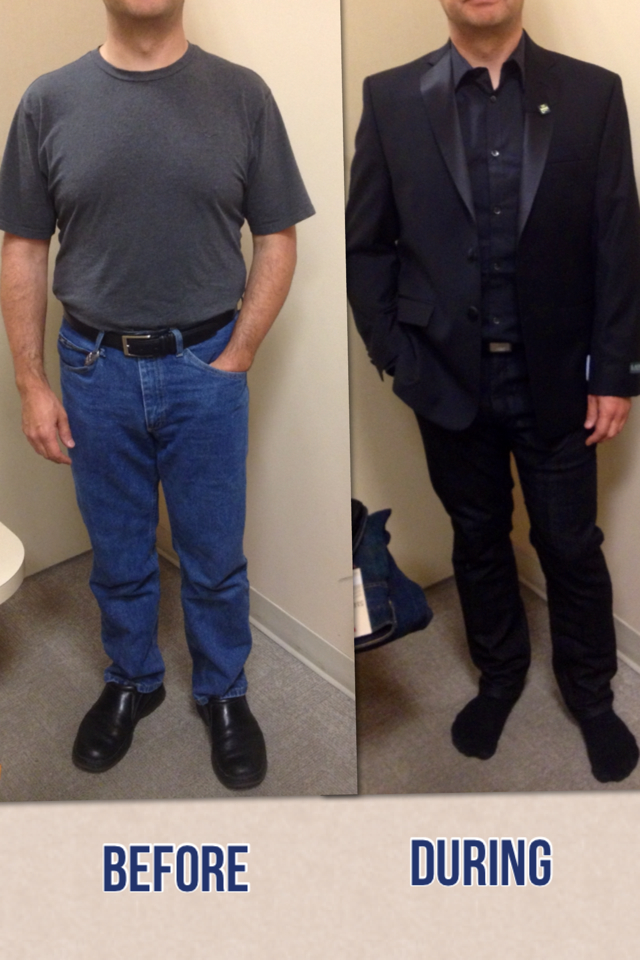 Worked with a snappy casual Marketing Consultant & Speaker's Coach on a 2.5 HR fast track tonight. Here's his initial *WHY*:"…My goal is to look like what my clients are paying for." Before we shopped, when we were finalizing his Personal Brand & Style Statement and he said…."You know what it is? I'm ready to be what my name means." I said, "What is that?"He then wrote out his birth name which means "FEARLESS". We changed his statement to more accurately reflect who he is (research indicates we operate out of our mindset/belief system, so getting clear on your identity is key before shopping)……Again, I realized this work is so much about taking ownership of who you are – wardrobe and appearance is simply a vehicle. What an honor to be trusted to be a part of this process!This was just one of the ensembles we pulled together, he got 2 sport coats, 4 dress shirts, a few nice layering shirts to dress down the sport coats, a vest, dressy denim and more…all for $700. It's amazing what can happen when one is *ready*!
Raisin' a glass!
#FearlessIsHisName #CelebrateGoodTimes  #UniquelySavvyIsTheLuckiest
Championing YOU…YOUR STYLE, BRAND, AND CONFIDENCE
from the "Inside-Out", Kim
Desire more?
Kim (Crumpler) Peterson is Founder of Uniquely Savvy, Inc and is a veteran Personal Style & Branding Coach, Wardrobe Stylist, J. Hilburn Custom Menswear Style Consultant, Co-author, and Speaker.  With a commitment to excellence (not perfection!), Kim delivers results and is passionate about helping men & women BE comfortable and confident in their own skin, step more into their potential, and attract more of who and what they truly want in life! Kim invites you to: Join the conversation on Uniquely Savvy's Facebook business page, call her for a free phone consultation, or book her to speak at your upcoming event. Available for keynotes, workshops, seminars, and girlfriend parties, the programs your audience will love range from personal style and professional image and branding, to success, hope and freedom. Additionally, Kim co-authored, "Incredible Life: Top Experts Reveal How to Create Yours", and speaks to a variety of audiences on personal empowerment – bringing inspirational messages of hope and sharing practical tips and tools learned on her inside-out, "From Fear to Freedom" journey. Contact Kim @ 425.503.9885.