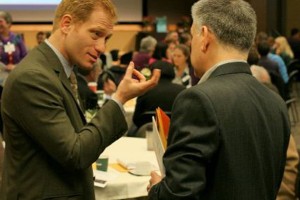 IF part of your 2014 inside-out vision it to gain confidence in the way you verbally communicate your message or passion, may I introduce you to Speech Coach, Leo Novsky of
Speak with Power Consulting.
In just a short time, I am learning to speak more effectively using "less words" (I have many :-)), and as a presenter become more effective in transitions- which make a big difference! ….What I d
o want you to know about Leo is two-fold. His commitment as a professional is unique, reaching far beyond his coaching. Leo's passion for serving others is so rich that it overflows into additional layers of commitment in action. Because he wants YOU to succeed in general, he truly offers time, ideas, and energy that set you up for a more well – rounded success.
…We also collaborated at the Northwest Women's Show, whereby for a full 3 days, I was able to glean a true sense of his contribution. If this is relevant for you, learn more @ http://tinyurl.com/lz8ltsv.
Championing YOU…YOUR STYLE, BRAND, AND CONFIDENCE
from the "Inside-Out", Kim
Desire more?
Kim (Crumpler) Peterson is Founder of Uniquely Savvy, Inc and is a veteran Personal Style & Branding Coach, Wardrobe Stylist, J. Hilburn Custom Menswear Style Consultant, Co-author, and Speaker.  With a commitment to excellence (not perfection!), Kim delivers results and is passionate about helping men & women BE comfortable and confident in their own skin, step more into their potential, and attract more of who and what they truly want in life! Kim invites you to: Join the conversation on Uniquely Savvy's Facebook business page, call her for a free phone consultation, or book her to speak at your upcoming event. Available for keynotes, workshops, seminars, and girlfriend parties, the programs your audience will love range from personal style, to professional image and branding. Additionally, Kim co-authored, "Incredible Life: Top Experts Reveal How to Create Yours", and speaks to a variety of audiences on personal empowerment – bringing inspirational messages of hope and sharing practical tips and tools learned on her inside-out, "From Fear to Freedom" journey. Contact Kim @ 425.503.9885.