Happy Anniversary! ….We're at the 1 month mark of being an official family and for the record: I LOVE THAT BOY and I love my family…even through the ups and downs of our generously *steep* learning curve!
Below are a few insights from my last month, but perhaps one of the most profound set of experiences I've had has been in watching and (now better understanding)  the impact and responsibility father figures (and adults) have on who our boys become.  An excerpt from a recent blog:
 While at breakfast the other morning after Kelly said good-bye and left for work a young someone said quietly and confidently, "How does he leave out so quietly?"  "I want to be Kelly."  …It was in that moment I realized – boys do *intently*  watch their father figures…and will likely model after them – good or bad.  You see there is nothing extraordinary about wanting to be that guy who's known for a quiet exit, but this + watching Kel come and go from work daily + experiencing Kelly teach him academics to produce results he's not had before + seeing him hug, kiss and "share" w/me + being consistently on time + dining together + having family time + extending politeness + sharing silly humor + family prayer and more…..*all adds up*.  (Full "I want to be Kelly" blog post)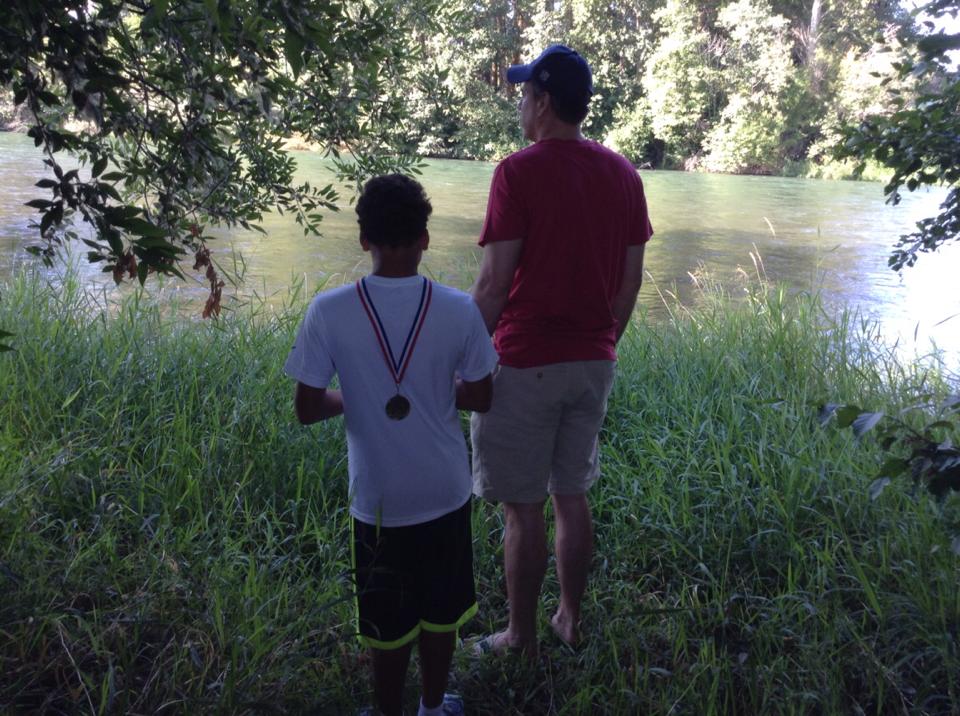 D's 1st camping trip.  Early morning when asked Kel to go to the river……
2.  Mama's FIRSTS:  Shocked myself when I found I ran out the door to the bus stop wearing my jammies (oh my!) during week one.  First time to regularly go to bed at 9:30 PM (zonked…) and I still can barely keep my eyes open past 9:45 on the weekend!…This week I learned to "shower and dress on the same schedule as your middle school-er".  Had to deliver forgotten glasses to school "way undone" and as soon as I arrived home, I had to go back for an emergency that lasted the entire day.  No shower was to be had :-).  P.S.  Let's be clear, D has a mama and I'm his Auntie…..I just have a sense that I love him like he was my son – unexpectedly I now  kinda know the feeling :-).
 3.  We laugh A LOT!!!…From the belly kind of laughter!  D brings such tremendous JOY and I love being a student of his, looking at life through his perspective, and learning with him and for him.  …"The Art of Possibility" is now a household phrase as we continue to grow and do life together…thank you Wiggy J.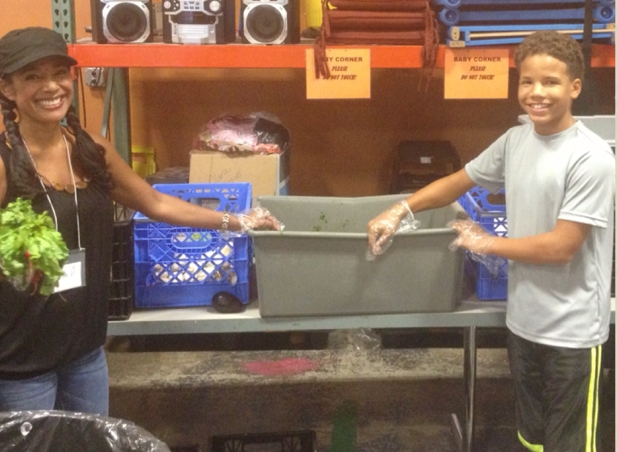 Paying it Forward:  Hopelink's Food Bank

4.  In our home, we work hard on academics, parenting, and our other FT jobs (lol!) during the week and play hard on the weekend – family night, exploring and learning through no or low cost adventures.  Some of our fave family times are in the morn, after school for a bit, and dinner time (heard those are key times – thx Laura Martin and Dr. Dobson!)
 5.  Learning.  Learning, learning.  Reading, asking, considering, reaching out for help from others…..a lot.  Learning about boys, adolescence, and parenting….Learning my new role.  It's like a full time job, one that I absolutely adore and would never have imagined….I am, we are, blessed by the essence of who this boy is and who he is becoming.
How lucky am I?  Daily…this kid inspires me through his courage, curiosity, strong vulnerability and desire in action.  I am reminded that "we are not our back story" …we can *choose*something better if we want to and that choice transcends age.  (Btw, I got to witness my dad in his 70's working through this before he passed away. Another WOW and privilege to glimpse!)  I get to see my husband love well and make deposits that will have lasting, and hopefully generational kind of impact.  I get to see the evidence of God doin' what he does and have my faith increase because the evidence is just that strong…..and I get to develop into more of who I was fashioned to be.
No doubt, my life has changed for the better and I believe our best (and your best) is yet to come.  Grateful for all of your support and encouragement.  Look forward to sharing it forward…
Would love to hear YOUR September highlights, drop me a line!
XOXO
Championing YOU…YOUR STYLE, BRAND, AND CONFIDENCE
from the "Inside-Out", Kim
Desire more?
Kim (Crumpler) Peterson is Founder of Uniquely Savvy, Inc and is a veteran Personal Style & Branding Coach, Wardrobe Stylist, J. Hilburn Custom Menswear Style Consultant, Co-author, and Speaker.  With a commitment to excellence (not perfection!), Kim delivers results and is passionate about helping men & women BE comfortable and confident in their own skin, step more into their potential, and attract more of who and what they truly want in life! Kim invites you to: Join the conversation on Uniquely Savvy's Facebook business page, call her for a free phone consultation, or book her to speak at your upcoming event. Available for keynotes, workshops, seminars, and girlfriend parties, the programs your audience will love range from personal style and professional image and branding, to success, hope and freedom. Additionally, Kim co-authored, "Incredible Life: Top Experts Reveal How to Create Yours", and speaks to a variety of audiences on personal empowerment – bringing inspirational messages of hope and sharing practical tips and tools learned on her inside-out, "From Fear to Freedom" journey. Contact Kim @ 425.503.9885.