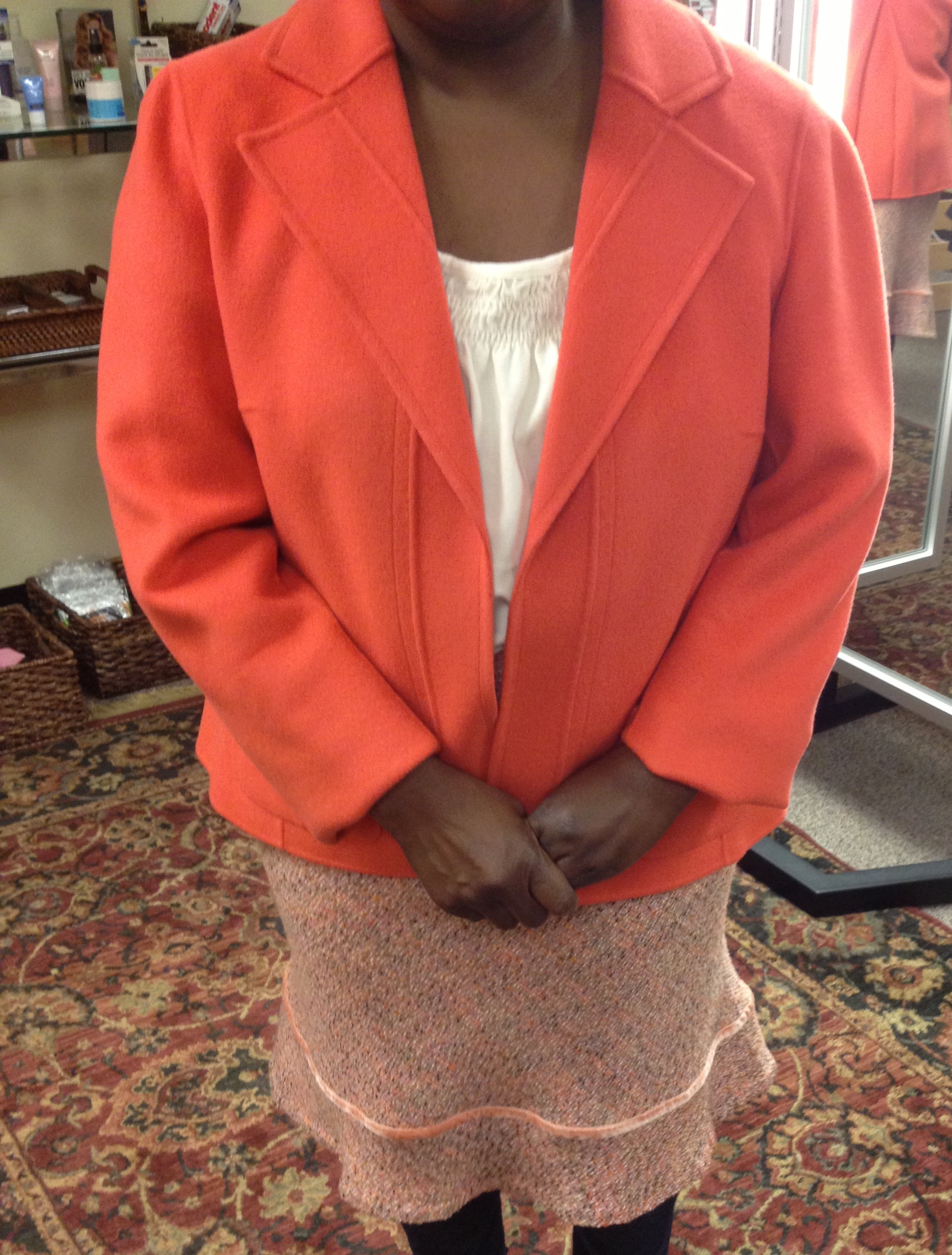 DRESS FOR SUCCESS  is more than just getting a new outfit, it's bringing hope & confidence to 1 beautiful woman at a time.
Last week I had the privilege to be a "dresser".  It was such a pure delight to work with this lovely lady who's recovering nicely from a 2011 stroke.  Just 2 weeks ago, she found a job, "They are so good to me…." and "I'm just so thankful for Dress for Success."  DFS got her interview ready and last week she was back for her "working wardrobe".
Beautiful, gracious, sparkly – she was, and one thing that I loved about her…..she found & used her voice and her courage to politely ask for what she wanted.
What's fun about that?  She mentioned she like a feminine flounce and voila!  I found this skirt just in her size.  When it fit her well, I went to look for an "unstructured jacket" to go with it.  While this coral one was a size 12 and she requested a 16….it fit (sleeves will be tailored of course)!!!
Within seconds she said, "I like *your* top, it's feminine.  Do you have something like that?"
Oh boy, this was now pretty specific..and… we were out of time.  Wouldn't you know it, I looked in a backup section of our stockroom and tada!!!…..Found this cream one in the same color as mine even…not exactly the same of course, but it had the language of the look she wanted.
Unbelievable!
In the end, she was just so thrilled saying, "I knew as soon as I saw you, I was going to be in good hands……and with your gold shoes (Jessica Simpson platform slingbacks), you just knew your day was going to be golden!"…To come full circle re the gifts of Dress for Success, it's noteworthy to know she was inspired by my outfit that was inspired by the Dress for Success 5th Ave Boutique!  I took a quick pic to show you the jacket I bought last month from the 5th Avenue Boutique for $10 (all proceeds benefit the program), revived it with modern shirt & accessories and wore it in to volunteer…for the 1st time.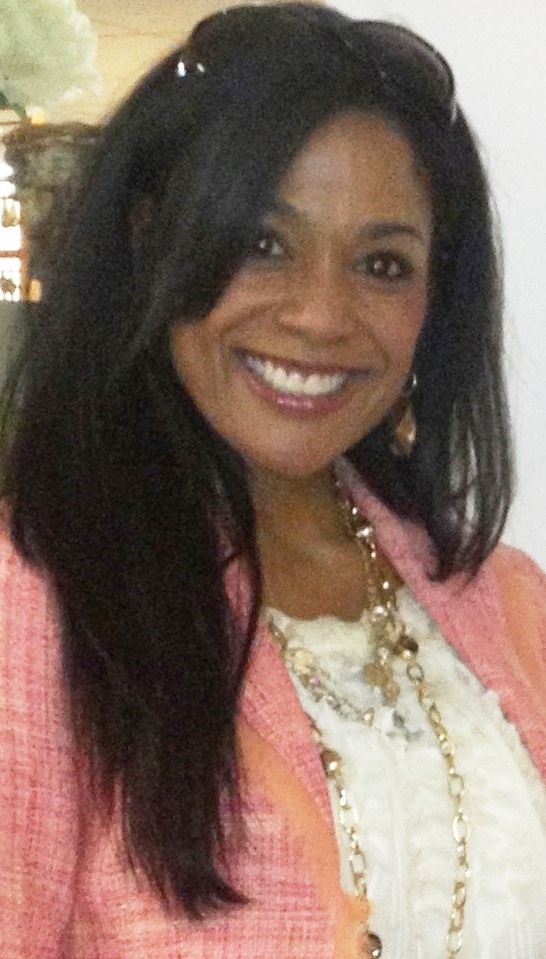 Folks, it was HER day…..Was so honored to be a part of it.  She said, we made a great team as in 1 hour we somehow put together 4 beautiful and confident, well-coordinated outfits.
What I love most?  Her confidence to ask for what she wanted, her gratitude, and her awareness that though still in recovery good was still going on all around her.  Thank you to all of you who donate to Dress for Success, together we ARE making a difference.
…Happy to facilitate your donations if you have them.  I noticed we are in need of:
*Size 0 and extra small tops
*Pullover layering tops in all sizes (especially 14+)
*Always a need for professional wear in sizes 14+
*Shoes
Best to you and yours!
Championing YOU…YOUR STYLE, BRAND, AND CONFIDENCE
from the "Inside-Out", Kim
Desire more?
Kim Crumpler is Founder of Uniquely Savvy, Inc and is a veteran Personal Style & Branding Coach, Personal Shopper, J. Hilburn Custom Menswear Style Consultant, Author, and Speaker. An expert, Kim delivers results and is passionate about helping men & women BE comfortable and confident in their own skin, look and feel amazing, and attract more of who and what they want in life! Kim invites you to: Join the conversation on Uniquely Savvy's facebook business page, call her for a phone consultation to determine how you will best benefit from her expertise, or book her to speak at your upcoming event. Available for keynotes, workshops, seminars, and girlfriend parties, the programs your audience will love range from personal style, to professional image and branding. Additionally, Kim co-authored, "Incredible Life: Top Experts Reveal How to Create Yours", and speaks to a variety of audiences on personal empowerment – bringing inspirational messages of hope and sharing practical tips and tools learned on her inside-out, "From Fear to Freedom" journey. Contact Kim @ 425.503.9885.