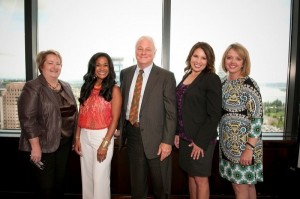 Get Your business on Course was a seminar for educating women as to how to leverage golf to develop more business. The day was full of learning and inspiration from event organizer, Jen Mueller (Talk Sporty to Me) – and we had fabulous presentations from Chuck Armstrong (Mariners President & CFO), Lori Richardson (Score More Sales), UW Golf Coach, Mary Lou Mulfur, and yours truly – Kim Crumpler, of Uniquely Savvy. Thanks again Jen, for the opportunity to help with your vision!
Here were a few takeaways:
*Chuck: Recommended "Golf for Dummies", a must-have for ease in getting started!
*Mary Lou: Just do it…..you don't have to be perfect – but bring a good attitude!
*Jen: "No, but…." concept. Open a door for additional conversation. Rather answering with a simple "no" to a question – consider adding "but" and ask another question to further the conversation. "No, I'm not a stamp collector, but how long have you been collecting."
*Lori: Business women can leverage the golf experience even if they don't play: by volunteering or via sponsorship.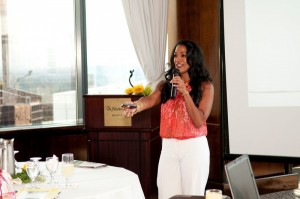 *Uniquely Savvy: You can easily translate your Personal Brand from the office to the greens with fun, stylish –AND – performance based golf wear! Consider the "inside-out" message you want others to have about you on the golf course and work the equation.
The equation? Course Dress code + Styles that visually speak the language of your Personal Brand Attributes + Silhouettes & Color to Fit and Flatter
In addition to the language of your verbal communication, ensure the "language of your golf look" reflects your brand attributes to reinforce who you are and what you bring to the table professionally. Visionary, leader, competent, trustworthy, attention to detail, integrity, might be a few attributes that are associated with your brand. Does your golf attire speak to these?
You will also want to consider your style attributes -feminine, colorful, preppy, or contemporary might resonate with you. Whenever you dress, we can tell something about you. Does your golf attire tell us you are "contemporary" for instance, or do you look out of date?
Lastly, consider your personal best practices for cut and color, as well as the dress code. Add it all up and voila….you've taken your Personal Brand from the office to the greens while being tailored-to-the task from the inside-out!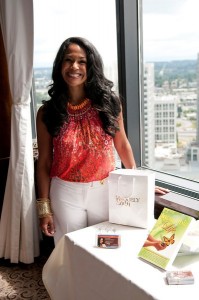 If you need help determining any aspect of taking your brand from the office to the greens, Uniquely Savvy offers custom consultations to get you on right on course:
*Branding
*Styling

*Style, Color & Body Analysis

*Shopping to pull it all together.
For more information, you are invited to call Kim Crumpler, of Uniquely Savvy at 425.503.9885 for a complimentary phone consultation.
Visit "Get Your Business on Course" to invest in an event resource guide.
Kim Crumpler is Founder of Uniquely Savvy, Inc and is an 11 year veteran Personal Style & Branding Coach, Personal Shopper, Author, and Speaker. An expert, Kim delivers results and is passionate about helping men & women BE comfortable and confident in their own skin, look and feel amazing, and attract more of who and what they want in life! Kim invites you to: Join the conversation on Uniquely Savvy's facebook business page, call her for a phone consultation to determine how you will best benefit from her expertise, or book her to speak at your upcoming event. Available for keynotes, workshops, seminars, and girlfriend parties, the programs your audience will love range from personal style, to professional image and branding. Additionally, Kim co-authored, "Incredible Life: Top Experts Reveal How to Create Yours", and speaks to a variety of audiences on personal empowerment – bringing inspirational messages of hope and sharing practical tips and tools learned on her inside-out, "From Fear to Freedom" journey. Contact Kim @ 425.503.9885 or learn more at www.uniquelysavvy.com.