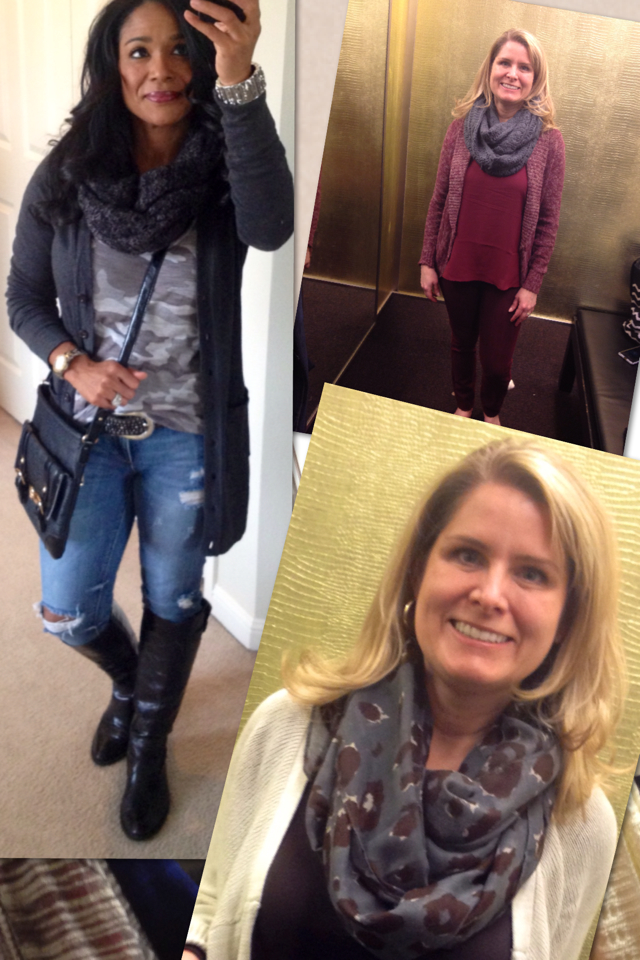 PERSONAL STYLE TIP: Think of the pieces of your wardrobe as "ingredients". Something might appear to be bland at first – and it very well might be. But, it may be the very thing you need to create the savory net effect of your whole outfit! Mix and match and season to taste!
What I wore shopping to pre-select "the ingredients" to build Sandi's snappy casual Seattle wardrobe! …We met the following day and these photos capture just "the beginning pieces" of some of her FABULOUS outfits which include skinny jeans, a variety of must-have boots, scarves and fun layers! ….In the end, we shopped several stores at The Bellevue Collection and I have to admit, I was inspired to go back a few days later and pick up a few things of my own!
Hope you had a lovely weekend, XO
#ElevateYourStyleandBrand #InspireConfidence #LiveEmpowered
Championing YOU…YOUR STYLE, BRAND, AND CONFIDENCE
from the "Inside-Out", Kim
Desire more?
Kim (Crumpler) Peterson is Founder of Uniquely Savvy, Inc and is a veteran Personal Style & Branding Coach, Wardrobe Stylist, J. Hilburn Custom Menswear Style Consultant, Co-author, and Speaker.  With a commitment to excellence (not perfection!), Kim delivers results and is passionate about helping men & women BE comfortable and confident in their own skin, step more into their potential, and attract more of who and what they truly want in life! Kim invites you to: Join the conversation on Uniquely Savvy's Facebook business page, call her for a free phone consultation, or book her to speak at your upcoming event. Available for keynotes, workshops, seminars, and girlfriend parties, the programs your audience will love range from personal style and professional image and branding, to success, hope and freedom. Additionally, Kim co-authored, "Incredible Life: Top Experts Reveal How to Create Yours", and speaks to a variety of audiences on personal empowerment – bringing inspirational messages of hope and sharing practical tips and tools learned on her inside-out, "From Fear to Freedom" journey. Contact Kim @ 425.503.9885.