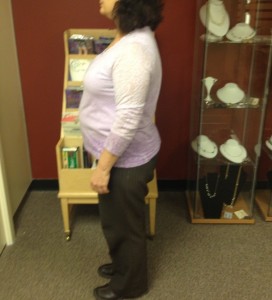 Before:  "I like style you know.  Romantic, professional, and good fit."
Whew….Another day of magic at the YWCA DRESS FOR SUCCESS, just up from a long recovery nap!
This lovely woman was in for  a re-do from an appointment she had a short while ago.  Apparently she was really unhappy and disgruntled,  so while I'd called to switch days since I was under the weather today, they asked if I *could* come in just for one appointment as they scheduled her re-do with me intentionally.
Upon meeting her in the lobby she said, "I heard you were really good and you will take care of me, is that true?"…I kind of chuckled and said with a smile, "If I don't, I'm sure you will tell me!"
…Sigh.
A life in transition for sure, compounded by the real body image issues (we) women struggle with.  Looking in the mirror, with tears, and explanations of station in life,
"Who am I?  I don't even look like me", as she repeatedly grabbed her abs and fussed with her hair……"Do I look cold?  I'm really friendly and love people." 
We talked about *The Smile* as an accessory that immediately tells people we're inviting and approachable.  She said, "I can't.  I just can't smile."  "I wish I could be bubbly like everyone else.  Happy."
Acknowledging the reality of her situation I said, 'Today we get to celebrate YOU and what and who you are today…You weren't meant to compare yourself to others, neither was I."  I'd for a brief moment shared some of my story so she knew I was "relatable".
"I can't.  I just can't celebrate."
"I will celebrate you today.  Just draft off of me then."
Some tears rolled….again.  "OK.  I will."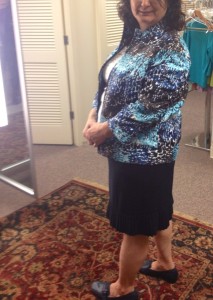 After:  THE SMILE + "comfortable wide dress shoes", pencil skirt with feminine pleated hem, fitted statement jacket with a "sheen that I like"……  (Nehru collar beautifully balanced her narrow shoulders.  Fitted jacket gave shape and coverage to her tummy…Found in the last 10 minutes in new donations 🙂 )
 It was good.  We paused for some hugs from time to-time, and while I didn't have many pieces to choose from to create something fabulous in her size, she left uplifted, wardrobed in some outfits she loved and that were speaking to some of her personal brand attributes, and most importantly with a smile. She was grateful….
UGH!!!  I was wanting to create something more, but DRESS FOR SUCCESS SEATTLE just didn't have the inventory for size 16, specifically layering tops for suits and jackets, or pants that flatter. ***If you or someone you know have gently worn work clothes for women (have a need for sizes 16 +), please let me know.  I'd be happy to facilitate your donation.
A true privilege to serve DFS women in this capacity, yet I was exhausted!  While it's common between  most clients that I work with (to some degree), she said, "You're like a counselor too.  I just need some love and attention too."
Natural and healthy, isn't that what we all need?  Genuine love and attention?
If you need that today, what one small step can you take to ensure you get it?  If you've got *love reserves* as I like to call them, in what way can you share it forward?
Today was a reminder of another aspect of beauty humanity, "No act of kindness, no matter how small, is ever wasted." – Aesop
Championing YOU…YOUR STYLE, BRAND, AND CONFIDENCE
from the "Inside-Out", Kim
Desire more?
Kim Crumpler is Founder of Uniquely Savvy, Inc and is a veteran Personal Style & Branding Coach, Personal Shopper, Author, and Speaker. An expert, Kim delivers results and is passionate about helping men & women BE comfortable and confident in their own skin, look and feel amazing, and attract more of who and what they want in life! Kim invites you to: Join the conversation on Uniquely Savvy's facebook business page, call her for a phone consultation to determine how you will best benefit from her expertise, or book her to speak at your upcoming event. Available for keynotes, workshops, seminars, and girlfriend parties, the programs your audience will love range from personal style, to professional image and branding. Additionally, Kim co-authored, "Incredible Life: Top Experts Reveal How to Create Yours", and speaks to a variety of audiences on personal empowerment – bringing inspirational messages of hope and sharing practical tips and tools learned on her inside-out, "From Fear to Freedom" journey. Contact Kim @ 425.503.9885.